European elections: why it matters even though it doesn't feel like it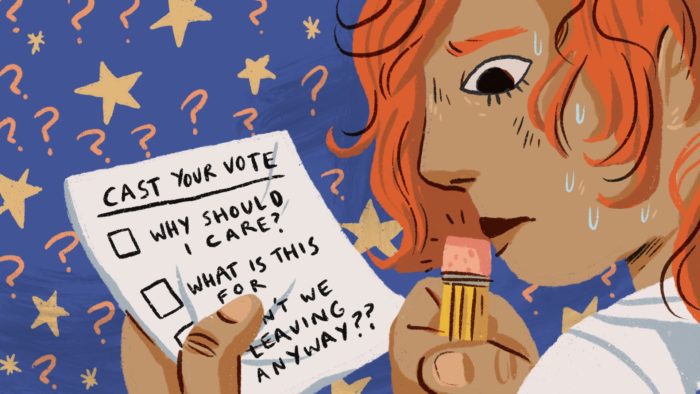 This is no ordinary election, and it comes at a pivotal time, argues Nick Dowson.
The UK may be just months away from leaving the EU. But on Thursday 23rd May this country will go to the polls to elect its next batch of representatives to the European Parliament.
It is, for sure, a strange time to be voting for MEPs (Members of the European Parliament). Turnout for European elections in the UK has never been high – and with Brexit around the corner many will wonder if it's even worth voting at all.
But this is no ordinary poll.
"What our European representatives do when they get to Brussels – even if it's just for a few months – also matters"
Firstly, it's important for anyone who wants to avoid the scorched earth, big corporate friendly no-deal Brexit that Nigel Farage advocates.
Farage – who paints himself as a man of the people despite an exclusive private education and background in financial trading – has switched from favouring a 'Norway style' deal with close links to the EU to supporting 'no deal'. This would mean harsh trade terms and probably significant disruption as ties are severed across sectors; if it happens it is also likely to mean the UK slashing corporate taxes and regulations.
Crucially, he has also set up a new party, The Brexit Party, after falling out with Ukip. This party has come top in a number of opinion polls, and could gain drastically more votes than either Labour or Conservatives. He is also trying to turn next week's vote into a proxy second Brexit referendum.
Farage's version of Brexit would likely see trade deals with the US and others which could force the UK to accept chlorinated chicken and further opening of the NHS to private US healthcare companies. Success for his party will boost these plans.
The European Electoral System
The UK (excluding Northern Ireland) uses the complicated D'Hondt method to allocate seats to parties.
Voters have no choice over individual candidates but can instead choose between lists determined by each party in their region.
Candidates are elected in multi-member regional constituencies: the South-West will elect six MEPs. Because voting takes place in regional constituencies, rather than across the whole country, and no additional preferences are taken into account, the system still favours larger parties, although less than the first-past-the-post system.
Many Remainer politicians and commentators are also trying to make this vote all about Brexit. For example, Gina Miller's 'Remain United' tactical voting platform aims to ensure the greatest number of pro-Remain candidates are elected by recommending which stands the best chance.
The site says its recommendations – which amount to voting Lib Dem in all English regions – are based on polling data. But to focus only on the Brexit question is to ignore other issues, from the dismantling of the NHS to benefits cuts that have inflicted unimaginable cruelty.
The tactical voting site excludes Labour from consideration as a Remain party because it has not stated it would back a second referendum in all circumstances. And, questionably, it does not recommend voting Green in any regions, even though they are strongly pro-EU and currently have three MEPs – whereas the Lib Dems only have one.
As the UK uses a complicated and only semi-proportional electoral system for European elections, tactical voting may make sense. But this poll is about more than the leave-remain divide. It comes at a crucial time both for struggles within parties and a broader re-shaping of the party system, which could have implications for years to come.
Labour's leadership has faced heavy criticism recently, including over its lukewarm support for another referendum. A poor result will bring Corbyn, and the radical socialist politics he has been a figurehead for, under renewed fire.
As for the Lib Dems, they were punished by voters after supporting five years of austerity. Under the coalition government, the most hard-up were pounded by cuts, and voters betrayed by the party's breathtaking about-turn on their tuition fee pledge. In many ways, their legacy is one of widespread political disillusionment and breach of trust. They desperately hope these elections will signal electoral recovery.
And then there's Change UK (also known as "The Independent Group"). Formed of breakaway MPs from both Conservative and Labour (mainly Labour), this will be the first test for the proto-party whose launch was quickly beset by racist gaffes. Despite their name, the main thing they are in favour of is the status quo. Whether formerly Labour or Tory, they wish their parties had stayed as they were pre-2015.
They have no published policies other than remaining in the EU – although their website states they believe in a "mixed social market economy", where "private enterprise can reward aspiration and drive economic progress and where government [ensures] sound stewardship of taxpayers' money".
If they don't fizzle out, their most important contribution to British politics is likely to be splitting the Labour vote. New parties in the UK's first-past-the-post system do not do well: when the SDP split from Labour in 1981 they did not last long but still harmed Labour's electoral chances. If these elections do not kill off Change UK, their legacy may well be keeping the Conservatives in power.
So these European elections have huge domestic significance. But what our European representatives do when they get to Brussels – even if it's just for a few months – also matters.
Last year, for example, the European parliament held a vote on taking action against the authoritarian Hungarian Prime Minister, Victor Orban, for undermining civil rights and judicial independence, and for a campaign against philanthropist George Soros that utilised anti-semitic tropes. The motion was approved – despite the Conservative MEPs who tried to stop it passing.
Over the next few years, MEPs will be crucial as the EU decides how to respond to the problem of climate change, and for the setting of its next six-year budget. Eight EU countries have proposed the bloc should aim to cut carbon emissions to net zero by 2050, and devote 25% of its budget to tackling climate change. That would be a game-changer in the world's response to the climate crisis.
Bristol is part of the South West England constituency, which elected two Ukip MEPs in 2014 out of the region's six MEPs; Farage's Brexit Party may win more this time around and their list is headed by former Tory MP Ann Widdecombe, who has strongly opposed abortion. Ukip, for their part, now has the noxious Carl Benjamin on their list who is currently being investigated by police over a rape comment he made about Labour MP Jess Phillips.
Former Conservative MEP Julie Girling said she would stand for Change UK before announcing she was withdrawing from the election and urging voters to support other Remain parties instead; they have however secured Rachel Johnson (sister of Boris) to front their campaign.
The South West is also currently represented by Labour and Green MEPs – after electing Molly Scott-Cato in 2014. She is again standing as the Green's lead candidate for the constituency this time. Current Labour MEP Clare Moody is heading their list. The Lib Dems, English Democrats, and Independents are also standing.
Whichever way you look at, these European elections come at a pivotal time. And they may help shape British politics for years to come. That's a chance not to be wasted.
What power does the European Parliament have?
There are three major bodies that makes EU decisions: the European Commission, the Council of Ministers, and the European Parliament.
The European Commission, the EU's executive, proposes legislation; it is then up to the Council of Ministers, which represents national governments, and the European Parliament, to pass or amend or reject legislation.
However, the European Parliament has no formal powers over tax or foreign policy. Unlike many national legislatures, the European Parliament is also unable to initiate legislation itself. The European Parliament has increased its role in EU decision-making over the years: in 2014, they seized control of the choice of European Commission president to elect Jean-Claude Juncker to the role.