Photos: The faces of Bristol's Grand Iftar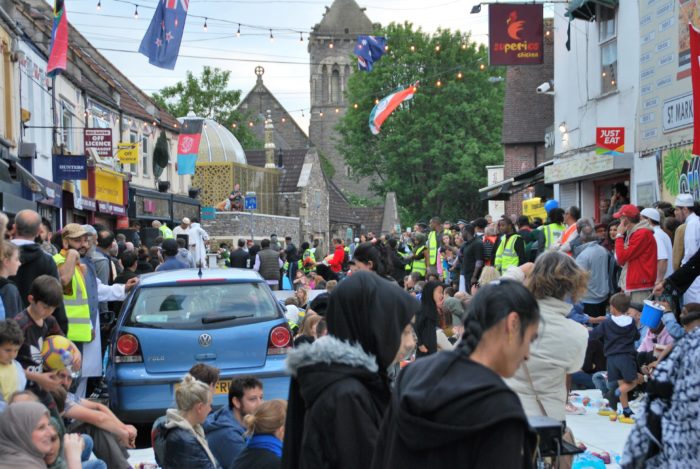 Thousands of people from all over Bristol descended on Easton yesterday to celebrate a Grand Iftar meal as Muslims broke their fasting for Ramadan.
Photos: Samar Khan
The rituals of Ramadan are orchestrated by the phase of the moon and the position of the sun in our sky. In 2019, the days of Ramadan begin at 3am with the sun rising. At this time, Muslim families across the country are stood in their living rooms and bedrooms, praying together after having eaten their Sehri – the only meal they will have until sunset at 9pm.
Sehri is one of many rituals that family units and communities as a whole partake in. Breaking the fast, or Iftar, is the time that everyone is home for. The day's reflections, appreciation for one another and prayers are shared over hearty meals.
Last night, the 24 mosques of Bristol came together in Easton to share this ritual publicly. They hosted an Iftar outdoors on St. Marks Road and invited everyone.
Sitting on the road amongst a huge diversity of faces I wondered if Easton was one of the few places in the country where Muslims could truly practise this together with their neighbours. 80% of Bristolians in Easton agree that 'people from different backgrounds get on well together in their neighbourhood', much higher than the city-wide statistic of 68%.
One thing is certain: all the attendees were united by their struggle against the intolerance that has consumed swathes of our society. St. Marks Road was the perfect venue for learning how to overcome this.
I met one lady who had travelled from Cornwall to attend because 'she held bad feelings about Islam'. She told us that love she experienced in Easton last night disposed of all such feelings.
These are the people I spoke to as communities came together to take part in the Grand Iftar:
Lisa (community organiser for 'interculture') and Shaheen Akbar (Grand Iftar organiser)