Revealed: Evidence of racial profiling of thousands of British citizens by Home Office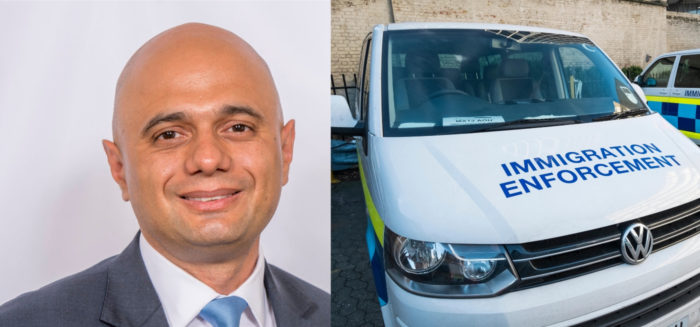 MPs call for change as British citizens are being stopped in their thousands for immigration crimes, Cable investigation finds.
Image: Alamy
Fresh accusations of racial profiling are being levelled against the Home Office after a Bristol Cable and Bureau of Investigative Journalism investigation has found British citizens are being stopped by immigration enforcement officers an average of ten times a day.
Data obtained by the Cable following a Freedom of Information battle shows that British citizens are stopped more than any other nationality in Bristol and the 10 biggest cities in the UK. This has remained unchanged for almost seven years, with Brits stopped more than 25,000 times in the 11 cities.
Immigration officials are supposed to conduct their checks based on intelligence or behaviour that gives them "reasonable suspicion" someone has committed an immigration offence. However, despite not being able to commit immigration crimes, Brits are the largest group stopped making up a fifth of all people stopped and asked to prove their immigration status.
"These findings are further evidence of the deeply ineffective and very likely discriminatory practices used by the Home Office"
Leading immigration barrister Colin Yeo said "It is hard to imagine that there can be a good intelligence basis for thinking a British citizen is an immigration offender. This raises the worry that such encounters are driven by racial profiling."
The findings, a follow-up to a Cable investigation in 2017, have sparked outrage and calls for change from MPs, who have said the fact so many of those stopped were British suggests stops are not based on proper intelligence, but instead is evidence of racial profiling. The Equality and Human Rights Commission has said the Home Office should review its policies.
"These findings are further evidence of the deeply ineffective and very likely discriminatory practices used by the Home Office," said Labour MP David Lammy. "It is absurd that each year thousands of British citizens are being spot checked by immigration enforcement."
Dawn Butler, Shadow Secretary for Women and Equalities, said: "These statistics are appalling but sadly not surprising, as I recognise this evidence from my own lived experience. Immigration enforcement should not discriminate against any individual as it results in huge structural barriers against black and minority ethnic people in the UK."
The latest data follows a previous Bristol Cable and Bureau investigation that found a fifth of people stopped by immigration enforcement operations between 2012 and 2017 were British citizens. At the time MPs and human rights lawyers said this suggested racial profiling was taking place and called for the Home Office to review its procedures.
The new figures reveal Brits continue to be subject to checks in their thousands – even after the Windrush scandal and ongoing outcry over the Home Office's controversial "hostile environment" immigration policies introduced by Theresa May as Home Secretary.
In Bristol, the rate at which Brits are caught up in immigration stops has actually increased. 83 Brits were stopped in Bristol in 2017-2018, making up 15% of all stops, compared to 13.2% of stops from 2012 to 2017.
Failing to collect data to monitor racial profiling
Home Office guidelines state that "reasonable suspicion" that someone has committed an immigration offence can be based on intelligence or because of a person's behaviour, but an immigration officer "must not stop an individual based on their physical appearance". The Home Office declined to clarify what type of behaviour would justify a check.
The Equalities Act 2010 makes it illegal to stop someone on the basis of their race or ethnicity. Unlike the data collected to monitor the disproportionate impact of police stop and search on BAME communities, the Home Office does not routinely record the ethnicity of those encountered, making it difficult to positively confirm racial profiling.
Responding to the latest information, MPs and experts are now calling on the Home Office to start recording ethnicity in its data, to allow for better scrutiny and safeguards.
Shadow Immigration Minister, Labour's Afzal Khan said the data raised "serious questions" and called for the Home Office to "examine its methods of immigration enforcement."
Dawn Butler MP, told the Cable: "The Home Office should reflect seriously on these figures and start collecting data on ethnicity to ensure that its approach moving forward is both proportionate and efficient."
That call was echoed by the body responsible for promoting and upholding equality and human rights. The Equality and Human Rights Commission, told the Cable: "It would be extremely concerning if immigration officials and the Home Office are carrying out checks through racial profiling.
"The Home Office should review its immigration policies to ensure they are in accordance with their legal equality duties and take appropriate action to address any shortcomings."
Asked on what basis British Citizens were stopped and how the Home Office guards against racial profiling, a spokesperson told the Bureau: "Enforcement operations by Immigration Enforcement officers are intelligence-led and are carried out only where there is a reasonable prospect of encountering immigration offenders. Immigration Enforcement officers do not carry out random visits and nor do they stop individuals at random."
Officers interact with people "for a range of reasons," said the spokesperson, and it was "not unusual" for them to encounter British citizens during the course of their operations.
David Lammy MP said "In the wake of the Windrush scandal, the Home Office should have scrapped the Hostile Environment and urgently reviewed all practices to see if they are discriminating against individuals purely on the basis of their ethnicity." 
WHY I WROTE THIS

In 2017, after a mammoth Freedom of Information battle with the Home Office we published the first story with evidence of racial profiling. But with a relentless news cycle, we know it's important to stay on the case of those in power so that institutions are accountable. Now we are following up, and with further investigation have garnered strong calls for the Home Office to take decisive action to address this issue. It's thanks to Cable members that we can spend time on impactful investigations like this.

Adam Cantwell-Corn