How child's play is a serious matter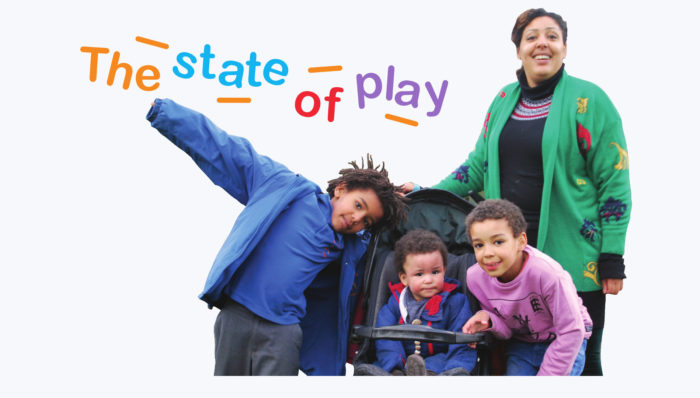 A year since the council cut play services, we visit an adventure playground in Southmead.
Words and photos: Hannah Vickers
I've come to The Ranch, Southmead's adventure playground, to interview people but somehow find myself striding across the grass with oven tray in hand, handing out pizza. A 13-year-old boy runs up, grabs a slice and runs off again. A second later, there's a wail. He's thrown it into his little brother's face. "Phoenix!" a playworker yells. "What just happened?" She's got the younger boy's hand in hers and is in pursuit. He's still crying energetically with a bit of pizza stuck to his face.
"This is part of our community. Without these places we'd be lost"
I've been talking to Phoenix's mum Angelina, who comes here three days a week with Phoenix, Ezekiel, Syrus and 18-month-old Elijah. Phoenix has high-functioning autism and was excluded from several schools before he was diagnosed.
"It was crazy," she tells me, while Elijah grizzles in his pushchair. "He went to three schools in reception year."
Adventure playgrounds were the only places he could go. Bristol Playbus, who now run The Ranch in partnership with Southmead Development Trust, have worked with him since he was 18-months-old. This place, she says, is a lifesaver.
"He hasn't got a social life," says Angelina. "He doesn't have friends…At school, he'll be the one on the side."
It makes a big difference to Phoenix.
"It's free play. No one's shouting at you, no one's threatening you. It's not like school where they've got all these rules."
Surviving through partnership and community support
Since playwork lost all council funding last year, when Bristol's youth services were cut by 30%, play providers have had to scrabble around for alternatives.
James Creed
Councils across the country have seen their budgets cut by half, causing youth services to be severely diminished or scrapped entirely. Overall spending on youth services in England has dropped by 62% – £737 million – since 2010, with 600 youth services closing between 2012 and 2016. Bristol is the only core city in England to still have a commissioned, funded youth service, but it's a narrower provision and work with under-11s now has no council funding.
James Creed, a youth worker with the Southmead Development Trust (SDT) reflects: "We regularly get nine and ten-year olds wanting to be there… And we say, 'No, wait 'til next year'.
The Ranch, one of the oldest adventure playgrounds in the UK, has been l364ucky. When the previous provider lost the contract last year, Bristol Playbus stepped in and is now running it after a community asset transfer in partnership with SDT.
"We exist for the people of Southmead," says Creed. "If we weren't able to take it on, then no one else would be able to…"
Partnership working, grants and community involvement have enabled play services to continue across Bristol, says Katie Hanchard-Goodwin, CEO of Playbus.
"We couldn't have done this without (councillor) Helen Godwin's support," she says. Godwin approached Playbus to take on The Ranch and found the budget to cover the first six months. "She's been championing play, ensuring that it stays high up on the (council's) agenda."
Helen with her daughters Isabela and Gracie
The Ranch is currently on reduced opening of three days a week but it's not had to close through the changing of hands, which is quite a feat. Also, it's not age restricted by the council's targeted model.
"It's a testament to the local community," says Hanchard-Goodwin. "The amount of community organisations working together is brilliant."
"Many of them came themselves as children," explains Creed. "This space has been open for over 45 years. It's very much rooted in the heart of the community. There are a lot of people working hard to ensure that stuff is on regularly for young people."
Why having fun is a serious matter
Last year, Children's Commissioner Anne Longfield released a report, 'Child's Play', calling for more investment into play provision to address children's worsening mental and physical health.
Sam, play lead at the Ranch, says that not engaging in outdoor activities causes huge mental health problems in children.
"For too long it was just seen as, 'Oh it's just play, it's just frivolous, it's got no value'," says Tom Williams, founder of adventure play non-profit Woodland Tribe.
"But for children living in areas of high deprivation, it's about social capital. More well-off children have a chance to build social capital by meeting up with friends or going to after-school activities, joining clubs or being taken on holiday by their parents. For less well-off children, social capital is built up by play." If there aren't free-to-access play services, the disparity in opportunities results in "inequality and disadvantage at an early age," he explains.
And if your childhood isn't spent in a big house surrounded by green spaces, but in a flat without a garden, in an unsafe area, your options for free play are limited.
Local mum Helen brings her daughters, eight-year-old Isabella and nine-year-old Gracie, because she doesn't always feel safe in the local parks. "Last Saturday in a park just round the corner, this girl come up and threatened to cut my daughter's head off," she says.
"Children are being totally marginalised in society," says Sam, play lead at The Ranch. "Schools are getting less and less play…and more control, stress and exams."
Katie
Adventure play is a way for children to explore the world without the risk taken out. "Risk is so important for children," says Creed.
"It's how children learn their limits and learn to be safe; how they take agency over their lives," agrees Hanchard-Goodwin.
There's plenty of that here. I watch a tiny child, barely big enough to toddle, wobble a balance bike up a ramp. I look away for a moment and suddenly the child is hurtling down it. She reaches the bottom without incident and toddles away purposefully down the grass.
More than playgrounds
"Yummy, pizza!" Angelina is given a slice by a serious looking child.
"I was so broke last week," she tells me. Getting her car fixed left her with 77p in her account. "If I have to spend that on a tyre then that's it, we've got no food."
"I knew that I could come to the playground and get a meal for them."
The Ranch puts on a free meal every evening. It's not means-tested, so no one has to know who needs it, and often whole families turn up. School holidays can be a hard time for families reliant on free school meals.
"This is a disadvantaged community so it's more than a playground…We're dealing with deeper things than just play," Sam says
The future of play in Bristol
Hanchard-Goodwin is optimistic about the future. Playful Bristol, the organisation Bristol's play services came together to form, is in the process of writing a play strategy, which will inform the delivery of services when it's launched in May.
"The sector has grown immensely in the last year. A year ago we were all in panic mode, worried that this was the end of play for children in Bristol…"
But it's still going strong. And, while adventure playgrounds are being shut across the country, in Hartcliffe one is being built. "It's the first new adventure playground in Bristol in like, 40 years," she exclaims.
"Adventure playgrounds are hanging on by their fingertips and being closed down everywhere else in the country so for Bristol to open a new one is very positive," says Williams.
WHY I WROTE THIS

Cuts to youth and play services are unfair – the people most affected by them can't vote! Many in charge will never feel the impact of their cuts – they can send their children to private school and all kinds of extracurriculars. I wrote this because I'm scared that as we get used to a lack of services that used to be considered vital, we'll forget to be angry about austerity – it'll just become normal.

Hannah Vickers