Zero rough sleeping in Bristol by 2027: fantasy or reality?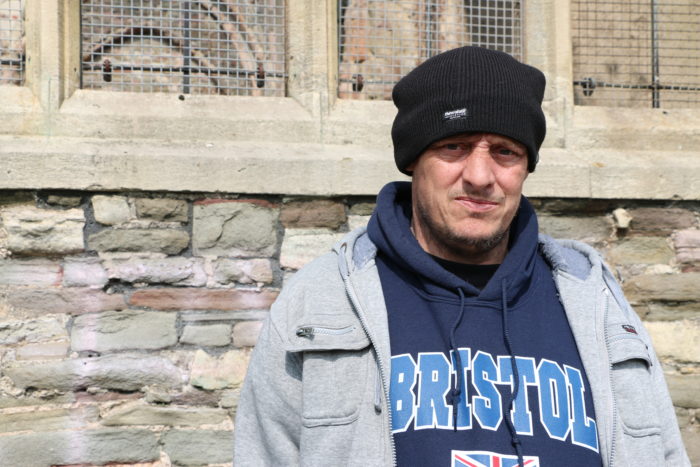 The council has set out a bold vision to eradicate rough sleeping in just eight years, but can we get there?
Imagine it now. The year is 2027 and you're walking along Broadmead, Trenchard Street Car Park or any other rough sleeping 'hotspot' in Bristol. It's midnight and no one is bedding down for the night. No one is sleeping on our city's streets.
This is the commitment recently announced by Bristol City Council, who have released a public consultation on a new Homelessness & Rough Sleeping Strategy. This is the right vision, and should be a collective concern for our city, but I am personally torn. Will this be just another unfulfilled promise? And how much power do we really have locally to make this vision a reality?
Where are we now?
Bristol City Council's rough sleeping partner organisation, St Mungo's, had contact with 951 people in 2018 – a 23% increase on the previous year. The official single night count for 2018 was 82 rough sleepers (widely acknowledged as an underestimate), which was the fifth highest in UK.
But static numbers hide the fluid nature of rough sleeping. Of those 951, more than half were found accommodation and around one in three were not seen again. It's a complex picture, but the long-term trend is worsening. In 2012, there were only eight long-term rough sleepers in Bristol. I'm not highlighting these numbers to create a sense of despair but to highlight the scale of the task of eliminating rough sleeping in just eight years.
Help us grow!
Because of Cable members, we're able to remain independent, publishing the stories that the 2,600+ Bristolians that own it think are important. It's because of Cable members that we don't have to be constrained by what's in the interests of an international media corporation, or cater to the interests of companies advertising with us. But to continue doing this, we need more members.
For £1 a month you help keep us going
So what is the plan?
We are yet to see specific action plans linked to eliminating rough sleeping in just eight years, but there has been a huge volume of energy and activity over a number of years to build a 'one city approach' to rough sleeping and the required partnerships and services. This has been accelerated by the national Rough Sleeping Initiative, where the council has successfully bidded for £1.1 million of funding for 2018-20.
"We're living in the perfect storm of extremely damaging welfare reforms and a chronic lack of affordable housing"
And here lies my first reservation. We saw with the Rough Sleepers Initiatives in the 1990s that an ambitious and clear target has the ability to galvanise, provide common purpose and make substantial progress, but there is always the question of sustainability. Time-limited, disparate funding pots make this difficult and I'm yet to see where the long-term funding will come from. That is assuming we don't want to see rough sleeping rise again from 2028 onwards.
As a sector we also know there is a serious lack of data on the effectiveness of a number of widely-used interventions to address rough sleeping (not least hostels and shelters). In Bristol we do at least have evidence-based interventions, such as offering person-centred support and choice, access to primary healthcare and assertive outreach to help people before they hit crisis point.
Bristol is also currently part of a number of pilot schemes, including the new 24-hour Somewhere Safe to Stay hub in Stokes Croft, a new scheme to help ex-offenders stay off the streets and away from crime, and Housing First, where the aim is to get people into housing as quickly as possible.
What needs to change?
For me, what's missing is something that joins all these dots together and makes sure everyone is pulling in the same direction (whether commissioned by the council or not). Is the current provision also enough in hard numbers to get us where we need to be in eight years? Research suggests there are 511 people in the South West that should be an immediate priority for Housing First but we currently have a pilot for just 20 in Bristol.
The commitment also means ending rough sleeping for all groups of people, including those that may not be entitled to public funds. Are we meeting the needs of all different sub-groups? The council have committed to a 'shared performance dashboard' in their strategy and that's what we need. This should also have key performance targets for delivering new affordable permanent housing and support tied to reliable rough sleeping data.
To end rough sleeping we also need to tackle the broader issues that drive it. This requires change outside our sphere of influence. Ask any charity in Bristol and they will cite the lack of 'move-on accommodation' (private or social) for current or former rough sleepers as a key barrier to meeting the commitment. Hostels and shelters should only be emergency and temporary solutions, but without other accommodation they are forced to operate as longer-term solutions, often with high eviction and abandonment rates.
The council commissions more than 1,000 supported accommodation units, but when these are at capacity and people cant move onto other accommodation, the system clogs and grinds to a halt. There are ongoing attempts to increase supply (e.g. bringing empty properties back into use) and intentions to improve this in the council's strategy. But to create sustainable routes out of rough sleeping for everyone that needs it is an extremely tall order if you don't have the available bricks and mortar.
Finally, we're living in the perfect storm of extremely damaging welfare reforms and a chronic lack of affordable housing. This has led to a 165% rise in rough sleeping nationally since 2010, with many more placed at risk. If this is not addressed, the demand for services and accommodation will only increase. This requires national change and our role in Bristol needs to be lobbying and campaigning for this.
Where do we go from here?
The commitment of ending rough sleeping by 2027 is in itself a cause for optimism, as is the strategic leadership and activity across the city to try and make it a reality. There are things in our control that can change – for me this is the dry stuff of a properly resourced action plan and targets that make sure no one is missed. We need to match the help and support to everyone that needs it and scaling up Housing First and other interventions that work with sustainable funding would be a great first step.
My optimism then fades when I think about the broader issues only partly in our control – this relates not just to rough sleeping (the tip of the iceberg) but all forms of homelessness. So here is my prediction. We will make great progress over the next eight years and achieve tangible results, which in itself should be considered a success. But the commitment won't be achieved.
However, this of course doesn't mean we shouldn't go hell for leather, as a city and individuals, to do what is in our power, and campaign for change. It is the only right thing to create a society we can all be proud of.
Find out more about what you can do to help end rough sleeping and get involved at a local level. To support key national campaigns, see Crisis' #coverthecost campaign, Shelter's campaign demanding the government builds more social housing and St. Mungo's Home for Good campaign, calling for guaranteed long-term funding for homelessness services.