Ken Macharia not detained after asylum refusal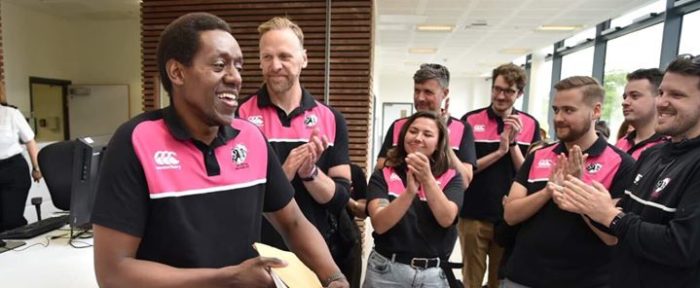 60 supporters accompanied him to his monthly check-in at Bridgewater police station.
Photos: Rob Scure and the Bristol Bisons
On 3 June, the Home Office changed their profile picture to a pride flag to celebrate Pride. On the same day, Ken Macharia, the Kenyan Bristol Bison's player seeking asylum in the UK because of his country's stance on his sexuality, received a letter from them refusing his case and threatening deportation.
Three days later, he had to go to his monthly signing-in Bridgewater police station. It's at these monthly meetings that asylum seekers are often detained without notice, so Ken was worried he wouldn't be going home but would be taken directly to a detention centre. 60 supporters went with him to protest outside. He was allowed to return home, but his future in the UK remains uncertain.
"I'm relieved and happy to be going home and resting," he said, after leaving the station. "It's been a very stressful time. But I don't have permission to stay in the UK and my position is precarious."
Ken's rugby team, the Bristol Bisons organised the protest, with some travelling from London to be there. One protester, Tyrone told the Cable: "40 people went into the station with him so that he could sign on. It was beautiful, he wasn't alone at any one time."
Ken came out after moving to the UK as an engineering student in 2009. He stayed on with student and work visas after graduating but when visa eligibility rules changed in 2016, he realised he was at risk of being forced to go back to Kenya, where gay sex is illegal, and applied for asylum.
In the same letter that they told Ken he cannot remain in the UK, the Home Office acknowledged that same-sex sexual activity between men is criminalised in Kenya with a penalty of up to 21 years in prison and that the Kenyan government has no intention of decriminalising it. They added that they understand the Kenyan police have reportedly harassed LGBT persons, or those believed to be so, and have subjected some to blackmail and rape.
A spokesperson for Lesbians and Gays Support the Migrants is familiar with this situation and describes it as "shocking, but sadly not surprising. This is very typical of Theresa May's hostile environment policy, with migrants across the country facing the threat of deportation to countries where they are oppressed simply for being who they are."
Donald, the club secretary for the Bisons thanked everyone for the support they had found at such short notice, "a huge thank you to the 60+ people that turned up to support Ken, some travelling from as far as London to help." The club captain, Murray, reminded us that "the fight isn't over. His case is due for judicial review and the legal costs are going to be high. Right now we need raise money to help Ken pay the fees. Our crowd funding page is up, donations of any size will be enormously appreciated."
Centres just like Patchway and Bridgewater all over the country act as revolving doors for detention in migration centres and deportation. Activist groups have sprung up across the country to ensure that people with uncertain immigration status have some support in the hostile environment.
We spoke to Sophy Gairdner from Bristol Defend Asylum Seekers Campaign and from Bristol Signing Support who "came to support the astonishing efforts of the Bisons," who called it "A quiet show of love and human solidarity."
"It was a quietly upbeat, dignified and really supportive occasion, beautifully lead by Murray, and welcoming in trades unionists, asylum campaigners, fellow signers (volunteers that help migrants at sign in stations) and friends."
"What a learning curve for the team, getting to know about our asylum system!"
While Ken has already attended many signing on sessions, many protesters were surprised about the process.
"As great as single acts of defiance are, we need the whole system to change"
Josh Connor, from the Bristol branch of LGSMigrants told us: "Although there was a sense of relief when we were told they weren't going to detain him, we all knew they easily could tomorrow if they wanted. There were lots of us talking about how great it was that everyone came out for Ken but also that hundreds face this threat every day by themselves. As great as single acts of defiance are, we need the whole system to change."
This was echoed by Tyrone, another protester, who thought that if a protest happened every time someone signed on, "it perhaps wouldn't be enough to change how the Home Office operates, but it makes a difference to the person's morale in a depressing and degrading process."
Most of the protesters knew Ken personally, Tais had spent time with him training on Movement Builders, a course run by NEON. " We found out about his case through our new network and we wanted to come out," she told the Cable. "Everyone is on the case!"
Ken made an effort to meet those that he hadn't before, Tyrone says "he went around thanking everyone for coming and supporting." Josh thought it was "really powerful to stand with him alongside so many people whose lives have been made better for knowing this man."
Outside of Somerset, protests have been organised by LGBT campaigners in Brighton, Bristol and London. Teeva Tamali, organiser for Brighton Against Borders, tells us that "The systematic oppression of Ken simply for wishing to live safely and freely in the country of his choosing is an act of hostility towards all LGBTQ+ and migrant people. We are demonstrating in solidarity with Ken to raise awareness of the Home Office's routine abuses of power, of which this is just one example, and to keep Ken in the UK, a place he has known as his home for the past nine years."
The Home Office's threat to Ken is a threat to entire communities, said Rob Scure, "Ken has lived in the UK since 2009 and his mother is a UK citizen living in Bristol. He is a highly skilled engineer, currently banned from working, and active member of the community. The UK government claims he is not at risk in Kenya, but also recognises that homosexuality is illegal and the police routinely blackmail, arrest, beat and rape LGBT people!"
Ken's supporters will be protesting in Bristol today (Friday, 7 June) at the Fountains at 5.30pm and have made a petition and fundraiser to help with legal costs. You can write to Ken's local MP @JSHeappey james.heappey.mp@parliament.uk or tweet the Home Secretary @sajidjavid using #KeepKenHome.