Tiny homes: 'An innovative way of getting people to accept less'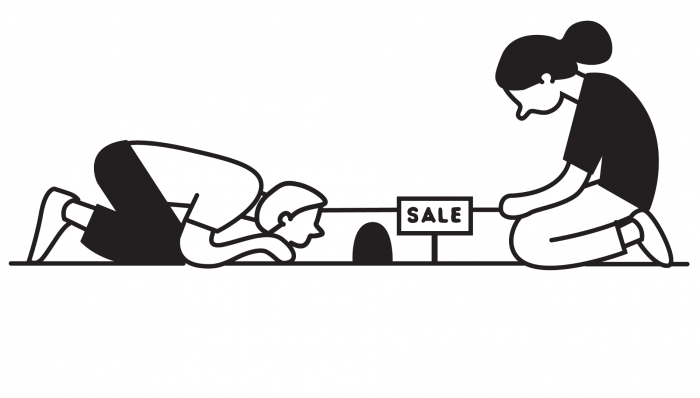 Tiny homes are popping up in Bristol, with the council even bypassing its own policy to permit miniature flats. But as a solution to the housing crisis, this approach could do more harm than good.
Illustration: Laurence Ware
Tiny homes are big news. One of the first ideas that has floated to the surface from Bristol's 'housing festival', which aims to showcase creative responses to the housing crisis, is allowing some homes to be built below minimum space guidelines.
A few months ago councillors also ignored their own policies and officer advice to approve plans for a Hillfields house and garden to be turned into three mini one-bed flats.
Meanwhile, charity Helping Bristol's Homeless is – as is happening elsewhere in the world – converting shipping containers into temporary accomodation for homeless people, with help from local businesses.
"Everyone should have the option of decent housing"
Shipping containers can be turned into high-quality buildings. If they have been insulated and cladded, windows added, they can be highly efficient while avoiding looking and feeling like metal boxes – even if they remain firmly cuboid.
But are ideas such as these really an answer to our desperate shortage of high quality affordable housing? While new technologies and techniques enable new housing designs – and living spaces that require very little energy inputs, important in the struggle against climate change – this misses the big picture.
Human warehousing
The idea of cutting back on space to house people feeds into a pernicious idea that those with less money should be warehoused away. It erodes the idea of decent minimum standards for everyone; that everyone should have the option of decent housing.
The national space standard – which is up to councils to apply – recommends 37 square metres for a one-person, one-bedroom flat, or 50 square metres for two people. The UK already has some of the smallest homes in Europe. We don't need smaller homes: we need ambitious social housing projects coupled with proper action to bring unused housing and land back into use.
Rents are skyrocketing, and homelessness remains high: 2017 figures showed 966 people made applications for help in Bristol over 12 months, and this is only a proportion of those affected. Benefit changes and other social causes are often at the root. Universal credit, which began being rolled out for all new claimants in Bristol last year, has seen many people falling into rent arrears, risking a new wave of evictions.
At the same time homes stand empty. Recent precise figures are not available but 2015 research by the Cable showed at least 892 homes had been unused for over six months. Meanwhile developers sit on sites for years – or pitch new homes at the luxury market. Problems, in short, are economic and political, not based on design.
New forms of miniature housing – such as miniscule new the'pods' for homeless people in Newport – should not be used as a top down solution without consideration of their possible impact on those who end up living within them.
Mental health impact
Some people forced to live in cramped spaces have reported their mental health taking a turn for the worse. Anxiety is fuelled in airless environments. And where couples sharing small apartments have no room for anything except enforced proximity, relationships may come under strain.
More broadly, social isolation can be fostered where people are embarrassed – or physically unable – to invite anyone round for a meal or even a cuppa. And what if a resident later wants a new partner to move in with them, or needs a carer? Shirking standards can create work later for council housing departments if they have to allocate new accommodation due to changed needs.
And while heating demands are likely to be lowered in smaller buildings, there could be other indirect negative impacts: if a lack of kitchen facilities means greater reliance on ready meals, or
a 'one-in-one-out' attitude
leads to throwing more things away.
For multi-bed homes, there is even some evidence that undersized ones may end up under-occupied – stingily-proportioned bedrooms being used as storage instead – meaning that rather than saving on land and resources, they do the opposite.
Container homes, or other easily moveable buildings, may be a useful stopgap while proper schemes of social housing are built. But miniature homes are no substitute for proper policy.
For those who choose 'tiny homes' as a way of life, they can be creative projects, inspirational, even beautiful. But forcing people into them shouldn't be seen as a solution to the housing crisis – it's just an 'innovative' way of getting people to accept less.
Nick Dowson is a freelance journalist who has written for the New Internationalist, the Guardian, the Independent, Moscow Times and Red Pepper.