Clean Air Plan: two options, no answers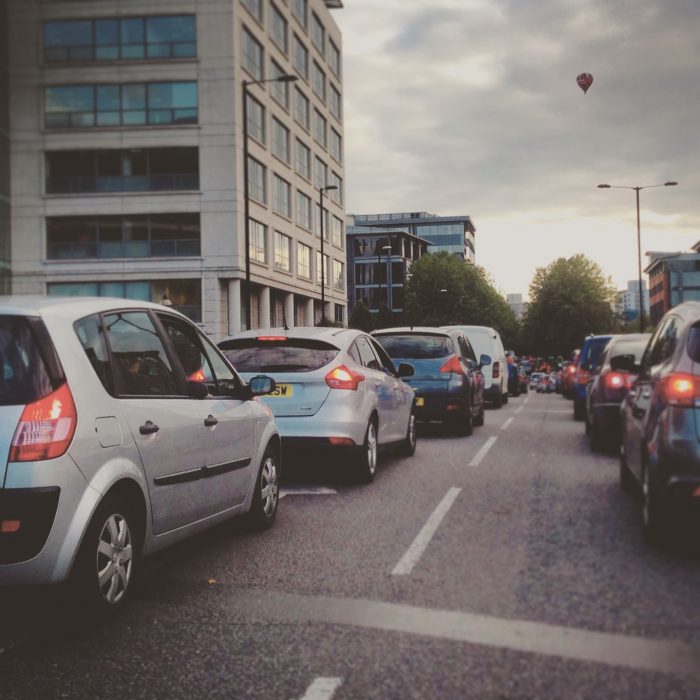 Council finally outlines two clean air plan proposals, but fails to produce analysis to back up its chosen options.
Photo: Colin Moody
Bristol City Council has today (11 June) released information on two options for a traffic Clean Air Plan which will be considered by Cabinet next Tuesday (18 June), with a view to putting the options to public consultation next month.
Option 1 consists of a 'medium' size charging zone, where non-compliant vehicles such as HGVs, LGVs and taxis would be charged to enter –  but which would not include private vehicles. Option 2 is a small area in the city centre which diesel vehicles would be banned from entering between the hours of 7am to 3pm.
The council is legally obligated to reduce dangerous levels of NO2 in the city as quickly as possible, and has previously been threatened with legal action from central government for failing to comply with the directive.
The council leadership has stated it wants to 'seek a steer' next week on the proposals before launching a public consultation, will run for six weeks from 1 July. It then plans to submit its finalised plans to the government by September, with the plans signed off for execution by December. The Clean Air Plan will then be a year overdue.
"After spending almost a million pounds over two years, we have a cabinet proposal to consult on one option which might not be legally possible and another which isn't even examined in the accompanying report"
The proposals the council leadership has now put forward will not achieve compliance by 2021, despite being legally obligated to improve Bristol's air quality as soon as possible.
Bristol Green Party have been campaigning for improved air quality. Councillor Eleanor Combley, leader of the Green Group said: "After spending almost £1 million over two years, we have a cabinet proposal to consult on one option which might not be legally possible and another which isn't even examined in the accompanying report.
"Then we hear that the rest of the information won't be available to the public until two weeks into a six-week consultation," she added.
"Getting even the smallest piece of information out of the administration has been like pulling teeth. And what we are being offered now seems less like a plan for action and more like an ill-defined fudge to get a tick in a box before central government asks for its money back."
No modelling
The council also today released an 'Outline Business Case' report produced by consultants Jacobs in January – but one which it has already dismissed due to "negative socio-economic impact for our lower income residents". The council chose to pursue alternative options instead, further delaying the Clean Air Plan. No modelling is available on the environmental and economic impacts of the council's final choices.
The council has also admitted that it has yet to complete various technical studies on its two proposals meaning the public consultation will run for two weeks before complete information is available.
The latest announcement comes after months of speculation from local politicians and campaigners that Mayor Marvin Rees is determined not to introduce a charging zone in Bristol, despite the toxic air thousands of Bristol residents are forced to breathe daily, which contributes to around 300 deaths per year in the city.
In a previous study produced for the council in spring 2018 by consultants ch2m, various Clean Air Zone options were judged for their ability to achieve compliance with legal levels. The only options judged to be able to comply with legal levels by 2021 involved charging vehicles to enter a clean air zone, which could be either a small or medium zone, and in both cases either including private cars or exempting them from charging.
Cabinet will vote on whether to go ahead with the public consultation next Tuesday (18th).
The timeline so far:
July 2017: Bristol council, along with 23 other local authorities, is ordered by central government to produce a plan to bring its levels of NO2 to below legal limits
April 2018: A 'Strategic Outline Case'  – a document produced by consultants ch2m – assesses the options available to BCC and concludes that there are four options that will bring down the NO2 levels as soon as possible: a class D small or medium-sized charging zone, or a class C small or medium charging zone. Class D includes private vehicles, whereas class C would not.
December 2018: The council misses the deadline to produce its final plan, known as the Outline Business Case, for central government.
January 2019: Therese Coffey MP threatens Mayor Marvin Rees with legal action if the council does not meet a second deadline of February 2019.
February 2019: The council misses the second deadline after ditching the Outline Business Case produced by Jacobs, citing unacceptable socio-economic impacts on low income Bristolians. The council refused to release the OBC to the public.
June 2019: The council announces it will consult on two options for cleaning up the air for six weeks from July 1st – but the options are different from those identified in the Strategic Outline Case as capable of meeting legal requirements, and there is no accompanying analysis to back up the choices. The council also admits that technical reports have yet to be finished and that some information will not be available until two weeks into the consultation period.