Communities standing up: college students, skaters and migrant mums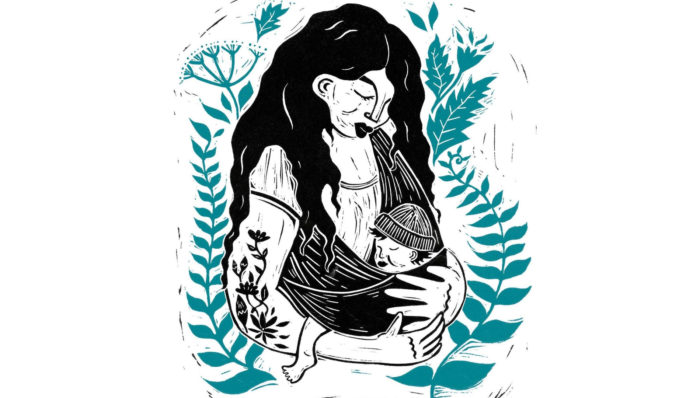 News is so often depresseing and disempowering. But these Bristolians are making a difference across the city.
Solidarity, support and community for migrant mums
Fiona Mann, 31, was working as a support worker with survivors of human trafficking and found herself frequently asked to be a birth companion to the women she was supporting.
"A lot of the women were finding it hard to navigate the NHS, were socially isolated from family members and community," she says. "A lot were survivors of trauma and abuse. On top of that they were then pregnant as well. It's a stressful time for any mum, let alone all the other stuff that was going on."
Fiona realised "something bigger needed to happen".
So in March last year, she founded Project MAMA (Maternity Action for Migrants and Asylum Seekers). A team of volunteers support soon-to-be mothers, mostly refugees and asylum seekers, in accessing healthcare, signposting them to services and providing a sense of community.
Eighteen babies have been born through the project so far, with another six or seven on the way. The women come from all over the world and have often experienced sexual abuse or human trafficking.
As well as past trauma, a big hurdle is accessing healthcare and other services because women fear being reported to the Home Office, as a result of Theresa May's hostile immigration policy, which is designed to discourage people from staying in the UK.
There is also social isolation. "We have a drop-in group every Friday called Bumps and Babes without Borders," Mann says. "That's a really beautiful space where women support women from all walks of life. A different woman every week chooses to cook a meal from her country of origin. That addresses a lot of the community that they feel they've lost when they were displaced."
Currently the project is run by about 10 volunteers with experience of working in birth. They have to prioritise those most in need because of limited capacity, but plan to apply for funding in order to employ full-time staff in the future.
Some of the mothers are living in temporary council housing, including one who has just had twins whilst living in a hostel in south Bristol; an hour on the bus from the city centre.
Another woman lives in a suburb south of the river. "She wears the hijab but goes to the pub every Sunday because there's a live band and her toddler loves to dance," Mann says. "I had my own prejudices, about Islamophobia being rife. She said everyone is very sweet and kind to her."
"I could have only done this project in Bristol," Mann says, listing a network of organisations that have helped, including Bristol Refugee Rights, Aid Box Community and Refugee Women of Bristol.
"What's really blown me away is the people who go to the project. The whole ethos of the organisation is solidarity not charity – women supporting women. They talk about their experiences and cook for each other. That has been the most beautiful part of it for me."
Find out more about Project MAMA, donate or volunteer: projectmama.org
Saving Bristol's suburban skate culture
Dan Lacey at Warmley Forest Skatepark by Jess Connett
On the scarred tarmac you can still see the outlines of the old ramps at Warmley Forest Skatepark, on the eastern fringe of Bristol's sprawling urban mass. There used to be twice as many ramps here, full of BMX riders, skateboarders and scooter kids, but now only two metal ones remain, covered in scruffy tags. It was a skatepark that local lad Dan Lacey, now 30, helped design as a teenager and that he has spent more than six years fighting to save.
"Skateboarding made me who I was," Dan says. He learned to skate in his garden aged 14, inspired by playing Tony Hawk's Pro Skater video games with his friends.
He and his friends didn't have anywhere local to skate, so would either get told off or make the eight-mile round trip to Keynsham. But things changed in 2005 when he helped build the skate park near Warmley Forest Park as a teenager, which transformed things for young people in the area and fostered a community.
Sadly, this golden era for skating came to an end in 2012 when one of the ramps was destroyed by an arson attack and several further incidents of vandalism sent costs spiralling. Without warning, South Gloucestershire Council removed half of the ramps.
Within a week, Dan and the youth workers were in contact with the council and making plans to completely rebuild the park in concrete, which would cost between £30,000 and £60,000.
Around the same time, Dan was involved with plans for an indoor skatepark in Winterbourne and an outdoor one in Cadbury Heath. His efforts didn't go unnoticed; he was given the South Gloucestershire Chair's Community Award.
By late 2018, Warmley's funding applications were being rejected again and again. Dan and the rest of the skatepark committee were on the verge of giving up when they got a lifeline – a £50,000 grant from the Landfill Communities Trust. Estimated costs had risen to £150k, but the rest of the cash was offered in January 2019 by Enovert Community Trust and Oldland and Bitton parish councils.
This victory after six years isn't just for Dan's love of skating but also about giving young people living in the suburbs somewhere they can hang out with their friends, get into mischief and learn lessons.
"It makes me feel proud to know Warmley is going to get a new skatepark. We've given something to everyone," Dan says. "When I was younger I never had anywhere to skate. There is a skatepark on my front doorstep now and as a kid that was nothing but a dream."
Follow Dan on Instagram @lacey_skate_1988 for updates about Warmley Forest Skatepark
College canteen meets student demand to go plastic-free
City of Bristol College has committed to going plastic-free in canteens on its four sites across the city, following demands from environmentally aware students.
Edd Richardson, the college's head of quality and student experience, told the Cable, "There was a groundswell of opinion from students who are very environmentally aware nowadays and very active on that issue.
"They spoke to us about polystyrene trays and plastic cutlery, all these things which are very common in our canteen. They were telling us loud and clear, 'Why aren't we doing something about this. Is there something we can do?'"
The subcontracted catering company, Taylor Shaw, took on the feedback from students and is now clearing out the last of the plastic and polystyrene stocks. All takeaways will be put into cardboard boxes, all cutlery made from recycled wood and students will also be able to use their own coffee cups and get a discount.
Students have also called for food waste bins and the catering company is considering investing in better washing up facilities to reduce reliance on disposable food containers. The college collects feedback in a number of ways, including focus groups, a new students union and an online platform where students can vote on proposals.
"I've been here a while now. Students, as a rule, no longer have the apathetic attitude," Richardson said. There are students who are really actively engaged and incredibly knowledgeable about a variety of issues; environment being one, politics another. The environment is an issue that young people have really got involved with. I think they know they can make a difference."