Farming's devastating impact on urban air pollution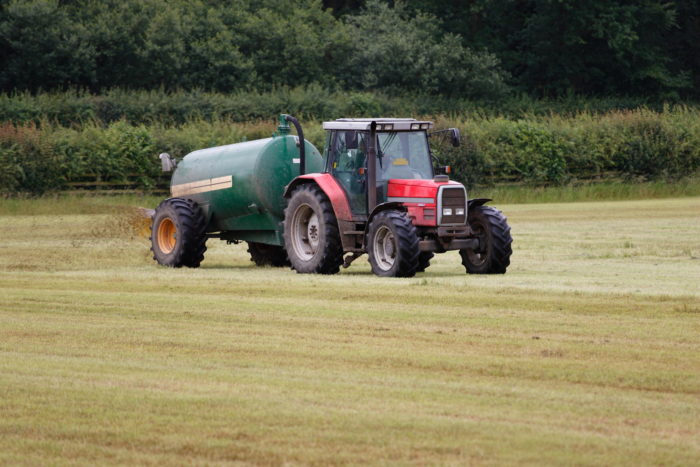 The story was produced in collaboration with the Bureau of Investigative Journalism.
One of the major sources of pollution is unregulated and unmonitored by the government.
Photo: Jim Harrogate
Ammonia emissions from farming are the cause of half of dangerous PM2.5 particulate pollution
Farmers warn that funding and support is needed to tackle the problem
Driving past a farmer spreading slurry, you might hold your nose and wind up the windows to avoid the stink. But you might not know that the ammonia gas emitted by farming is one of the most significant pollutants contributing to dangerous particulate pollution in cities and towns.
1.8m
the
number of cows
in the South west, one third of England's Cattle
An estimated 1.8 million cows live in the south west, the cattle capital of the country, according to the National Farmers Union. But there is no monitoring or regulation of the ammonia emissions, because they don't require environmental permits, and there is little enforcement of illegal pollution breaches.
Cattle farms are the largest emitter of ammonia, contributing to almost half of agricultural ammonia emissions, and yet they aren't required to monitor their own ammonia levels. Currently, only intensive pig and poultry farms are required to estimate and self-report their ammonia emissions, but these account for only 4% of emissions nationally.
Almost half of the ambient PM2.5 (the smallest and more dangerous type of particulate pollution) originates from farms, whose emissions are not monitored or regulated by the government. Meanwhile, there are 300 deaths a year in Bristol because of air pollution.
Yet without financial assistance, cattle farmers – who are often struggling to make a living – lack the resources to implement measures which could dramatically reduce ammonia emissions.
What's the problem?
"On a national or regional level, ammonia, largely from agriculture, reacts with nitric acid derived from nitrogen oxide emissions produced by vehicles and industry, to form a type of particulate matter called ammonium nitrate," explained Professor Roy Harrison from Birmingham University's School of Geography, Earth & Environmental Sciences, talking to the Bureau of Investigative Journalism (BIJ).
3000
number of
premature deaths
that could be prevented by cutting UK agricultural ammonia emissions by half could prevent
Particulate matter exposure is linked with respiratory and cardiovascular disease, cognitive decline, low birth weights and increased mortality.
Professor Alastair Lewis, from the National Centre for Atmospheric Science, explained that around half of PM2.5 found in towns and cities is associated with ammonium.
"Thinking about the basket of air pollutants we breathe in," he told the BIJ, "PM2.5 is probably responsible for somewhere between half and three quarters of the total harm we derive as humans from air pollution."
An analysis by Andrea Pozzer of the Max Planck Institute for Chemistry in Germany, produced for the BIJ, found that reducing ammonia emissions from UK farms by half could prevent 3,000 premature deaths per year.
Lack of monitoring
Ammonia, which is produced from the storage and spreading of slurry, manure and the use of inorganic fertilisers, could be significantly reduced with low-tech interventions. These include ensuring slurry is stored correctly and covered, using spreading equipment that reduces air emissions such as injection, and spreading only in correct weather conditions.
However currently these practices are not widespread, as most farms lack the necessary infrastructure, and given the lack of slurry storage most farmers have, spreading guidelines are often ignored.
50%
of dangerous PM2.5 pollution is associated with ammonium
Alongside the air quality impact, ammonia from slurry has significant impacts on soil and water health. For this reason, one local organisation with insight into the extent of problems locally with poorly handled slurry is Bristol Avon Rivers Trust (BART).
CEO Ian Mock tells the Cable the organisation deals with complaints of poor slurry handling with "astonishing and depressing regularity". "We get a lot of calls about slurry spreading in bad weather."
BART is working with farmers to encourage better slurry handling practices through building long-term relationships.
Mock says economic pressure on farmers means many may have more livestock than their capacity can handle: "Their slurry capacity is too small, they have to get rid of it and they can't pay to drive it somewhere else. So they put it on their land whether the conditions are right or wrong."
On the week we speak in mid-June, he said there had been a case of slurry pollution on the outskirts of Bristol – which had been reported to the Environment Agency, to no response.
"The Environment Agency (EA) are the best people to resolve these things, and if they actually increased the investment in the EA, perhaps they would be able to do more," says Mock.
Research by Unearthed published in December 2018 found that site visits by the Environment Agency had fallen by more than a third over the previous four years, and that the regulator had shed more than 20% of its workforce since 2013.
Mock is keen to point out that farmers feel under immense pressure, a sentiment echoed by Becky Wilson, a technical specialist in resource management at Duchy College.
Duchy College ran a European-funded project in the south west for encouraging sustainable farming practices called SWARM hub between 2009-2016. It focused on showing how farmers could increase productivity by using their resources better, but at the same time reduce their environmental impact. They now maintain online resources and news to continue the work.
"They [farmers] know the issues but they literally haven't got any other option. That's one of the cold hard realities… They all want to do the right thing, apart from a very small minority," Wilson says.
Plans – but no funding?
What would 'the right thing' be? The Netherlands is touted as an example of success after introducing control measures that reduced ammonia emissions by 64% between 1990 and 2016.
Ammonia emissions were addressed by the UK government for the first time with the Clean Air Strategy 2019. It stated that it would regulate on, among other measures, requirements to spread slurry with low emission equipment by 2025, and a requirement to keep slurry stores covered by 2027.
Yet there are no plans for how to help farmers adopt the technologies and infrastructure improvements they would need to comply.
"In many cases, these improvements are very expensive," said David George from the National Farmers' Union south west branch. "The volatility of farm incomes makes replacing old, inefficient infrastructure difficult. Grant support for ammonia reduction technology, along with the right advice, could significantly reduce emissions."
For now though, Wilson says the sudden interest in legislating on ammonia has left farmers "frightened".
"I think you have to have all the ducks in a row, if you're going to start legislating on something that we haven't had any legislation on before, or that farmers haven't been expected that is coming," she says. "Then we have to have information of the areas of the farms that you're going to target and if they say we have to put big investments in, then we have to help them with that.
"There needs to be clear guidance about what is expected."
Until a coherent plan is in place, ammonia may continue to be one of the most significant but least addressed sources of air pollution.