Some locals are financially benefiting from gentrification in St Pauls. But at a cost.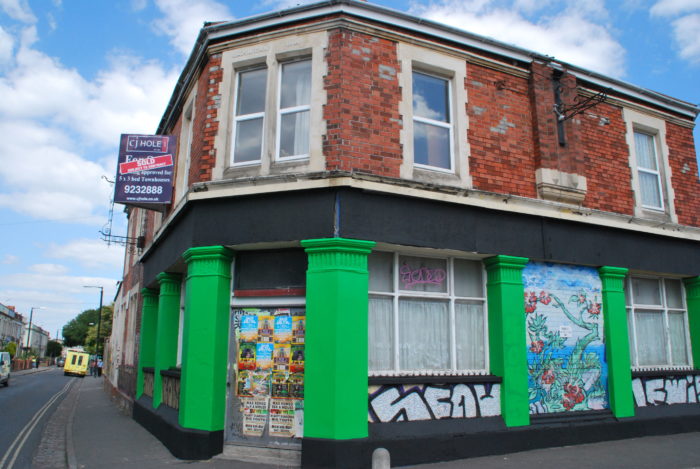 Crime may be down, and some locals are cashing in but there's nostalgia for a different St Pauls.
Photo: Former pub, the Jamaica Inn, will be turned into townhouses
When we read about gentrification, we don't tend to think of locals who do well from their community's 'up-and-coming' status. It's a fact that many people, long time locals and working class communities have been trampled by the march of gentrification. But that narrative doesn't tell the whole story. Take 32-year-old Andre, born and bred in St Pauls, who bought his old council house in 2006 for £75,000.
Following the advice of an 'elder', Andre purchased a house for five times his £16,800 salary. Today a house Bristol costs 11 times the average Bristolian annual salary.
Changing communities
Those of us most vehemently against gentrification can glorify areas' pre-existing state, and seek to maintain its 'edginess'. In doing so, we dismiss perspectives like that of shopkeeper Amina, who mentions reduced crime levels in St Pauls, especially since the 90s and early 2000s when serious drug-related violence was common. I challenge her, raising that reports of crime to Avon and Somerset Police have increased in the last decade. "Not in the last four years!" she assures me. She's right. In 2018 St Pauls recorded less crime than any year since 2015.
The 'regeneration' that areas like St Pauls disproportionately undergo perhaps explains why in a council city-wide survey last year, the group who was most likely to respond 'Yes' when asked whether gentrification had a positive impact were those who classified themselves as Black or Minority Ethnic (BME).
We assume gentrification entails BME communities being priced out. Many people are. But that fact can hide a more complex situation that speaks to the huge diversity and different interests within and between working-class BME communities, and the changing nature of areas as newcomers arrive.
At the last census in 2011, the BME population proportion in Ashley ward was 33.5% – up from 25% in 2001. Although the British Jamaican population fell from 16.3% to 8.3% in that time, the British African/Other Black (mostly Somali) group increased from 14.2% to 37.5%. In the same period, the White population of St Pauls itself actually shrank from 54.5% to 36.8%, a Freedom of Information request revealed.
'After 3am is when all the people come!'
We'll have to wait until 2021 for the next census, to assess how St Pauls has shifted more recently. But for some, the past couple of decades have felt bittersweet.
Even Andre, now a property owner in an area where the average house price is £342,000, says his material gains have come at a cost. "I'm benefiting, but the life of the area is gone," he says.
Various long-time St Pauls residents I speak to, many of Jamaican descent, echo this view.
"Portland Square, with the Bamboo Club is where we used to go and dance," recalls Bill, in his eighties, who moved to St Pauls in the 60s and helped build the M32.
The closure of familiar spaces contributes to gentrified neighbourhoods becoming known as soulless shells – and while the Bamboo Club burned down in 1977, a string of other establishments have disappeared more recently. Bill, who decries the current lack of late-night St Pauls venues, nonetheless meets me in the Coral Café – which until a couple of years ago was the Prince of Wales pub, but now deals in coffee and baguettes.
Across Ashley Road, much-loved publicans Ann and Baby Lou run one of the last bastions of St Pauls authenticity, The Criterion. Earlier this year the police tried to get its license revoked because of violent incidents around the venue. Ann and Baby Lou appealed, in part on grounds that they operate the last community pub in St Pauls. "The White Hart is flats; Prince of Wales, cafe; St Nicholas pub, flats. Blarney Castle is now a mosque."
They won – though under conditions, including that last entry be set at 3am, which is "when all the people come in!" Baby Lou tells me.
'Money's not all'
Ann and Baby Lou's account reflects the area's changing nature, but also a determination to stand their ground. This attitude is reflected in the words of Ajax, a fellow St Pauls legend. Ajax opened the infamous Shady Grove Cafe in 1970 to be a place of peace for "the people… black… white, pink, blue".
I mention that nearby Blue Mountain club has been sold for £950,000, and ask if he plans on selling too. "Never, ever, ever. This is the people's building. Where are they gonna go? Money's good. But it's not all."
The police tried to shut the Shady Grove down multiple times, which involved – so says Ajax – them smashing up the place looking for incriminating evidence. Why? "Harassment" and "racialism", he says. The police cited ongoing noise complaints, violent incidents and illicit drinking – though in one of these instances, a judge found that there was no evidence illegal alcohol had been served.
Ajax's Shady Grove did close in June 2016 after magistrates granted a closure order following complaints from neighbours. The ban was initially for three months, though the Shady Grove remains closed, with Ajax seeking compensation for the damage he says was done by the authorities.
As for the future of St Pauls, perhaps Ajax's prophecy for his Shady Grove can provide hope: "I see so much is changing. That building [Shady Grove] is a people place. And it gonna be rise again. For the young kids, the elder people, and whosoever may come."
Henry Palmer grew up in the heart of Bristol's rapidly gentrifying areas. His new book Voices of Bristol: Gentrification & Us (publisher Arkbound) sheds light on the supposed 'renovation of Bristol's poorer quarters. Available to order from Stokes Croft China, Bristol Clothing Pushers, Waterstones…