Revealed: NHS under fire for steep increase in charging migrants for healthcare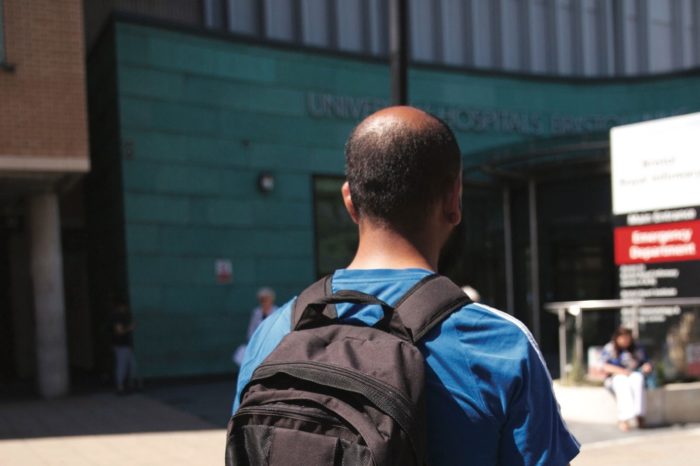 Evidence suggests vulnerable people who should get free healthcare are being forced to cough up, while others are being chased by bailiffs.
Photo: Noberto Fernandez Soriano
"I don't want to contact them because I feel very scared, the way they talk to me. I have a mental health problem…and because of this threatening language I was shaking for a couple of days." Sam* is an asylum seeker who was handed a bill for £21,000 by the NHS.
He is one of many people in Bristol who have been charged for NHS healthcare. A Bristol Cable investigation can reveal sharp increases in the charging of migrants for healthcare and that both NHS trusts in Bristol are using private debt collectors to chase unpaid fees from hundreds of patients.
We have also learned of cases where vulnerable people who are supposed to be exempt from paying are being handed large bills, as the trusts appear to be incorrectly enforcing their own rules.
"They know that I can't pay, but that is a threat. It's like I'm a criminal because I'm not paying"
Since 2015, NHS trusts have been required to identify and charge overseas patients who are ineligible for free healthcare, as part of the 'hostile environment' – the government's controversial approach to immigration enforcement. Upfront charges for non-urgent treatment were introduced in 2017, along with ID checks on patients. These reforms are in response to the perceived problem of 'health tourism' – people visiting the UK to use the NHS – despite the estimated cost being negligible in the context of NHS funding.
The policy is attracting increasing criticism from medical professionals as the list of people adversely affected continues to grow. For example, a cancer patient from Jamaica died last year in London after being denied treatment because she couldn't afford the £30,000 upfront cost.
The British Medical Association (BMA) has recently called for the NHS to scrap upfront charging after finding evidence that seriously ill patients are being deterred from seeking treatment. The Department of Health and Social Care has been accused of a cover-up after refusing to release reports assessing the harms caused by the policy. We now also know the Home Office is still obtaining patient data from the NHS for immigration enforcement, even though the controversial practice was to be scrapped.
'They know I can't pay'
Sam has lived in Bristol for 10 years. Last year, he had a stomach operation and a biopsy on his lungs. The doctors didn't ask him about his immigration status or mention money.
But about six months later, he received a bill for £21,000 from University Hospitals Bristol NHS Foundation Trust (UHBT) and is now unsure if he'll have to pay. Sam is an asylum seeker, so should be exempt, but at the time of the operation he had not yet claimed asylum because he had been advised not to by a solicitor.
"Personally, I think it's abhorrent. People are dying because of these policies"
Sam said that hospital staff told him that if he didn't pay the bill, they would tell the Home Office, which could have a negative impact on his asylum claim. "They know that I can't pay, but that is a threat. It's like I'm a criminal because I'm not paying."
"I have my mental health issues; I'm a vulnerable patient who is looking to get protection in this country." The trust won't consider him a vulnerable patient despite his asylum claim. He is also homeless and unemployed because of rules preventing asylum seekers from working.
"I want people to know that the NHS is charging migrants irrationally," he said.
Sam's case is not unique. The NHS has charged migrants in Bristol a total of £7.6 million in the last four years. In 2018, the figure was £2.9 million – a 30% increase on the previous year and five times the amount in 2015. The Cable has also learnt that in the last three years, hundreds of people in Bristol had their debts referred to private debt collectors, worth a total of £2.3 million.
Despite the NHS's target to collect £500 million a year nationally, there is great disparity between what they charge and collect. Between 2015-2018, Bristol's trusts collected nearly £2 million. As a result, this policy is only earning the hospital trusts between £150-200,000 a year, after the costs of staffing this regime are considered. 
'The delay caused me so much pain'
Mina* had just given birth when she received a bill for £7,000 for scans during her pregnancy at St Michael's Hospital. Like Sam, she too is an asylum seeker, but when Bristol Refugee Rights (BRR), who strongly oppose the charging of migrants, called the trust on her behalf, they said she had to pay. 
Susannah O'Sullivan, the BRR volunteer helping Mina, said it took 30 minutes on the phone for staff to admit asylum seekers were exempt. A month later, Mina is still waiting to hear if she will have to pay or not. O'Sullivan said, "The bureaucracy they have to go through on the phone is insane. These are vulnerable people who should get free medical care."
Even when debts are cancelled or people are finally given free healthcare, there are lasting impacts. Last year the Cable reported the case of Amina*, a disabled asylum seeker who was denied a knee operation she'd been waiting on for years, because she couldn't afford the upfront cost of £6,000.
The last minute cancellation of the operation left her feeling ashamed. "Instead of ending my pain, it brought another pain, and my anxiety and past traumas that I had been beginning to recover from…it took me right back."
Amina is now eligible for free healthcare because her asylum claim is being reconsidered by the Home Office, and she finally had the operation in September, but the ordeal was "traumatic" nonetheless. "The delay caused me so much pain. The GP had to visit me at home. I couldn't get to the bathroom and needed carers to help me. Physically and mentally I felt like I was forgotten in the world. I felt like ending my life."
And now? "Every time I go for a check-up I feel fearful. You have to face this fear and shame."
Growing opposition to the charging regime
Local campaigners Patients Not Passports (PnP) are calling on the trusts to suspend ID checks and upfront charging, and pressure the government into stopping all NHS charging. They said these practices undermine the founding principles of the NHS and unfairly force staff to take part in the 'hostile environment' without enough training.
Livi Sinclair from PnP said the cases reported above illustrated "a lack of clarity regarding who is eligible for charging exemptions, leading to the most vulnerable patients being charged for healthcare". She added this confusion was leading to disputes between staff about treatment plans, delays to treatment and psychological harm to patients.
Adam Hundt, leading human rights lawyer of firm Deighton Pierce Glynn, said that nationally he had seen a "definite increase in charging incidents", as trusts now often assume people are chargeable until it's proven otherwise.
He's seen more cases of the Home Office telling hospitals that people are to be charged and people being deterred from seeking healthcare, or receiving treatment too late. "People are dying because of these policies."
"Personally, I think it's abhorrent. I don't think people should be charged at all. For humanitarian reasons, I think everyone should get free healthcare; but for public health reasons, any barriers to healthcare are a bad thing for everybody. And for financial reasons, I don't think you're going to make back the cost of this initiative."
Lucy Jones, director of programmes at Doctors of the World, said, "We have seen NHS trusts using debt collectors to pursue destitute people seeking safety in the UK, which is both unethical and pointless. Being hounded by bailiffs puts extreme pressure on people already living in poverty and struggling with homelessness and poor health. It's inhumane and doesn't save money for the NHS."
She added that increasing pressure on trusts to pursue patients for money and the complex rules meant that "mistakes are being made – with terrible consequences for patients".
The Cable asked North Bristol NHS Trust about debt collection practices and if they could justify the distress caused with relatively small financial gain. The trust did not answer these questions but instead provided this statement: "All NHS hospitals in England are required by the government to identify and charge overseas patients for treatment. We will always give urgent treatment regardless of anyone's willingness or ability to pay and our processes to recover costs are in line with national standards."
A UHBT spokesperson also referred to their legal obligation to charge overseas patients, adding, "We fully embrace our ethical responsibilities to our patients and would like to emphasise that immediately necessary and urgent treatment will always be given regardless of willingness or ability to pay. No individual should be discouraged from seeking treatment on this basis."
And yet the BMA report shows this is discouraging people from seeking treatment. While it's difficult for trusts to question government policy, the number of medical professionals speaking out is on the rise. It remains to be seen if this is enough to bring the change that people like Sam need.
*Names changed to protect anonymity
Have you been personally affected by this issue, or know someone who has? Get in contact: matty@thebristolcable.org/07710195565
We will handle any information provided in total confidence.