Bristol will not be joining 11 councils refusing to co-operate on plans to deport rough sleepers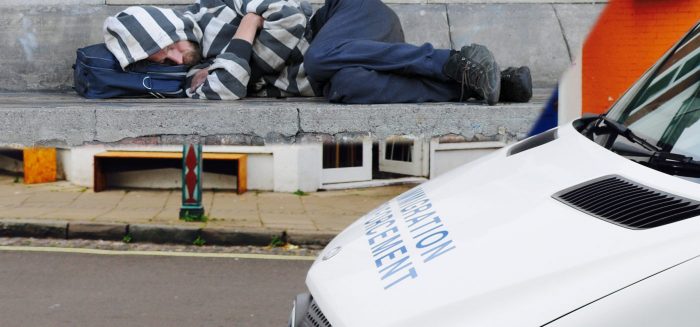 The council and homelessness charity St Mungo's are participating in the programme.
Update on 12.08.2019: Mayor Marvin Rees has said Bristol council's position is exactly the same as the other 11 councils in a rebuttal to this article. Read the Cable's editorial response.
Bristol council will be participating in a controversial Home Office scheme targeting rough sleepers for immigration removal, while 11 other local authorities have refused, the Cable can confirm.
The programme being piloted nationwide in partnership with local authorities and homelessness charity St Mungo's involves collection of information on rough sleepers, which is then passed to the Home Office who may then detain and deport them.
As revealed by the Observer in July, this is the latest Home Office effort following a high court ruling in December 2017 that a similar scheme was discriminatory towards European Union citizens.
As the Cable had exposed earlier that year, the council and St Mungo's had been active in Bristol collecting and passing information to the Home Office, resulting in the detention and removal of rough sleepers from EU and non-EU countries.
Councils rebel against Home Office
Responding to the new plans, called the Rough Sleeping Support Service (RSSS), 11 local authorities have announced they will not be co-operating and have called on others to follow suit. So far, Bristol City Council has declined to join Brent, Croydon, Enfield, Islington, Hackney, Haringey, Lambeth, Newham, Oxford, Rugby and Liverpool. London Mayor Sadiq Khan is also understood to be opposed to the scheme, along with other prominent figures such as the Anglican Bishop of Liverpool, and MP David Lammy who praised the actions of the councils, saying: "this is how you stand up to power".
Bristol mayor Marvin Rees has not commented, but a council spokesperson said: "Non UK citizens who are sleeping rough can spend months or years waiting to hear back from the Home Office in order to resolve their [immigration] status and we are continuing to work with a range of local and national partners, including central government and our commissioned partner St Mungo's, to find ways of supporting people to move off the streets regardless of their migration status."
The spokesperson added that although no referrals have yet been made, the RSSS can be in the best interests of rough sleepers and "should only" be done so with their informed consent, whereas other councils have committed to only share info only when explicit consent has been given in all cases.
However, emails obtained by human rights charity Liberty show how the Home Office plan ignores European privacy laws with regards to collecting and passing on personal information. One email said: "A system relying on consent to comply with the GDPR [EU General Data Protection Regulation] would be vulnerable to individuals withdrawing consent."
Can Bristol be a City of Sanctuary while cooperating with the Home Office?
Green Party councillor and former lord mayor Cleo Lake has criticised the council's position, citing the uncertainty for EU citizens of Brexit and the litany of Home Office controversies including indefinite immigration detention and the Windrush scandal.
Speaking to the Cable, Lake said: "Confidence in the Home Office is at a huge low and I would endorse the idea of non-compliance as other councils have done. In fact I feel a little embarrassed that we haven't refused already!"
Lake continued, "We are getting close to the wire in terms of what kind of society we may become in the UK. In my view the current council administration has a choice: stand in solidarity as a City of Sanctuary with the migrants and the marginalised against closed borders and short sighted discrimination, or perpetrate and administer a 'lean to the right' fascist trend."
Bristol City Council has committed itself to being a 'City of Sanctuary', the national movement aimed at creating a hospitable and welcoming environment for migrants, especially those fleeing war and persecution.
Having criticised the council's participation in the previous programme, Bristol City of Sanctuary vice chair Caroline Beatty has now said: "Our work in Bristol is to promote welcome and safety for all, including people seeking sanctuary from war, violence and persecution. We do not support any programmes or services that are contrary to these principles and to the vision of making Bristol a real city of sanctuary".
St Mungo's and the Home Office maintain that the programme is a route off the streets, and if the individual wants, a passage to their country of nationality. A spokesperson from St Mungo's said: "Too many people are stuck destitute and homeless on the street where they have unresolved or complex migration issues."
"We have been clear that referrals to the RSSS should only take place after an individual has first received legal advice from a registered [immigration law] adviser and has given their informed consent."
Councillor Lake said: "While I recognise the important and often successful work that St Mungo's charity does, I am very aware that there are sections of the homeless community who do not trust the charity… It is not conducive or fair in a modern and inclusive society to use charities and agencies such as St Mungo's to act as border control for the Home Office, often through what is essentially a funding bribe."