Housing coops: a landlord you can trust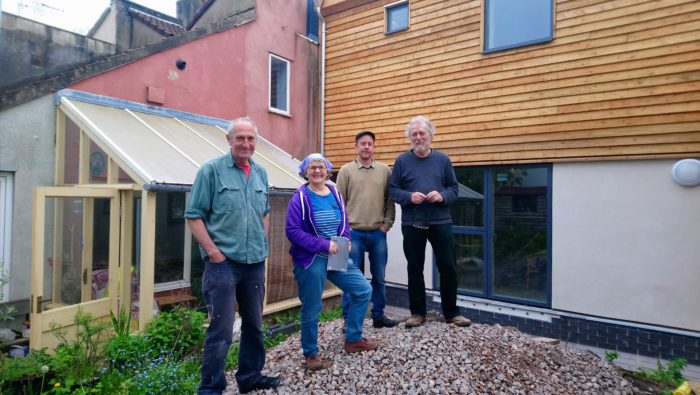 Photo: Hannah Vickers
"I couldn't believe that most of my week I was working in this shitty job so I could pay a landlord loads of money."
Tired of extortionate rents and zero stability – inevitable consequences of renting in Bristol – Vic decided to take things into her own hands. She and her friends formed Hammerhead, a housing cooperative in St George, so they could be their own landlords.
"My ex-landlord is really rich, he's got five houses," adds Vic.
I've spoken to a lot of people at various stages of cooperatively owning their home. The same motivations come up again and again: stability, reasonable rent, and having control over your home. The private rental sector in Bristol is bigger than it's ever been. A growing number can't afford to buy but aren't eligible for social or affordable renting.
Housing in Bristol is at crisis point. Rents and property prices are rising faster in Bristol than in nearly any other UK city. Rent has been increasing faster than wages since 2011 and now takes up a bigger slice of our income than ever before. Rising rents (up by a third in the last four years) and property prices (up by more than half in the last decade), a shrinking social housing sector (more than 11,000 are waiting for a council house) and stagnating wages are making Bristol increasingly impossible to afford.
"There's a massive demand and we're not building enough of the right homes," says Oona Goldsworthy, CEO of housing association United Communities, but insists this is not unique to Bristol.
"It's a global problem, we're just not providing houses for young people. They can't put down roots," she adds. "The only way you can afford to buy anywhere now is if you get given money or save up loads and loads. Buying is very difficult for under 40s."
Lording it
Forming or joining a housing cooperative is a potential solution for the growing number of renters in Bristol who want security, but for whom buying is out of reach. Housing coops have been a small but steady presence in the UK for decades. There are around 40 registered in the southwest, and although each is unique, they tend to share some core beliefs.
A housing coop is a group of people who buy a property, which they manage together. The coop owns the house but the group owns the coop, making members effectively their own landlords; able to set rents and arrange work on the house. It's a way to step out of the rental market and make sure a home remains in cooperative ownership for years to come, with usually cheap rent for members and more security than rental tenancies. You also avoid the personal debt of having a mortgage.
"Hammerhead Housing Cooperative owns the house and the five of us are all directors of that company," explains Vic. "If I move out, I'll stop being a director and whoever moves in will become a new director."
"Two rooms will always be a housing benefit level," adds Vic, and rent for each room is on a sliding scale, dependent on the resident's income. It's a far cry from privately renting.
Being in a housing coop doesn't give the same financial benefit, for an individual or couple, as buying a house. If someone leaves, they don't get 'bought out' because the coop is paying the mortgage and owns the house. And it still means renting for the rest of your life.
"It's not like buying a house and then your mortgage is paid off," explains Anne Barham, from Somewhere Housing Cooperative, Bristol's oldest and largest housing coop in Bedminster. "I'm going to have to pay 'til I die. And now I'm getting older, that's a bit of a problem for me." Once the mortgage is paid off, rent (which by then is much lower) goes towards maintenance and some coops invest in helping newer coops get off the ground with skill sharing, advice and loans though cooperative federation Radical Routes.
"There's no way that I could afford to have a place like this to live," says Trevor Houghton, also from Somewhere. They've just added three new-build super-low-energy one-bed flats to their fleet of 14 housing units for over 20 members, and he's about to move into one of them.
Independent. Investigative. Indispensable.
The Cable is Bristol's independent, investigative newsroom. Owned and steered by 2,500 members, we produce award-winning journalism that digs deep into what's happening in Bristol. Investigative journalism strengthens democracy – it's a necessity, not a luxury.
As a members co-op, democracy is built into everything we do. We're 100% owned by thousands of Bristol members.
If we can triple our membership, this funding from the people of Bristol would make the Cable completely sustainable.
Join the Cable today
"Basically you're creating your own extended family"
But not everyone starts from scratch. Steph is on the hunt for an established coop to join. She's in her 30s and doesn't want to be at the whim of landlords anymore, but can't afford to buy. "And it's unlikely I'll be able to… in the next 15-20 years," she points out. Tenants in the private sector are getting older, according to the latest report from the Office of National Statistics.
Steph wants to live in a coop "to provide stability and security", which she can't afford to do on her own. "Especially if you're a single person, what do I do? My friends are all having babies and buying houses. I'm one of three people I know who doesn't own the house they live in."
While escaping the insecurity of the private rental sector is appealing, it's also about taking property out of private ownership and providing actually affordable housing.
But the motivations are not all financial. "It's about living with people, rather than just sharing a space, about living communally, building a support network. Cohabiting is good for your health, says Steph. "Being around other people is just good for you."
"Basically you're creating your own extended family."
It's not always easy though. Buying a house as a cooperative can be a gruelling process, full of disappointment and frustration, as the five friends behind Anarres Housing Cooperative found out.
They formed their coop around the same time as Hammerhead started up. "We saw where the rental market was going in Bristol, and we realised that if we got kicked out we wouldn't be able to get somewhere," says Cheryl. Most of the members of the coop are on disability benefits and Cheryl has a dog, both of which, as anyone who's ever rented knows, make finding a home nearly impossible. "And landlords never ever fix anything."
Tell your friends…
They had everything in place. They'd found a house, raised enough for a deposit and got a mortgage in principle with Triodos, one of the few banks to lend to cooperatives.
Now, after months of careful planning they were finally close to moving into their own home. But suddenly, everything went wrong at once. They were outbid on the house, the mortgage provider increased the interest rate and reduced the percentage it would lend them, and one of the friends – the one who'd been putting in the biggest chunk of money – pulled out. And then, they got evicted. Their landlord wanted to sell the house so they split up, moving where they could.
"There's so much to think of. We thought we'd covered everything," says Cheryl in a low voice, clearly still stung by the memory.
Cheryl says that it was tempting to give up, but in the end it was the thing they'd all feared – being evicted and moved into separate houses – that made them give it another go. The friends took a six-month break, then started again. They found two new members to replace the ones who'd left, and joined Radical Routes.
"Once you've got a loan from Radical Routes, mortgage brokers will take that as quite a strong endorsement because there's never been a Radical Routes loan that's been defaulted on," explains Sam, who joined Anarres when it restarted. The coop is currently trying to raise its loan stock (anarres.org.uk), which is made up of long-term loans from family, friends and other investors.
The message I got from Anarres, and everyone I've spoken to for this story is: it probably won't be easy but it'll be worth it. For the obvious economical benefits, but also the social and ideological ones. "It's about land being held in common, not believing in private property but that we should all have access," says Vic. "None of us has the right to own a bit of land."