"We need better mental health support for all young people, not just students"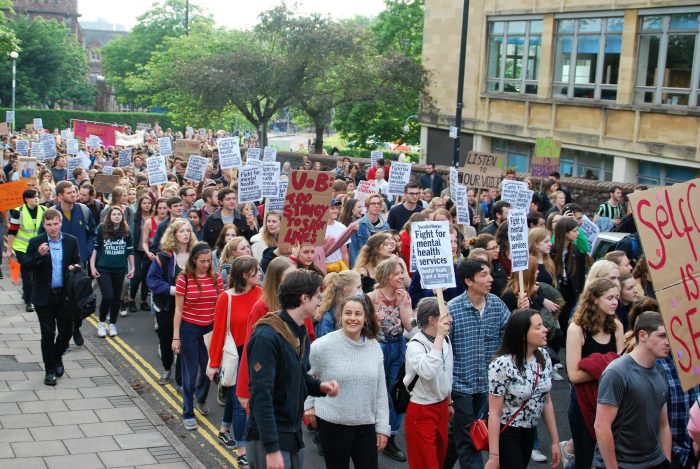 Students have been campaigning for service improvements, but what about young people not at university? asks Chloë Maughan
Photo: Bristol University protests, Matty Edwards
In recent years we've seen a growing emphasis placed on student mental health, which has been no more evident than in Bristol. In November 2018, students from the University of Bristol took to the streets in their hundreds, marching to urge their University to provide more support.
These students, led by a student group called Support our Services, argue that waiting lists are too long leaving their peers unsupported. In light of 2018 BBC research highlighting that the numbers of students seeking support at universities has risen more than 50% between 2013-2018, the calls from students for more support are commendable. They reflect a growing consensus that universities need to be at the forefront of student mental health.
However, discussions around student mental health have typically focused on growth in university support services. What about the needs of young adults who aren't attending higher education?
There's a town and gown divide concerning young people seeking mental healthcare across the city. Without acknowledging this, we risk leaving people behind. And the stark difference between what support is available on campus compared to the NHS could leave student service users left adrift when they leave university.
Students seeking support from the Counselling Service attached to the University of Bristol will "normally be assessed within 10 working days, and individual counselling is usually available within four to six weeks", states Mark Ames, director of student services, speaking to Epigram. However, students have argued that the services are "in crisis", with long waiting lists that could see their peers waiting "weeks to be seen".
Yet outside of higher education, in the city, the story is very different. In November 2018, the most recent month for which statistics are available, there were 2,185 referrals for psychological therapies in Bristol, North Somerset and South Gloucestershire. Of those patients who were assessed for psychological therapies in November 2018, almost 1 in 3 had waited more than 28 days for the assessment alone.
Of those who then entered treatment, 31% of patients in Bristol had waited more than 28 days post assessment. In the same month, 85 people had been waiting for over 18 weeks for support in the Bristol area.
My own experience of Bristol's mental health services brought these inequalities into sharp focus. In my six years based in Bristol I've experienced both counselling services provided by the University of Bristol and those from NHS providers in the city.
In 2015, I went to the university's Counselling Service with severe depression and suicidal ideation. I was assessed and offered counselling within just two weeks. Two years later, as a graduate living in the city, I needed to seek support from local NHS services. I was experiencing symptoms of severe depression, anxiety and post traumatic stress disorder, yet it was over a month before the service could offer me an assessment, let alone treatment.
More than eight months passed before I came off the waiting list, despite multiple
"Students should get behind the fight for better health services because this is what they will face after graduation"
attempts by my doctor to have my case escalated. This is the unfortunate reality that faces many young people attempting to seek mental health support outside of higher education through the NHS.
At its core this presents an equality issue when it comes to young people seeking mental health support across the city: Young people outside of higher education face on average significantly higher waiting times than their peers studying at the city's universities – an issue that has been completely ignored in the growing focus on student mental health in the media.This gap is crucial to address if we want to ensure that all young people have access to timely mental health support.
Whilst establishing adequate support for students is important given the unique challenges of university life, such as academic, social and financial pressures, there is still a wider conversation about all young people's' mental health that we need to be having.
Most people who develop a mental health problem will do so before the age of 25, with 75% of mental illnesses established by the age of 25. Young people as a group need to be a priority for mental health support. These years are formative for all young people, many of whom will for the first time encounter some of life's most challenging transition periods, such as independent living, first jobs, and financial instability. Getting support right at this stage is integral to ensuring all young people are given the best start in life.
We critically need students to place calls for reduced waiting times for NHS services into their campaigns for better mental health support. They should broaden their calls from the university to the city, to ensure better support for all young people rather than just those in higher education.
Student mental health is currently at the top of the political agenda, and this means students are uniquely placed to be able to draw attention to the issues facing all young people accessing mental health care.
With hundreds of students prepared to march for better mental health on campuses, their momentum could lend much needed support and pressure to wider campaigns for NHS improvements.
Better NHS resources would benefit students too. In part because pressed NHS services are a contributor to the pressures we are seeing on university mental health services. I spoke to a number of students who'd told me that they moved towards university support or private support because they believed that waits for NHS  were just too long.
Additionally, according to research by charity Student Minds, 79% of students who have experienced mental health problems first develop symptoms at school. Improving NHS early intervention services, for example, might lead to reductions in the number of students experiencing severe mental health issues once they reach university.
But finally, students should get behind the fight for better health services because this is what they will face after graduation. In 2017, leaving university, I stumbled into a world of stretched mental health services. We owe it to both future graduates and young people outside of the higher education system to make sure this isn't the future they graduate into.
Most suicides are preventable. If you are concerned about someone, or need help yourself, please contact the Samaritans for free, at any time of day or night, on 116 123. You don't need to be suicidal to call.
Find appropriate services and help at https://www.wellaware.org.uk/