The latest struggle within the Labour party matters to everyone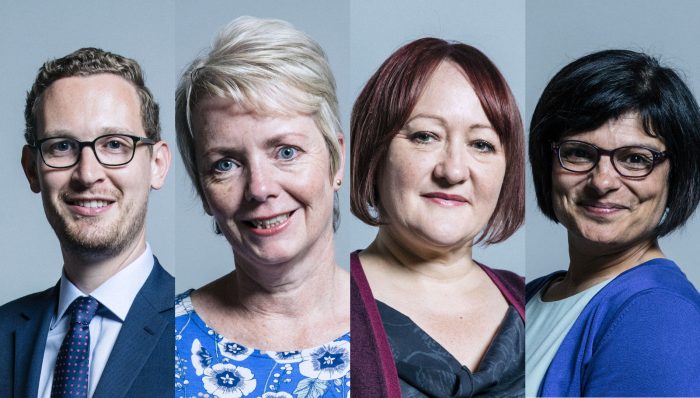 Photo: From left to right: Darren Jones, Karin Smyth, Kerry McCarthy, Thangam Debbonaire
It may seem like the internal disputes within the Labour party are never ending. The latest episode is one with an impact on everyone in Bristol, Labour voter or not.
All four of the city's MPs are Labour, but there have been recent changes to the process to selecting the party's candidate.
The new changes are being heralded by supporters as a democratisation of the biggest political party in western Europe, but are heavily criticised by others as an inward looking distraction that sows division at a time when UK politics is so unstable.
Sound confusing? We break it down for you.
What is going on?
Things are pretty tense with social media spats and irate articles.
New Labour party rules that have just come into force have made it easier for party members to choose who will stand as the Labour MP candidate in a general election. Now, the sitting MP may face challenges from other potential candidates if a third of all local Labour branches or affiliated organisations in their constituency decide to do so. That number used to be half.
Supporters of the change, including the leftwing group Momentum, say that the process will help democratise the party, and in turn the country by making becoming an MP more accessible. But some MPs are furious. They say the process is a wasteful distraction, forcing them to direct all their energies towards party members when they could be engaging the public with a general election potentially around the corner. 
Bristol West MP Thangam Debbonaire has been vocal on the issue, saying the new process will cost time, energy and money needed to win the general election, and instead Labour MPs need to be "100% focussed on fighting Brexit and the Tories".
The process can happen in any constituency, including Jeremy Corbyn's, but party members will have to vote to decide to open up selections or not.
Why should I care?
If you care about who ends up in parliament, this matters.
In a city currently with four Labour MPs and a large Labour voting electorate, whoever is the candidate will affect the general election campaign and subsequent representation in parliament. Ultimately, the leader of the party with the most MPs will be Prime Minister and set the direction of the country.
All four of Bristol's MPs are seeking re-election. Speaking to the Cable Thangam Debbonaire, MP for Bristol West said "There will be a series of democratic votes as part of [the candidate selection] process. I look forward to the debate and hope to be judged on my record and to be reselected as Labour's candidate."
Kerry McCarthy, MP for Bristol East said: "Apart from in 2017, when there was a snap election, MPs always have to go through this process. I did before 2010, and 2015, albeit under slightly different rules. I have said I want to stand again, and I hope members – and, ultimately the voters – will judge me on my record over the past 14 years."
Why is it happening?
Depends who you ask.
The new rules come into effect this September, in preparation for a general election – though it is not clear when or if that will happen. They were a compromise between the key components of the party, who all have different ideas on priorities and the direction of the party: the membership, the MPs and the trade unions.
The leftwing activists campaigning for this have been propelled by developments in the USA. A group of young and diverse candidates have been taking on experienced Democrats in Congress and pushing the agenda to the left. Rising stars like Alexandria Ocasio-Cortez, who successfully unseated veteran congressman Joe Crowley, have launched blistering attacks on Democrats and Republicans on issues ranging from healthcare to climate change.
Share this article
Momentum and other supporters are accused of putting factional differences ahead of the electorate, but this criticism has been met with some suspicion, given the zeal with which some Labour MPs have participated in internal feuds over past years.
Some Labour figures have pointed out that MPs like Thangam Debbonaire have large electoral majorities and already have support from the local electorate. They argue it's reckless to risk a new untested candidate or tie up the sitting MP in an internal battle, particularly at such an uncertain and critical time.
In return, Momentum argue that if all candidates were open to a competitive process it would give a voice to members and energise them to rally around the selected candidate at election time – that's why they are campaigning for it to happen in every constituency this autumn.
In the future, Momentum are arguing to introduce mandatory open selections (i.e without having to vote on it first as they do now). They say this would reduce uncertainty and bad feelings between MPs and members as everyone would have to go through the same process.
What happens next?
Members in any Labour party branch, based in council wards, will vote on whether to trigger the selection process with each branch getting a single vote.
This means smaller branches have disproportionate power over bigger branches. For example Hotwells and Harbourside with 120 members get the same final voting power as Ashley, with about 800 members. Trade Union branches and socialist organisations also get one vote each.
With the new changes, requiring a third of all branches rather than a half to vote to open up competitive candidate selections, supporters say, means members in bigger branches can be better represented overall.
All of this depends on members voting to open selection up to challengers – either way, the decision is in their hands!
But also, if a snap general election is called by the government this week amid the Brexit mess, this process would be halted and incumbent MPs will remain as candidates.
Matthew Hollinshead is the Labour councillor candidate for Southville in the 2020 council elections.