Charmaine Lawrence: Rapper, entrepreneur, activist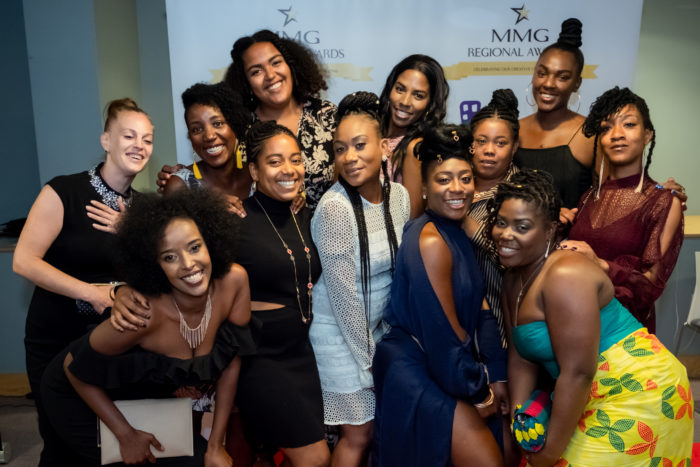 It was a natural hair journey that led Bristol entrepreneur Charmaine Lawrence to launch her own cosmetics company – and opened the door to a whole new world.
"Someone introduced me to shea butter and I started mixing up my own potions," explains the 37-year-old mum-of-one. "My daughter had eczema and it was getting rid of it, so I started giving out little sample pots to friends and family and they all started really liking it so I thought, 'Char, maybe you can make it into a business'."
"I didn't know what to do next," she recalls. "There wasn't much support out there for female entrepreneurs from disadvantaged backgrounds like myself.
"At that same time [2015] in St Paul's, I knew about 10 other women starting their own different businesses – in catering, in fashion, some doing tutoring," she goes on. "I thought, 'Why don't I do a networking event?'."
Born and bred in St Paul's, Char – as she refers to herself in the inner monologue she shares during our conversation at an Old Market cafe – studied health and social care at Filton College before she moving to London to study performing arts then returning to Bristol in 2010.
Creativity runs through Char's bones – she spent years making music under the moniker Skrilla UGQ, and recently stepped up as artistic director for St Paul's Carnival. But for now, her focus is trained on a series of businesses she has established, which have turned obstacles into opportunities and now have global ambitions.
Bridging gaps
The first edition of her networking event – the Queens Power Lunch – brought together almost 50 women, mostly from the Black community. Liv Little, founder of the influential magazine gal-dem, has cited the event as one of the main catalysts for launching her successful publication.
"Liv came to my second-ever Queens Power Lunch," Char explains. "That's where she met Lisa-Marie Carter [the founder of jewellery company Nikao, who advised Little on building a website], who was one of my guest speakers, and that is how they formed their friendship."
As the events took off, Char decided to launch another business – Mogul Minded Group – aiming to bridge the gap between Bristol's diverse entrepreneurs and the corporate business scene. It wasn't then long before Char spotted another opportunity to make a difference.
"The audience I work with was doing great work but there seemed to be nothing that recognised their efforts," explains Char, "so I came up with the idea of the MMG regional awards."
The first awards took place in 2016, coinciding with the official launch of N9NE Cosmetics, which had evolved from friends-and-family sales of Char's handmade lotions to a thriving online shop. Fed up of being ignored by the local media, she next moved into publishing.
"For some reason, it was never deemed newsworthy to have a room full of BAME entrepreneurs from hard backgrounds winning awards and celebrating each other," she says. "I was like, 'You know what, Char, after three years and hundreds of emails sent, you've got to stop asking people to be in their papers.' That was my sole reason for creating Mogul Magazine."
Char describes the monthly mag, which launched last November, as "the first ever BME-led digital publication for entrepreneurs". Its team of women writers includes contributors in Saudi Arabia, Birmingham and, of course, the South West.
International aspirations
With tens of thousands of people visiting the website, and thousands of followers on the magazine's Instagram page – including high-profile US celebrities such as Rick Ross, Tiffany Haddish and Torrei Hart – Char believes her brands will "without a doubt" become international names.
"So many ideas are going to branch off [Mogul Minded]," she says. "But right now it's about cementing my place in Bristol as a reputable independent organisation that's doing great things for entrepreneurs and creatives from diverse communities and helping to increase social mobility."
Mogul Minded Group's benefits lie in how it can help and inspire young entrepreneurs, wherever they're coming from, Char says. "A lot of the people I've reached have never gone to university – they've probably come from the worst backgrounds; it's not just black or ethnic minority people, it's white people as well," she explains. "I've created a platform that is truly open to all."
That ongoing openness is enabled by the diverse panel of women involved with MMG. "I believe there's so much we can learn from different cultures," Char says.
"I admire the way Asian families work together; look after each other when it comes to business and economics in a family setting – I can learn from them," she concludes. "When it comes to White middle-class women with their own businesses, I got a lot of mentors from that – and I can learn from them. Then I've got my own community I can learn from as well."