The initiative shaking up sex-ed in Bristol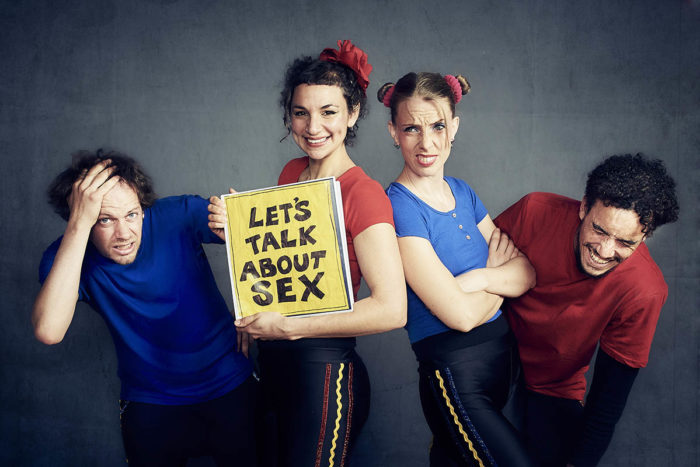 Photos: Mark Dawson Photography, reproduced with permission from the Sexual Health Circus
"It was an all-girls school and we had one lesson from my cringey, icky male physics teacher, who put a condom on a banana. Everyone was like "What?! This is so gross!".
Jess Herman, the founder of the Sexual Health Circus has a clear idea of what's wrong with sexual health education in schools. There is a collective cringe as we recall our own uncomfortable experiences of sex ed. Talk to most people about their experience and it's bound to elicit a similar grimace – awkward recollections of phallic vegetables, mind boggling diagrams of genitalia, lurid depictions of venereal disease and a pervasive feeling of general discomfort.
One can only assume it was a tactic, a deliberate strategy to associate sex with a repulsion so great that it would promote abstinence. In the 21st century, where warped and grossly explicit images of sex are just a click away, it beggars belief that we still do not have adequate sexual health education.

The Problem: Sexually Un-Educated
Until this academic year, sexual health education wasn't compulsory and what schools do offer is often poor, insufficient or awkward; resulting in a serious deficit in knowledge among young people. As of this September, relationships and health education (RSE) is compulsory in all schools, and sex education compulsory in secondary schools, but we've still got along way to go.
Jess, who works as a sexual health educator in a local charity and in schools, hears this daily: "Young people often want to know things like: how to be a good lover, or how to negotiate using condoms with your partner". This comes as no surprise. Erring on the side of caution, schools hammer home the importance of contraception and dangers of sexually transmitted infections ad nauseam. Teaching sex positivity, or the fact that sex can be – dare we say it, pleasurable – could not be further from the curriculum. Thus unguided, many of us learn lamentably late thorough an arduous process of trial and error. Worse, young people turn to pornography for guidance, which often leads to unhealthy expectations of sex.
Lucy Billings, a reproductive and sexual health nurse with experience in working with domestic abuse survivors, was a consultant for the show. For her, the importance of learning about sexual pleasure should not be underestimated. "Pleasure is empowerment and a crucial step towards gender equality. Supporting people to feel empowered around sex promotes healthy relationships, which in turn can preclude domestic abuse."
There is some hope on the horizon – a new and improved compulsory Relationships and Sex Education (RSE) curriculum has just been launched. Announcing the new guidelines to Parliament in February, Education Secretary Damian Hinds lauded it as a "historic" step. We think "glacial" might be more accurate. This is the first time guidelines have been reviewed in a staggering 20 years. Far from being met with relief, it's received a strong backlash from religious and conservative groups. More than 100,000 people signed a petition against it. In a public consultation, 64% of respondents said the proposed changes were not "age-appropriate."
To respond to the nay-sayers, let us note that our Dutch neighbours provide holistic, in-depth, sex-positive education to children from the age of four. Lo and behold, the Netherlands boast the lowest number of teenage pregnancies in the EU – 3.2 / 1,000 girls and falling; the figure in the UK meanwhile is 17.9 – five times higher. Cultural concerns noted, but given the obvious detrimental effect on young people, is it not shameful that we are so reticent as a country to reform our sexual health education?

Sex and the Circus – What have juggling acrobats got to do with it?
Just in time, the Sexual Health Circus has come to town. You'd be forgiven if you, like us, struggled to see how the seemingly disparate spheres of "sexual health" and "circus" could possibly be brought together. But having seen the show's debut performance in Ashton Court earlier this year, we can now attest to its compatibility. It has all the thrills and frills of a regular circus show – aerial silks, tandem balancing acrobatics and juggling – but each of the seven acts covers a theme from the new RSE curriculum: consent, gender, pleasure, pornography, healthy and unhealthy relationships, sending nudes and sexuality. These themes will then go on to be unpacked in the classroom. Afterwards, there is an anonymous Q&A session with the performers. Students are given leaflets to take home containing useful links to age appropriate sexual health websites, e.g. the 'Labia Library' and a directory of sexual health services in the city.
The idea was conceived six years ago when Jess was teaching circus skills in Nicaragua with Performers without Borders. As her previous experience was as a sexual health educator, she decided to hold a few sex-ed sessions. "One day I wanted to do a condom demo for the young people and all we had were juggling clubs, so we used that. Then I thought, "I bet there's something in this, I wonder if there's a way of pulling this together!" From there, the idea simmered, and with funding from the Arts Council and the Paul Hamlyn Foundation, it has become a reality.
Directed by Robyn Hambrook, the performers – Jess Herman, Jake Hirsch-Holland, Emily Ball and Winston Pyke – intersperse awe-inspiring circus acts with roleplaying scenarios typical in the passage towards sexual maturity. In one scene, Jake immediately begins to walk off during a discussion of contraception before he is brought back by Jess and reminded, "this concerns you too!" In another scene, cool-guy Winston sends an unsolicited 'dick pic' to Emily and through a group discussion is made to understand that such behaviour is inappropriate.
The show manages to be as entertaining as it is informative. Through a b-boy dance and hat juggling routine, Winston and Jake discuss gender until the latter is brought to realise, "So… you can wear any hat!" Acro-balance proved insightful in demonstrating healthy relationships, as both rely on partnership, communication, trust and respect.
"There is a subtlety to circus which can provide more abstract and metaphorical avenues into topics," explains Jess. "It's effective because it's experiential – feeling and seeing what you're learning is much more powerful than just sitting in a class."
What can schools learn from the CIRCUS?
Leaving our youth to fathom the myriad of sexual complexities without guidance is to leave them up the proverbial creek without a paddle. Instead of leaving them to guesswork or porn, it's about time we took a proactive approach to teaching our children about sex and relationships, thus equipping them to make healthy and informed choices.
The Sexual Health Circus teaches us two key lessons for how we can do this. One, speak to young people on their level. To research the show, Jess arranged two 'youth consultancy groups' with Off the Record and Creative Youth Network. The participants, aged 12-18, were consulted on all aspects of the show, from the content, to the music and costumes. As a result, the characters were relatable, the content relevant and the soundtrack featured Cardi B and Missy Elliot. After its first tour around schools in Bristol, the Circus unsurprisingly received a resoundingly positive response.
Secondly, our institutionalised and stifling prudishness around discussing sex needs to be lifted. Take the Circus for example – what better way to break the ice around talking about self-and-partner pleasure than a giant 12ft silken labia, which shakes in suggestive excitement when a tentative hand reaches out and tickles the clitoris?! Unlike the distraught faces of our classmates, audiences were fully captivated, cheering on the performers and laughing uproariously. The show left everyone feeling happy, uplifted and engaged – much as sex should leave one! And, guess what? There was not a single cucumber in sight.