A morning with activists taking direct action against immigration enforcement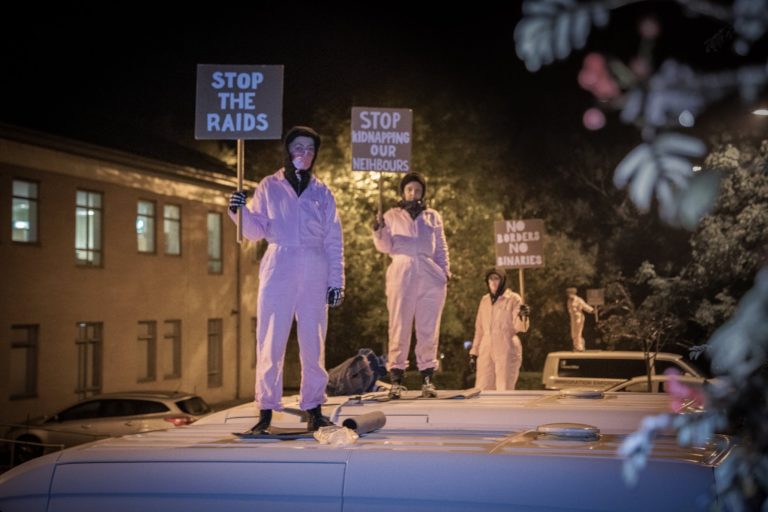 Photos: Reclaim the Power
We're milling around a dark car park at 4.30am on a freezing autumn morning. Someone's made tea and is handing round a tray of mugs while we wait for the stragglers. Ladders appear from a van and the designated drivers are in a huddle sharing directions.
I'm with 15 activists from Bristol Rising Tide, the local branch of the nationwide Reclaim the Power network, which focuses on using direct action to protest climate change and social injustice.
This morning, as the tragic deaths of stowed Chinese migrants in a lorry dominate the headlines, the activists are targeting immigration enforcement. Other groups are protesting in Sheffield and London at the same time, as part of what they've called a 'national day of protest' against 'the institutional racism of the government's hostile environment policy'.
Tell your friends…
We're heading to Portishead, the home of the immigration enforcement team for the south west. They're going to stop immigration enforcement vans from leaving the site, making sure that the officers can't do any dawn raids today.
"We're showing solidarity with people who are affected by this, who are being taken in these vans and detained with no access to medical help or legal support. People who have died in detention centres," says Amy*, one of the protesters. "And if we stop some raids that would be fucking ace."
The Home Office centre is an unimposing building on a business park. In 2004 it became an Asylum Screening Centre, where asylum seekers go for interviews and to 'sign on', so the Home Office can keep tabs on them – sometimes as often as every week. Each appointment carries the risk that the individual will be detained without warning. A Cable report earlier this year highlighted the harrowing physical and emotional impact of being caught up in the gruelling immigration system.
"I feel like once you're aware of this stuff, how much it affects people who deserve better, then you can't really walk away from that and ignore that," says Joe*, one of the protesters. "Once you've spent time getting to know people, it's hard to watch them getting chewed up by the system."
The immigration vans often go out at dawn to take people from their homes – a practice the chief inspector of immigration strongly criticised in a 2010 report. There's no one there when we arrive at 5.30am and people climb up onto the four vans. Others unfurl banners and placards saying "Stop kidnapping our neighbours" and "Stop the raids". Then it's a waiting game until the staff arrive.
"The Home Office conducts raids from this building, with these vehicles, that tear people from their homes and communities brutally and barely legally," says one of the protesters, Griselda Dunbar. "Last year Mustafa Dawood, a young Sudanese man, died fleeing in fear from one of these vans [in Newport]."
At 7.15am an employee arrives, sees us in the car park and turns her car around. A few minutes later the police turn up. They settle in and seem a bit nonplussed when, at 9am two of the protesters bring the ladders back and help the four down. I'm confused too, the police weren't pressuring them to leave and the liaison officer had only just arrived. I thought we were there for the long-haul.
Liz, another of the protesters, explains that if they stayed later than 9am they'd disrupt asylum seekers' visits – people new to the region have to sign on at the centre for their first appointment.
"The police have used the shutdown of raids vans centres as an excuse to shut down the whole facility," explains Liz. "We really didn't want to impact on anyone coming to sign on today."
The group is debriefing in a supermarket cafe after when they meet a couple who are going to the centre for one to sign before having to travel to Nottingham on the same day for the other.
"We were able to explain why we were there, reassure him that there was no further disruption and that we think signing with the Home Office is another thing that shouldn't be part of anyone's life," they say after. "Community solidarity is powerful."
This action is part of broader active movement in Bristol in response to raids, including the Know your Rights posters that were recently put up around East Bristol and resistance to the raid vans.

"We encourage everyone to report raids to each other when they happen and to act together to limit the damage they can cause," said Alex Green from Reclaim the Power. He suggests contacting your local anti raids network and making sure everyone knows their rights.

"Last November's resistance to a workplace raid in Easton, Bristol, brought the neighbourhood together in opposing the Home Office. These systems struggle to operate without community consent."
Independent. Investigative. Indispensable.
The Cable is Bristol's independent, investigative newsroom. Owned and steered by 2,500 members, we produce award-winning journalism that digs deep into what's happening in Bristol. Investigative journalism strengthens democracy – it's a necessity, not a luxury.
As a members co-op, democracy is built into everything we do. We're 100% owned by thousands of Bristol members.
If we can triple our membership, this funding from the people of Bristol would make the Cable completely sustainable.
Join the Cable today