Activists block Filton arms companies to protest Turkey's invasion of Syria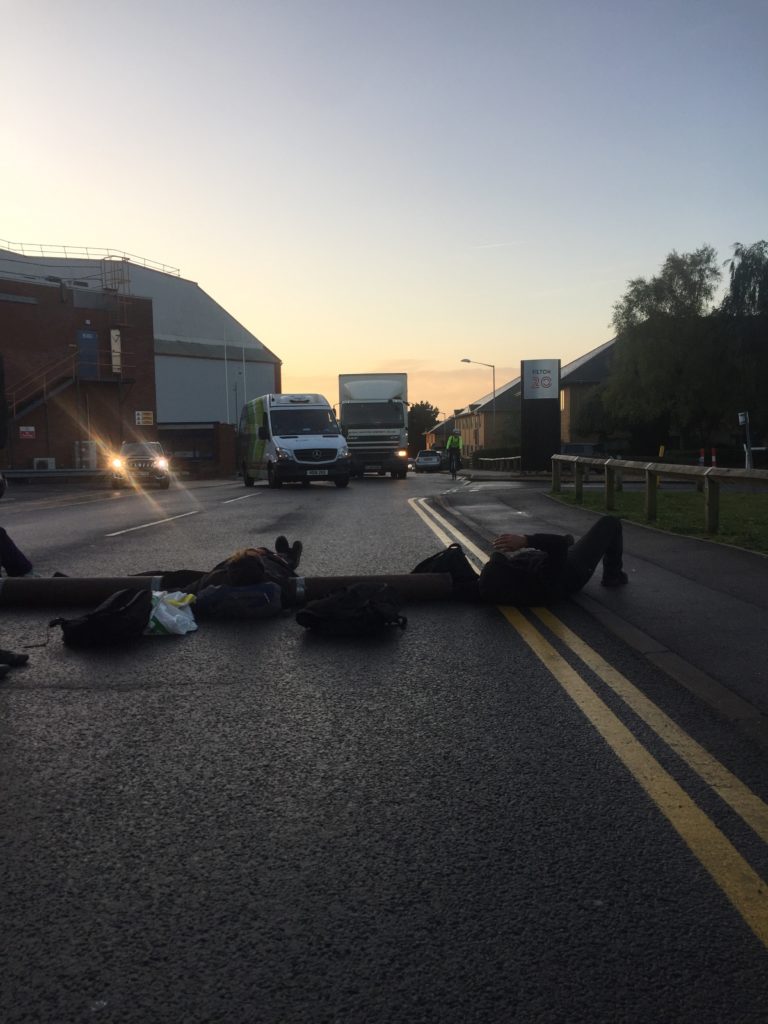 Photos: Bristol Kurdish Solidarity Network
The morning after Turkey began its offensive in Rojava, a Kurdish controlled area of northern Syria, four Bristol activists blocked the way to weapons companies in Filton in protest at the sale of weapons to Turkish forces.
Arriving at 7.30am, the protestors lay on the ground to block the main entrance to the Bristol sites of BAE, MBDA and Airbus, some of the largest companies in the world that produce weapons and military equipment. With their arms locked inside steel tubes so they couldn't be moved by police, the activists blocked traffic for four hours.
Turkish forces have moved into Rojava following the decision by President Trump to withdraw US troops, who had been helping Kurdish-led forces, the Syrian Democratic Forces (SDF), battle ISIS.
Trump's decision has been widely condemned internationally, as it leaves the Kurdish forces and civilians open to attack from Turkey, a NATO member, who consider the SDF and wider Kurdish population in northern Syria as enemies. Concerns have also been raised that thousands of ISIS prisoners of war currently held by the SDF may take advantage of the instability and escape.
The SDF and political groups in this area of Syria have attracted political support from around the globe due to a commitment to creating a democratic, ecologically friendly and feminist political system in a region reeling from decades of conflict and political instability. Inspired by this, international volunteers have joined the Kurdish led forces, including several from Bristol. Among them local anti-fascist activist Anna Campbell who was killed in a Turkish airstrike in March 2018.
"There are 12,000 ISIS prisoners in SDF [Kurdish-led forces] territory. If Turkey invades we could potentially see the death of democracy and the rebirth of the Islamic State," warned Mikey, aka Gelhat, a Bristol activist now in Rojava.
"This cannot be allowed to happen after everything that has been achieved here. We have already lost too many comrades, friends and loved ones in the defence of humanity and against tyranny and genocide. We must resist and do whatever we can to put an end to the fascist Turkish invasion.
As of Thursday morning at least seven civilians were reported killed, two of them children, at least 19 critically injured, and tens of thousands Kurdish civilians displaced.
"As we speak, they're blowing to smithereens villages in Syria and northern Kurdistan," said Kate*, one of the Filton protesters.
"Kurdish people have been on the front line of the fight against ISIS," she added. "We are now all abandoning them and allowing Turkey to continue with their genocide. It's about time we stood up and stood by the Kurdish people."
The four protesters arrived just after dawn and lay on the floor outside the main gate, attaching themselves to the heavy metal tubes. "The first ten minutes is quite scary when you're getting all the stuff out and you're waiting for someone to stop you," Kate told me.
"It went well, we blocked the road, we had some people who were pretty angry come and shout at us as usual, and the police turned up.
"We were pretty happy that we were able to cause a disruption and hopefully help to get the word out about what's happening, because not everyone watches the news, and they might pay a bit more attention to something that's happening a bit more locally."
Arms companies in Bristol and their role in arming Turkish forces
In 2018 Bristol activist Anna Campbell, who had joined Kurdish forces in northern Syria was killed in a Turkish airstrike. Kate had been friends with Anna. "That's what got me involved in what's happening, and I think for a lot of people in Bristol that's what's made this issue more important to them."
Turkey is one of the biggest buyers of UK weapons, with the UK licensing £1.1b in arms to the country since President Erdogan came to power in 2014. The UK has licensed the sale of, among other weapons and aircraft, helicopters, drones, tanks, grenades, bombs and missiles.
In 2017, BAE, who have a large base in Bristol, agreed a £100 million deal with the Turkish Air Force to develop a new fighter jet. Theresa May signed a special export license to ease the process of selling these weapons to Turkey.
In January 2018, a deal was finalised between the Turkish government and EUROSAM for a new missile programme. EUROSAM is a joint venture between MBDA Missile Systems and Thales, who both have major hubs in North Bristol.
Another protester, Laura*, said she took part in the protest because in not opposing the US' abandonment of Kurdish troops, "we're complicit in their displacement, in the slaughter and injuring of hundreds of thousands of people within that region".
Last month, Laura went to protest the DSEI (Defence & Security Equipment International) arms fair, the largest in the world, held every two years in London. The event brings together arms companies and governments from around the world, including those who are waging bloody wars and military campaigns with little regard for civilian life and human rights.
"I think in Bristol it's really important, we have so many companies here. It's massive," she told the Cable. "These things have been here for so long, and there has been resistance but it's something we need to draw more attention to.
"We need to say: 'This is our city and we have these huge companies here that are complicit in these huge atrocities, and we don't agree with it'."
Another Bristolian activist in Rojava said this morning: "The main thing we really need here is a no fly zone, so please if anyone wants to yell at their nearest politician about that, that would be great."
*names changed