Bristol's new van policy. What is it, and how will it affect you?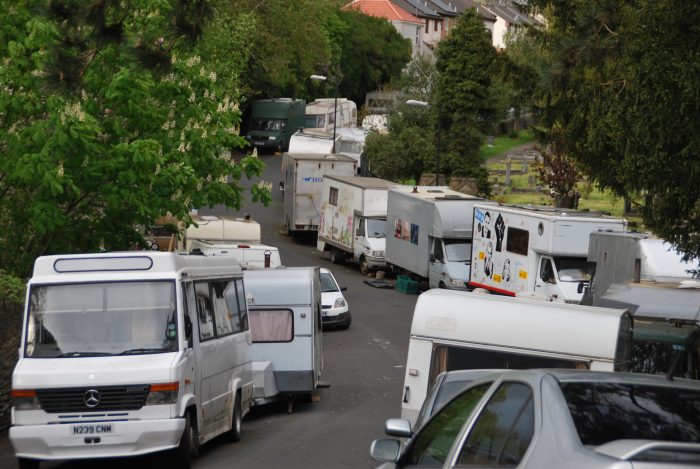 Jim* has been living in a van, on and off, for a decade now. He works in construction, sometimes in Bristol, sometimes further south.
I ask him why he moved out of his house, and he laughs. "House prices, simple as that. They've gone nuts, absolute nuts. Everywhere, south coast is absolutely ridiculous. How people get on the market is beyond me."
The number of people living in vans has soared over recent years. Across the UK, more than 21,000 drivers have applied to convert their van in the last year – an increase of nearly two-thirds in two years – and the council estimates that there are around 200 people in Bristol living in vans on at least eight encampments across the city. They've made a policy to deal with resulting tensions.
Bristol's vandwellers hit the headlines in 2017 after a congregation of more than 50 vehicles parked up in Greenbank, Easton. Residents in houses in areas popular with van dwellers then took action: complaining to the council that they dealt with unsanitary conditions, rubbish, noise and disturbance from some of the van encampments…. The council took action, to, it says, balance the needs of house and van dwellers.
It's been a month since the council launched their 'policy for vehicle dwelling encampments on the highway' after running the consultation over the summer last year, but the Cable understands the policy has been unofficially in use for the past few months. Now they're in the midst of applying for injunctions to move on vans deemed to be 'high impact'. Vandwellers say the focus of the policy should be on site provision rather than enforcement.
Jim got in touch with me when the policy was about to go live because he was worried about how it would affect him. He pointed out that he parks up from one to several nights around Bristol when he's working and avoids other vans. "How is this going to affect contractors like me?" he asked me.
The policy divides encampments into 'high' and 'low' impact, swiftly evicting vans deemed 'high impact' and keeping 'low impact' vans under surveillance. High impact can refer to proximity to homes and schools, poor waste management, crime and anti-social behaviour or breach of the peace. Low impact are ones which state an intention of staying a short time only with a deadline, and don't cause problems for the local environment or community.
Tell your friends…
The council promises to balance the needs of people in houses with those of people in vans and say no action will be taken against van owners until welfare, health and education checks are carried out. The policy also states that the council will consider getting injunctions in areas with repeated 'high impact' encampments.
"I didn't think it was too bad, to be fair," said Jim. "I think they've got it about right.
"I can understand how residents get upset by vans being parked up for long periods of time. I tend to keep moving about myself. I won't actually stay in one area for more than a couple of nights."
Vandwellers react
But some van dwellers do want to stay in sites for longer periods and live full-time in Bristol, and many of them are not happy with the new approach.
More than 1,400 have signed a petition demanding that Bristol City Council "support and respect the rights of Van Dwellers", saying that the council needs to reconsider its approach to the policy and that some of the language used was discriminatory.
"I think it's geared very much towards enforcement rather than provision," said vandweller and phD student in alternative lifestyles Rhiannon Craft, who brought the petition. She is one of the 'Bristol Vehicle Dwellers', a group recently formed to advocate for the rights of vandwellers. They met on Thursday, 24 October to discuss their response to the policy.
Craft worries that the policy is biased towards settled communities – the consultation was mainly filled out by people in houses – and panders to discriminatory views. She anticipates that complaints will be taken more seriously from people in houses than people in vans.
A spokesperson for the council says that the main action they've taken since the policy launch has been information gathering – the number of occupied vehicles, where they are and assessing their impact – but that applications for injunctions are underway.
"Preparations are being made to apply for injunctions where encampments have been having a significantly high impact over a prolonged period but there is no further information on those available at this time."
Craft thinks the focus on such long term sites is discriminatory: "I think [injunctions] are concerning if they are used to ban people from [those] areas living in vehicles. It's basically banning someone from an area because they have an alternative form of housing which is arguably a violation of human rights."
Craft is particularly concerned about the effect of the new approach on 'low impact' encampments: vans that have been reported by a member of the public or a neighbourhood enforcement officer, but that vandwellers insist aren't causing any trouble. They'll still be expected to give a date they'll be intending to leave by and will be kept under surveillance.
"Keeping people under surveillance like that is pretty questionable," says Craft. "Being surveyed every three months is quite intrusive, particularly when you see people in houses that are very antisocial, very messy, you don't see them going round their house every three months. I think it's still really biased towards people living in houses."
The petition also criticises the council's conflation of vandwelling with homelessness, and St Mungo's involvement – the charity will be liaising with vandwellers – which they say is a waste of the charity's resources, as many vandwellers don't consider themselves homeless. They also take exception to the policy's implication that living in a van is bad for your health.
A group of vandwellers have been working with a Bristol GRT (Gypsy, Roma and Travellers) advocacy group, GRT Voices, to get the council to change the homelessness-related wording of the policy, which they say is discriminatory.
But while for many vandwellers it's a choice, for some it's a last resort, says Cllr Paul Smith, cabinet lead for housing in Bristol City Council.
"There is a route into more settled accommodation if that's what people want," says Smith. "We're not forcing anyone to go into settled accommodation if that's not what they want, we respect some people it's a choice that they've made and as long as they respect others around them that's perfectly reasonable."
"What we've always said with this is that we're trying to get the policy right, trying to respect everybody involved, whether they are people living in houses or people living in vehicles."
He says that the council is currently commissioning more one-bed houses and flats, which there is an acute need for in the city.
"We're trying to ensure that the new housing that we're building reflects the needs of the city as they are. That means that we're building more one bed accommodation than we would have if we were looking at this issue 10 years ago."
Police involvement limited
The original draft explored police powers but they're not included in the final policy. When I spoke to Paul Bolton-Jones, neighbourhood team inspector for Knowle and liaison officer for the policy, he was insistent that, while police can move people off land, police powers are very narrow when dealing with MOT and taxed vehicles legally parked on the highway.
"When somebody calls us up and says, 'What are you doing about that encampment on the Downs?', actually we're doing nothing because we're not afforded power under the law and everything we do has to be human rights compliant…
"It only becomes a police issue if there's associated crime and disorder or antisocial behaviour, then we get involved. But not in removing them."

Solutions
Simon*, another vandweller, says that moving people on isn't helpful. "It doesn't last, because it [living in vans] is so oversubscribed. There's that many doing this now and the road space is so oversubscribed by people living in vans."
A few of the people I've spoken to say that the answer is to provide places vans can park up, and facilities like toilets and waste collection.
Craft points out that a significant number of respondents called for site provision. Simon agrees. "There's a lack of joined-up thinking – a bit of land that's not being used by the council and they wouldn't think to set that aside or let people use that to help the problem."
But is this just wishful dreaming in a city with a housing and land crisis? And what of the needs of communities who have been asking for Traveller sites for much longer, such as GRT communities? The answer, it seems, is much more complicated to solve.
*Names have been changed