From St Pauls to Syria: Why this young woman and Kurds in Bristol are struggling for justice from afar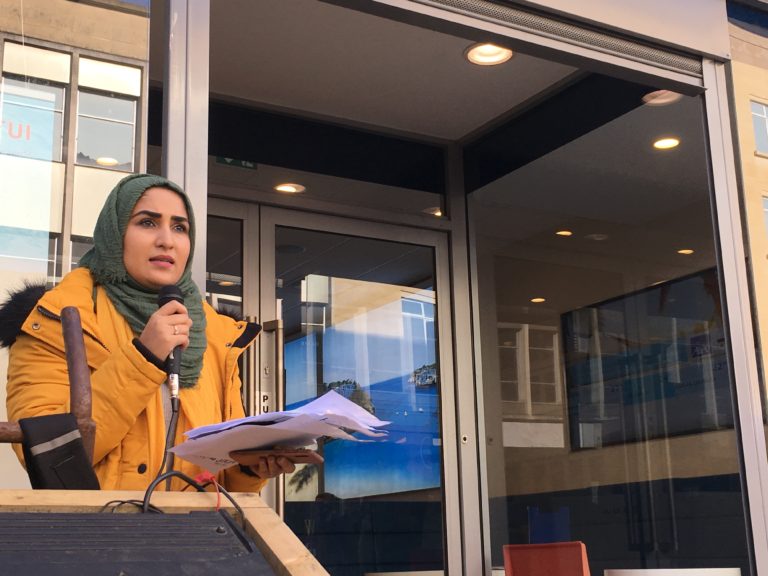 It's 10:30am on a sunny Saturday morning in Bristol and we're sitting in Tara Miran's flat in St Pauls. But her mind is 2,700 miles away in Rojava, a predominantly ethnically Kurdish area of north eastern Syria.
In the past weeks, Rojava is once again on people's minds and in the news. The Turkish army invaded the border with Syria in an attack on Kurdish-led forces they consider to be a threat due to connections with Kurdish independence movements within Turkey itself.
Enabled by the withdrawal of US troops by President Trump, the aggressive military action from the right-wing Turkish government has prompted international condemnation from across the political spectrum. The action threatens to destabilise the region further, risking mass civilian casualties and displacement. Another threat is the re-emergence of ISIS as the American-backed Kurdish forces who led the fight against the Islamists now turn to battle the mighty Turkish army.
In a region wracked by conflict, the Kurds of north east Syria have also attracted support for commitments to building a political system based on genuine democracy, women's rights and environmental protection
For Tara this is deeply personal. She is Kurdish, coming to the UK as a young child to escape the genocidal attacks against the Kurds in Saddam Hussein's Iraq. Now 31, and facing yet another episode where Kurds, (a large ethnic group with major populations in Turkey, Iraq, Iran and Syria) are on the sharp end of global power politics, Tara is determined to highlight the struggle of Kurdish people.
With one eye on her little girls, she explains why she is helping to organise, along with the Bristol Kurdish Solidarity Network, a protest later that afternoon outside the TUI travel agent in Broadmead. It's a call to boycott travel to Turkey, as a non-violent means of applying pressure to the regime. "For me this is the only way from far away that I can raise my voice," she says.
Tara is preparing to use her voice today and speak at the demonstration. A clutch full of notes reveal she was up until 3am last night reading up on relevant history of Kurdish people, a history scarred with oppression and resistance. "That's why some older Kurds tell me 'don't waste your time and get involved, you can't change it'… but we can!"
We're joined by Esam, a Kurdish refugee who came to live in Bristol as an adult. Over sweet cardamom tea, Esam counts out on his fingers the occasions Kurdish people have been cut out of deals, betrayed, been victims of extreme violence and routine repression of culture, language and political freedoms. "That's why we say, 'we have no friends but the mountains!'"
How does it feel to be in Bristol and see all this unfolding so far away? Speaking of the all women's battalions of the YPJ (Women's Protection Units) that saw fierce fighting against ISIS, Tara says, "I know there are people's daughters are out there fighting. And I'm someone's daughter, and I feel useless being here."
As the death toll rises and evidence of war crimes emerges, Tara is glued to news and social media of the fast moving developments. "It's always on my mind, I can't eat, I can't sleep. When I speak to other Kurds they're the same."
From St Pauls to Syria
But though far away, many Kurdish people and their allies are taking action to raise awareness and resist the onslaught of Turkey and its militia allies. Earlier in October, a group of anti-fascist activists blocked the entrances to some of the worlds biggest weapons companies that have bases in north Bristol and supply the Turkish armed forces.
How does Esam feel to be so close to these giant arms dealers that so readily feed global conflict? He sighs, and recognises that for many people these are good jobs but "they [the skills and resources] must be used for something beneficial for humanity". While the UK government has announced export restrictions on arms to Turkey that may be used in Syria, an estimated £1 Billion of deadly weapons have been sold since 2013.
Separately, on 13 October a demonstration of about 200 people gathered outside the BBC on Whiteladies Road and momentarily blocked the road. Tara later complained to the Bristol Live that their coverage solely focused on the matter of minutes that the traffic was blocked. "We are really conscious of not causing inconvenience," she says, but even that small demonstration has had a big impact on raising awareness. "I've made many friends on social media in the past week since that protest, all of them in solidarity with us."
"Women! Life! Freedom!"
She gathers up the kids and we begin walking down to the protest in Broadmead. Someone she knows is walking by and reaches into her purse to dig out some cash for Tara's fundraiser for the humanitarian organisation the Kurdish Red Crescent. They hug. "She didn't even know where Rojava was last week," she tells me.
As we approach TUI travel agents, I ask her why she thinks actions like this are important, especially the tactic of boycotts. When people go on holiday to Turkey, she says, "this is money in the hands of Turkey. And that becomes money to buy warfare." Boycotts are not uncontroversial as they inevitably have an impact for everyone. But they have proven to be powerful tool, most famously against Apartheid South Africa. Tara is clear that "this is not an attack on all Turks, this is an attack on the regime". Simultaneously, a demonstration is happening at Bristol Airport for the same reason.
A cluster of people have gathered in the middle of Broadmead with banners and flags. "Turkish state, fascist state!" they chant. The crowd is an even mix of Kurdish Bristolians and local anti-fascist activists. Over recent years, activists and veterans from across the West have been drawn by efforts made by the Kurdish-led groups in Syria. Not only as they were the primary ground force in the fight against ISIS but also, from amid the wreckage, the laudable aims to create a social system based on equal rights for all groups, decentralised democratic power, empowerment of women and sustainable stewardship of the environment. Several Bristolians have gone to join the fight, including at least two currently, either at the front or in non-combat roles. Among them was Anna Campbell who was killed in a Turkish airstrike in March 2018 outside the Kurdish Syrian town of Afrin. It was during this earlier episode that Tara started getting involved. Now it's her turn to speak on the mic.
Passersby stop to take a leaflet and listen to Tara. Her voice is breaking with emotion as she details the painful history and present day for so many Kurds. Keen to stave off a sense of despair that she herself has felt, Tara has prepared a number of ways for people to take action, starting with a boycott. "I love Turkish Delight, but now I will never have if it is made in Turkey," she says, half laughing.
As she finishes, the crowd chants "Jin! Jiyan! Azadi!" meaning "Women! Life! Freedom!" a slogan of the all-women Kurdish fighting units in Syria. For Tara, as for the Kurds and for peace in the region, the struggle continues.
Part of this will be another protest targeting the companies involved in the arms trade this Friday 25th October.
While you're here…
The Cable relies on the 2,600+ members that make it up, so if you like the kind of articles we publish, consider joining. Membership is from just £1 a month. And if you don't like what we report on, join and have a say in the types of articles we publish. Members vote for the kind of stories we work on, the campaigns we run and where we put our money.
Be part of the Cable