Getting arrested in the name of the planet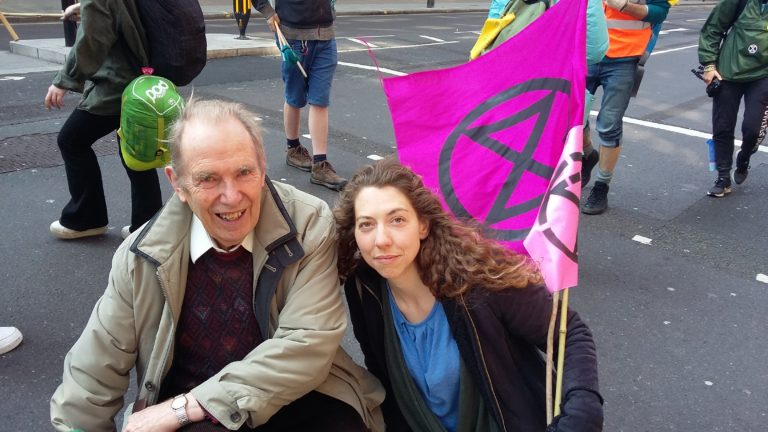 On a warm July morning, protestors occupied one of Bristol's busiest roads to demand urgent action to avoid an impending climate and human catastrophe.
Sixteen of the group, under the banner of Extinction Rebellion, glued or locked themselves to the road and a pink bathtub for more than eight hours by Cabot Circus.
Many of the 'Bathtub 16', who were arrested and held in police cells overnight, were taking part in non-violent direct action for the first time.
When they appeared before Bristol Magistrate's Court, charged with wilfully blocking a public highway, most made passionate pleas of not guilty to justify their actions in the face of what they see as clear government negligence to protect human life.
Melanie Phelps, 55, a retired counsellor from Kewstoke in Somerset, whose 12-year-old son Jacques died from asthma in 2006, said she acted out of necessity to prevent the further deaths as result of climate change and pollution.
She told the Cable: "It was a very sombre moment because you don't do something like that easily.
"It's a frightening and stressful experience. I don't think anybody wanted to do it or enjoyed it."
She cites a 2017 air quality report for Bristol City Council estimating around 300 people die every year in Bristol alone from traffic pollution.
"You've got 300 preventable deaths a year," she added, "It's very real, it's not just a figure to me. When I lost my child it affected my whole family. It's a devastating thing, you learn to live with it [but] you don't get over it.
"I feel a sense of anxiety and fear for my children and grandchildren. I've already lost one child, I can't bear the idea of anybody losing their child due to inaction."
Asthma UK ranks Britain as having the worst death rate for asthma in Europe, with deaths increasing by 20% in the last five years.
"At some point in the future we are going to start hearing about people dying and over time that will get closer and closer until it's someone down the road," she said.
"I asked those people in court what would they tell their loved ones? That they spent their time prosecuting people who risked their liberty to warn others of an impending catastrophe.
"What is it going to take if the WHO, the IPCC, and its own committee is saying government isn't doing enough?
"At the same time you have got to keep trying. We are powerful at the end of the day. But we all have to be brave and stand up and be counted."
Dr Christelle Blunden, 37, a mum of two and a GP based in Southampton, joined XR this year and saw the impact of the fortnight of protest in April which brought major junctions in London to a standstill.
"Extinction Rebellion really exists because time is running out and we need to make radical changes," she said.
"2100 is within the lifetimes of babies being born today. My four-year-old will be 85 in 2100. So that really brings it home that it's not just a nebulous time in the future.
"This crisis will be phenomenal. There will be global food shortages by 2030. The human cost of that is going to be widespread.
"I have friends who don't have kids who have decided not to have kids, and not without significant grief over that decision.
"The idea that we are doing this to ourselves and that things are actually that dire, that's what made me think right I'm going to do everything I can. I don't think there's going to be anything else more important."

'Crossing the line'
The action in Bristol drew criticism from Avon and Somerset Police and Bristol Mayor Marvin Rees who said that protestors had 'crossed the line' by disrupting the city.
Local press reports highlighted the anger from drivers prevented from travelling into the centre, with an unconfirmed report of a man not being able to reach the hospital on time to say goodbye to his dying father because of the blockade.
One of the 16, 22-year-old Maddie Wakeling, from Glastonbury, said: "Obviously you know you feel bad for frustrating people, making them late for work, or more significant ways which is terrible. But the bigger picture is so much more drastic.
"No one action is ever going to solve anything I think you have to constantly remind yourself that it is part of a bigger image."
"The thing that frustrated me about being in court was the constant focus from the prosecution on asking how blocking the road stops ecological collapse. Does it say in the IPCC report to put yourself in a bathtub?
Christelle added: "On my part it was quite painstaking to decide if that was necessary. You question yourself. When I was in that moment I did feel bad naturally. I'm a doctor, I help people, that's what I do. I had to reverse that and still feel what I was doing was right.
"But I do feel that some level of public disruption in these protests is necessary. To some extent we are disrupting people going about their business to get them to wake up to the situation that we are in.
"I think about what Greta Thumburg says, that people want to be offered hope, but what we need is courage, and the resolve to do the right thing in the absence of any guarantee of an outcome."
The next action planned is in London on 7 October, when 500 Bristolians will be joining a two-week London protest.
Independent. Investigative. Indispensable.
The Cable is Bristol's independent, investigative newsroom. Owned and steered by 2,500 members, we produce award-winning journalism that digs deep into what's happening in Bristol. Investigative journalism strengthens democracy – it's a necessity, not a luxury.
As a members co-op, democracy is built into everything we do. We're 100% owned by thousands of Bristol members.
If we can triple our membership, this funding from the people of Bristol would make the Cable completely sustainable.
Join the Cable today