Masculinity and my Black male experience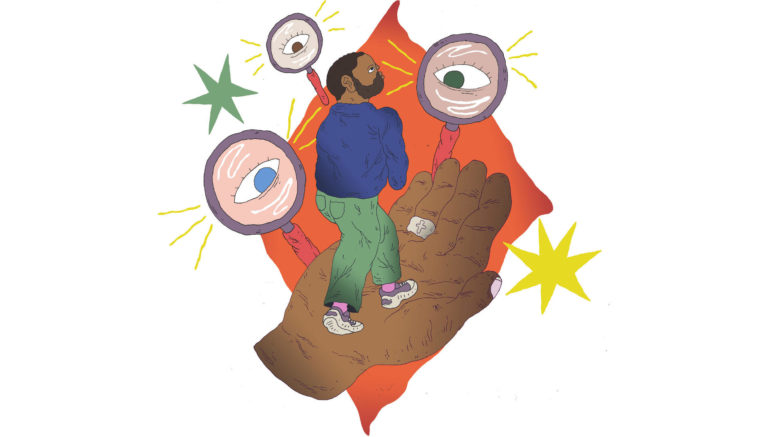 How do different groups interact with ideas of 'manhood'? How does society view masculinity? What are the implications for particular groups of people, or in my case, for a black man?
I grew up in a family of five with black parents. My dad is British-Carribean, a Christian pastor who now leads Bethel United Church here in Bristol, and my mother is African-American. My dad is an openly affectionate man. Just like his father, he is into fashion, family, sport and travel. Growing up, my father kissed me, hugged me and told me that he loved me. Even when I was in high school he would hug my brother and I and kiss us on the cheek. At that age, we swatted him away in teenage disdain. My father's relationship with my mother, while not without its challenges, was one of honour and teamwork. I was constantly shown examples of a man who loved and was able to be loved. He was balanced – this was my foundation.
A lot of what my father taught me about being a man was non-verbal; it was from watching him engage with my family and others. He would also say certain lessons out loud. For instance, the day before my mother returned from out of town, my dad would do a deep clean of the house. While cleaning he would say, "Make sure your wife always comes back to a clean home." This stood out to me, not only because he put such consideration into my mother but he also put it into my development as a young man.
"Every man needs a good suit. One that you can wear to an interview, a wedding or a funeral," he advised. I understood from a young age was that it was masculine to care and be considerate to your partner and that presentation, especially for black men, was important.
Tell your friends…
Getting older and having to navigate life as a black man came with a particular set of challenges. Often the kind of masculinity I had witnessed from my father and other men in my family was out of reach. I came to realise that society frequently viewed black men as harder, colder and more aggressive. It felt like people listened to 50 Cent's 'In Da Club' one too many times and thought we all lived a gangster lifestyle, ready to steal and pistol whip on demand. I was constantly being judged. Either I was expected to fit in with how others believed black men to be, or I was told with surprise that I acted 'different'. Sadly, common misrepresentations of black masculinity can also influence black men themselves.
The biggest problem with a stereotype isn't that it's false but that it's the only story being told. While absent fathers and higher education drop-out rates do impact the black male community, contrary to common portrayals, black manhood is not defined by these issues.
Another challenge for black men is the simultaneous fear and fascination many people have with us. Much mainstream British media deems us 'thuggish' drug dealers or flashy athletes. England footballer Raheem Sterling was chastised in the press for spending too much (of his own, taxed and legally earned) money. Sterling called this out as racist, pointing out that young white players flaunting their wealth don't receive the same flak.
We are also frequently mythologised to have gigantic penises and be ready to mount anything that comes across our path. These myths have real life consequences for many black men. The popular Netflix special 'When They See Us' shows the true story of five black teenagers who were wrongfuly accused of assaulting and raping a 28-year-old white woman in New York, and sentenced to 5-15 years in prison. The story shines a light on the problematic mindset many in society have towards black men.
Vitally though, we are starting to see more diversity in the media. Chiwetel Umeadi Ejiofor is not only breaking moulds with his acting but also as a black British man. There are more spaces being created to bring together, inspire and encourage us, such as the Bristol and London-based organisation Mandem; places where we can relate to others experiencing similar situations, redefine masculinity for ourselves and protect the mental health of black men dealing with issues linked to our race.
So what is it like growing up as a black male? Sometimes confusing, frustrating and exhausting, but ultimately I find it to be a beautiful version of the male experience. We have a unique opportunity to completely reform from the skewed space society tries to pigeonhole us in. As James Baldwin said, "Not everything that is faced can be changed but nothing can be changed until it is faced."