Bristol East: What you need to know for the 2019 General Election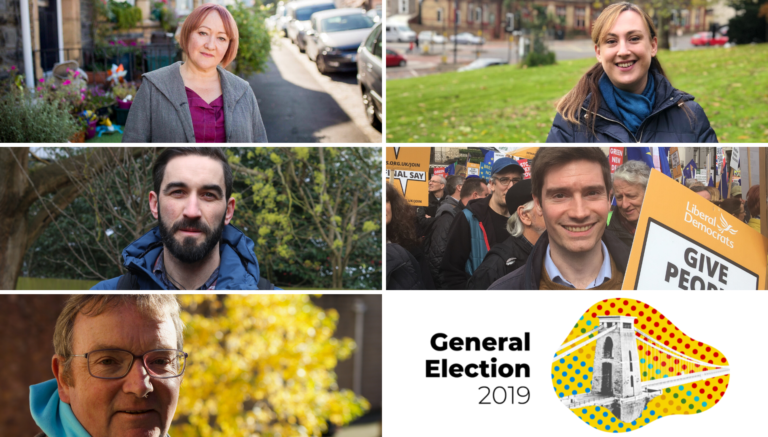 Bristol East has been held by Labour since 1992, with Kerry McCarthy (@KerryMP) its MP since 2005. Political forecasting website Electoral Calculus estimates that she'll keep the seat this election, but with a reduced majority and that the Lib Dem's vote share will increase to 13% with the Brexit Party gaining 10%.
The constituency has some of the more deprived areas of Bristol, and housing and welfare reform will both be key policy issues. But there has been creeping gentrification over the last few years, with house prices in St George increasing steadily and trendy locales replacing greasy spoons.
All the candidates live nearby expect Brexit Party candidate, Tim Page, who's been shipped in from North Dorset for the campaign. He lives in Wiltshire and was standing for North Dorset until party leader Nigel Farage stood him down. Conservative candidate Sarah Codling is currently in North Somerset but says she'll move to Fishponds if elected. Most of the candidates are basing their campaigns around the big issues facing the area: housing, air pollution, transport, except for Page, who doesn't live in Bristol and is only interested in Brexit.
McCarthy, Page and Conan Connolly for the Greens are all very active on Twitter, with McCarthy and Connolly taking frequent pops at each other and Page (@BrizzleTim) posting about how much people love the Brexit Party.
As you'd expect, most of the candidates will be using Brexit as a key campaigning point. As it's not a marginal seat, the Remain Alliance – the Lib Dems, Green and Plaid Cymru pact to stand aside for each other – doesn't come into effect here and Lib Dem and Green candidates, Nicholas Coombes and Conan Connolly (@connolly_conan) are both saying that they're the ones to vote for to make a stand for remain. Kerry McCarthy is a staunch Remainer and is one of the 50 Labour candidates to have pledged to vote for remain if there is a second referendum. Meanwhile, Conservative candidate, Sarah Codling (@CouncillorSarah) and Brexit Party candidate, Tim Page say that they're the ones to vote for to make Brexit happen.
What happened in 2017?
Kerry McCarthy won 60% of the vote share in the last election, seeing her majority increase to more than 13,000. The Conservative candidate Theo Clarke's (Jacob Rees-Mogg's niece) vote share increased slightly while the Greens and Lib Dems took home less than 5% between them.
What about Brexit?
Who's in the running?
The candidates in alphabetical order by surname:
Sarah Codling, Conservatives
Conservative candidate, Sarah Codling lives in Worle and has been a councillor in North Somerset and Weston-super-Mare Town Council since 2015, which was a Conservative majority council until May this year. She's worked for councils and the NHS for 15 years and now works as an engagement coordinator for housing association Alliance Homes Group.
Appointed youth champion for North Somerset council last year, she says she is "passionate about engaging with people of all ages and promoting democracy which doesn't just mean putting your 'X' on the ballot paper at election time." In her role as councillor, she's been involved in refurbishing a local skate park and setting up an initiative to catch drivers speeding.
More than one in four children in Bristol are living in poverty and a recent poverty envoy from the UN found that Conservative austerity policies have inflicted "great misery" on citizens with women and young people particularly hit. Codling says that only the Conservatives are able to protect the UK's strong economy.
Referring to the Conservative's spending pledges, Codling says "the Government has committed billions of pounds of extra NHS and school funding. This must result in more, better quality services, meeting the needs of everyone in Bristol East," she said.
Much like the other candidates, as well as Brexit, key areas she says she wants to focus campaigning around are safer communities, infrastructure, housing and clean air. As ever, the devil is in the detail about how the parties will actually tackle these issues. "I want cleaner air in Bristol but not see ordinary people and businesses punished," she told the Cable.
Are we missing anything? Let us know!
Q: What key policy areas will you be campaigning on to win this seat from the incumbent?
A: "So many people in Bristol tell me how frustrated they are with the tone and focus of politics right now, and I agree. I have put myself forward for election because I want to make a difference and everyone in Bristol East deserves a strong local champion representing and standing up for them."
Conan Connolly, Green Party
Conan Connolly grew up in Ireland and studied Civil and Environmental Engineering at the University of Dublin and did 10 years military service in Ireland. He was brought up farming and says he's passionate about sustainable practices and food security. If elected, he says he will prioritise climate action and "ending Brexit sectarianism and racism".
Connolly says he is against the recently launched consultation on criminalising trespass – something already law in Ireland and with major consequences for Travellers. Campaigners say the consultation is "othering" and if it becomes law, it will have a "devastating impact" on nomadic communities.
Are we missing anything? Let us know!
Q: What's your take on the government's consultation on criminalising trespass?
A: "Travellers in Ireland have had a rough time at the hands of these types of laws. The tightening of laws and freedoms is a right wing ill-thought out policy and only will create further animosity between settled and travelling peoples. In my opinion, the present state of Traveller culture and traditions is so poor as they have been so oppressed as they have nearly forgotten their pride and who they are themselves.
"This needs restoration and celebration, not what [Conservative Home Secretary] Patel is forwarding with this oppressive legislation to please the tory right!"
Nicholas Coombes, Liberal Democrats
Trained as a town planner, Coombes, originally from Kent, got into politics early, joining the Liberal Democrat Society while a student at Bath university and serving two terms as society Chair, before getting elected as councillor at the tender age of 20. He served two terms as a Lib Dem councillor to Bath & North East Somerset Council, which he won from the Conservatives with an increased majority, standing down in 2015 to move to Bristol.
He lives in St George and says that, as well as stopping Brexit, his key policy areas are improving public services, reducing inequality and climate change. "Tackling the climate emergency is of particular interest to me given my background in infrastructure planning," he told the Cable.
"I think that people in Bristol East, in common with most people in the city, want Brexit stopped so that we can build a brighter future. Investment in education and childcare would make a real difference to local people. I am think that in Bristol East particularly, residents are fed up of being taken for granted by Labour at Westminster and by the Labour Mayor and councillors."
While it is true that Bristol East did vote for remain overall, the constituency is quite split, with neighbourhoods like Stockwood and St George Central voting for Brexit.
Coombes is a member of Amnesty International and in his spare time, he cycles and plays classical piano.
Are we missing anything? Let us know!
Q: The Lib Dems have not done well in this constituency in the last two elections. Why should Remain voters in Bristol East vote for you and risk the Conservatives winning?
A: "The Conservatives won't win in Bristol East; they are 13,000 votes behind, and haven't won in 32 years. Johnson's extremists, supported by the Brexit party and Trump, are toxic in cities like ours. They came fifth in the European elections this year.
"Labour take places like Bristol East for granted, and especially remain voters. Jeremy Corbyn has let down remainers at every opportunity; he whipped his MPs to trigger Article 50, and to reject a People's Vote five times. Corbyn intends to negotiate his own Brexit deal, and won't commit to remaining in the EU.
"Voting Liberal Democrat will send a message that Bristol wants to remain in the EU. Voting Liberal Democrat tells Johnson and Corbyn that we don't want either of them as Prime Minister. Voting Liberal Democrat in the European elections sent a strong message, and it will do again."
Kerry McCarthy, Labour Party
Please note that there will inevitably be more information available on the current MP.
Incumbent McCarthy has held this seat since the 2005 election. Her majority was reduced by more than half in the 2010 General Election when the constituency boundaries changed and increased by only a couple of thousand in the 2015 election, but shot up by more than in the last election in 2017.
She's been a member of the Treasury Select Committee, South West Group of Labour MPs, secretary of the All-Party Parliamentary Group on Somaliland, a member of Labour's National Policy Forum, and lead contact for the End Child Poverty campaign among Labour MPs in parliament. She's had a hand in getting the Mental Health Act through parliament, was a member of the Treasury Select Committee and involved in inquiries into financial inclusion. In 2011 she was made Shadow Foreign Office Minister with responsibility for human rights.
In 2009 she repaid £402 in 2009 for a second bed claimed in expenses for her one bedroom flat, stating the claim had been in error after being charged twice for a bed that wasn't delivered. She also received a police caution in 2010 after admitting a charge of electoral fraud for tweeting about the number of postal votes cast per party in her constituency at the 2010 election.
McCarthy is a vegan, and regularly speaks in parliament about animal welfare, sustainable farming and public health. According to independent voting analysis website They Work For You, she's consistently voted for gay rights, raising welfare benefits at least in line with prices, against academy schools and against reducing central government funding of local government.
She says that the biggest issues in East Bristol are the impact of property development on the area, school cuts and the NHS – More than one in four households in East Bristol have people with disabilities or long-term health problems.
She says that, while it's "great that new housing is being built – and I've worked with the council on ensuring a significant proportion is affordable," it's putting pressure on the area, which is made worse by housing being built just outside Bristol's borders by neighbouring councils.
"I also have a particular concern about the unregulated supported housing sector – eg Wick House in Brislington – and want legislation brought in; I raised this a number of times in Parliament, met with the Charity Commission and the council, was due to meet with the Housing Minister to discuss this when the election was called."
Air pollution is also a key issue for McCarthy, she supports calls for a new Clean Air Act. She tweeted last year: "What's the point of giving people personal air pollution alerts? Are kids just not going to go to school that day? People take the long walk to work, or get their gas masks out? Elderly people stay indoors? Let's tackle the cause instead."
She voted against Boris Johnson's Brexit Bill last month and is one of more than 50 Labour candidates to have pledged to vote for remain if Labour win the election and call a second referendum, as is the party's policy.
McCarthy hasn't voted against the party line since March 2007 but she isn't Jeremy Corbyn's biggest fan. She has been a vocal critic of the Labour leader, though she said she was impressed by the 2017 general election campaign that saw Theresa May's majority taken away despite predictions of a landslide from both within the party and others. Both she and Labour candidate for Bristol West, Thangam Debbonaire resigned from the shadow cabinet in June 2016 saying Labour needed a new leader and supported Owen Smith in the 2016 Labour leadership election. Relations with the leadership appear to have warmed since then.
McCarthy was first selected through an all-women shortlist. Labour and the Lib Dems are the only UK parties that use this method of trying to make the gender divide of parliament more representative of the population. In the 1990s, there were only 10% of women MPs and Labour is the party closest to parity, with 45% of its MPs being women in the last election, compared to 21% for the Conservatives and 33% of Liberal Democrats. Research shows that having more women in politics has meant that issues disproportionately affecting women have been given higher parliamentary priority.
Are we missing anything? Let us know!
Q: What do you think about Bristol's clean air plan? What is needed to tackle Bristol's air pollution?
A: I do believe that strong action is needed, especially as Church Road, which runs through my constituency, is one of the two Bristol streets identified as presenting the biggest challenge. I have been talking to local residents in St George about the proposals when I've been out campaigning and, once the election is over – and assuming I am re-elected, of course – I intend to convene a public meeting to hear their views, as well as seeking more information from the council as to why the boundaries have been drawn in the way they have."
Timothy Page, Brexit party
Brexit Party candidate Tim Page calls himself @BrizzleTim on his new Twitter profile but actually lives in North Dorset, where he was standing as a candidate until when Farage stood him down to give the Conservative candidate in the seat more of a chance. He then switched his campaign to Bristol East, and he's been touring the area in his brightly decorated "Brexit Bus" (see above) since. He studied law at the University of Bristol in the 80s, but hasn't yet responded to queries about if he has any other local connection. He stood for election in Devizes in the last General Election.
Page is a farmer in Wiltshire, where he breeds horses, before which he was a corporate and commercial lawyer in London and Singapore. Brexit is the only policy area of importance, but Page has campaigned against industrial scale wind turbines in Wiltshire and Somerset and for Vote-OK, a lobbying group that aims to get pro-hunt candidates elected to repeal the Hunting Act.
He didn't answer the questions put to him by the Cable and instead sent this press release:
"Like so many I am incensed by what has happened in the UK since we voted to leave the EU in the 2016. It offends our sense of fair play, undermines our trust in politicians, civil servants and the voting system and is destructive of that bedrock of our society, our democracy. The Mother of Parliaments has been filled for the past three years with scheming, anti-democratic, careerist party functionaries, not respecting and implementing a people's vote and betraying the nation.
"We simply do not want to find that we have re-formed a House of Commons that is once again Remain-dominated after this election. The country is crying out for change and an end to the Punch & Judy politics of Labour and the Tories."
Are we missing anything? Let us know!