Bristol North West: What you need to know for the 2019 General Election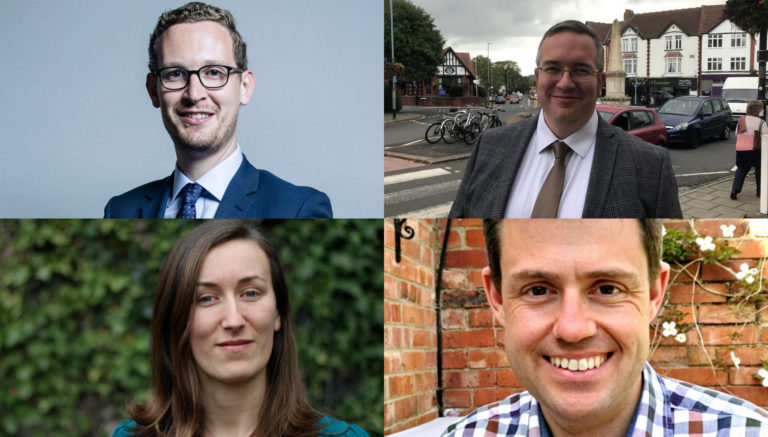 Until 2017, Bristol North West had been won by the governing party at every election since 1974, as the bellwether seat has switched between Labour and Conservative.
This time around, the constituency's 61% of Remain voters are likely to prove crucial. Labour's Darren Jones, who won in 2017, is a strongly pro-Remain MP and called for a second referendum long before it was adopted as Labour policy. Jones is far from Jeremy Corbyn's biggest fan, so it will be interesting to see how his local appeal can win enough support to keep his seat.
However, pro-Remain parties the Liberal Democrats and Greens are also standing after strong showings in Bristol during the European Parliament elections earlier this year.
Tactical voting could also play a role. The Get Voting site run by pro-Remain campaigners Best for Britain initially recommended voting Lib Dem in Bristol North West despite the party only getting 5% of the vote in 2017. However, this recommendation has now been changed to Labour MP Darren Jones, following what Best for Britain called a "human input error".
From working class communities in Lawrence Weston and Southmead to wealthier areas like Westbury-on-Trym and Stoke Bishop, Bristol North West is a constituency of contrast. It has areas in both the 10% most deprived and 10% least deprived in England.
Leave voters are prominent in lower income areas, and it will be interesting to see whether people there vote based on wanting to get Brexit done, or other priorities such as the NHS and investment in local services.
The pro-Brexit Conservative candidate Mark Weston will be known to local people as he's been a councillor for Henbury and Brenty since 2006. Despite saying the Brexit Party would put up candidates in Labour-held seats, Nigel Farage decided not to do so in Bristol North West to help the Tories, meaning Weston is the only pro-Brexit candidate on the ballot.
What happened in 2017 election?
The last three elections have seen close races in Bristol North West between Labour and the Tories.
In 2017, Darren Jones managed to unseat Tory MP Charlotte Leslie with a majority of nearly 5,000 votes. Both the Lib Dems and Greens were a long way off with less than 5,000 votes between them. The turnout was 71.7%, which is slightly above the national average.
What about Brexit?
Who's in the running?
The candidates in alphabetical order by surname:
Chris Coleman, Liberal Democrats
Chris Coleman was chosen as the Lib Dem candidate for Bristol North West in September. Born and raised in Cheltenham, he now works as a solicitor, specialising in criminal defence and prison law.
He has experience of being a local politician in the south west. First elected in 2002, he is currently a councillor on Gloucestershire County Council and Cheltenham Borough Council.
He is also the Cabinet Member for Clean and Green Environment in Cheltenham. In this role, he hit local headlines in July when he blamed climate change for the growing problem of Cheltenham's drains being blocked by leaves, after a local resident complained.
Coleman has stood to become an MP twice before for the Lib Dems – in Devizes in Wiltshire in 2017, and the Forest of Dean in 2015, coming 3rd and last respectively.
He is campaigning on a strong anti-Brexit message and trying to target voters not keen on voting for Boris Johnson and Jeremy Corbyn.
Are we missing anything? Let us know!
Q: The Lib Dems have not performed well in this constituency since 2010. Why should the people of Bristol North West vote for you and possibly split the Remain vote which could see the Conservatives win?
A: "It is simply not true to say that the Liberal Democrats have not performed well in this constituency since 2010.

"The Liberal Democrats performed strongly in the European election in Bristol North West in May of this year – comfortably beating both Labour and the Conservatives. Labour finished on just 10% of the vote. Real votes in a real election show that we can win again.

"The most recent polling puts Labour in third. And anyone who has spent any time speaking to people locally will know that support for Corbyn has crumbled.

"Remain supporters are dismayed by the repeated failure of Corbyn to oppose Brexit. They can't believe Labour want to try to renegotiate a deal to leave the EU. They know that the Liberal Democrats are the genuine Remain choice this time.

"Moderate voters here are dismayed by the lurch to the hard left and the shocking anti-Semitism in Corbyn's Labour. More and more voters are committing to backing the Liberal Democrats to stop Brexit and to build a brighter future for our country. Together we can stop the Tories from winning."
Darren Jones, Labour
Please note that there will inevitably be more information available on the current MP.
Darren Jones has been the Labour MP for Bristol North West since 2017 when he unseated Tory MP Charlotte Leslie. He was also the Labour candidate in 2015. Jones grew up in Lawrence Weston and Shirehampton before working for the NHS and as a lawyer.
Jones has consistently taken a strongly pro-Remain stance. He was one of the Labour MPs calling for a second referendum before it was adopted as party policy this year and has warned against the threat to jobs posed by a no-deal Brexit, including at companies like Airbus which employs 3,000 people in Filton.
Among other things, including being vocal about school and nursery funding cuts, Jones is heavily involved in technology policy. Last year, we spoke to Jones about the 'Fourth Industrial Revolution' – the age of artificial intelligence, advanced robotics and automation in the workplace.
When he was elected as MP, he said his political hero was Tony Blair. Unsurprisingly, this means he isn't a big support of Corbyn, and has contributed to a fraught relationship with local activists and left wing campaigners Momentum.
He is the convenor of Future Britain, a group of Labour MPs set up by former deputy leader Tom Watson earlier this year. The stated intention was to prevent more Labour MPs defecting to The Independent Group, but was seen by opponents as furthering division in the Labour Party and undermining the leadership.
Jones told website Politics Home he was invited to join the Independent Group and shared some of the MPs' frustrations, but that he thought the Labour Party was the best vehicle for progressive change. Jones has been critical of how the Labour Party has dealt with allegations of antisemitism, and was one of the Labour MPs to attend the Enough is Enough rally in Westminster in March 2018.
Former Lib Dem peer Lord Oakeshott donated £5,000 to Jones' campaign in September. Oakeshott left the Lib Dems in 2014, and has given financial backing to other pro-Remain MPs.
Interestingly, the official crowdfunder page doesn't mention Labour once, and he has been running an independent fundraising campaign called Friends of Darren Jones for supporters who don't want to join the Labour party.
Are we missing anything? Let us know!
Q: The Labour Party's position on Brexit has not always been clear. How will you convince Remain and Leave voters in Bristol North West to vote for you and what other will issues will you fight on if re-elected?
A: "Like more than 60% of my constituents, I voted to remain in 2016. I still believe staying in a reformed EU is the best option — to reboot the economy, safeguard our NHS and preserve hard-won rights at work. As your MP I consistently worked across party lines to soften Brexit and rule out no-deal, and I've been endorsed by every pro-European tactical voting campaign. But I'm also clear that the only democratic way forward is to give the people a final say, and I'm pleased the Labour leadership has now pledged a public vote.
"Still, there's life beyond Brexit. Since 2017 I've led efforts to fight climate change and sought solutions to Bristol's housing and transport crises. I spearheaded the successful local campaign to reconsider changes to the A4018, have held Ministers' feet to the fire over Avonmouth's fly epidemic, and secured £12 million in compensation for local workers."
Heather Mack, Greens
Heather Mack grew up in a council estate in North Devon, before moving to Bristol five years ago to work as a volunteer and event manager in the charity sector. She now works for local MEP Molly Scott Cato, who is running for MP in Stroud.
Mack is an environmental campaigner and was arrested in April as part of the Extinction Rebellion action in London. She was charged with a minor public order offence and has raised £1,600 to cover her legal fees. On 18th November, she was found guilty, so will now have a criminal record.
In 2017, the Green candidate in Bristol North West received just 1,200 votes, but the growing awareness about the climate crisis and public debate about Extinction Rebellion may have an impact.
Locally, the Greens will be focusing their efforts on Bristol City Councillor Carla Denyer's challenge to sitting Labour MP Thangam Debonnaire in Bristol West after the Lib Dem candidate stood aside. After receiving the most votes in Bristol in the European elections earlier this year, it will be interesting to see how the Greens fair in Bristol's three other seats.
Are we missing anything? Let us know!
Q: Labour and the Lib Dems are taking similar positions to the Greens on Brexit and adopting more radical environmental policies. Why should Remain voters and people who see the climate crisis as our biggest priority vote for the Greens in Bristol North West?
A: "The Green Party policy is to have a second referendum and to campaign for Remain. I do not agree with the Liberal Democrat policy to revoke without a referendum, I believe in democracy and that this decision needs to go back to the people. Labour has been very unclear on Brexit and now wish to renegotiate the deal, there's no deal better than the deal we have.
"Membership to the European Union provides us vital environmental protections, any party planning to leave cannot be prioritising the climate.
"The Labour party are supporting airport expansion, investing pensions in fossil fuel industries and have made action on the environment just one of their 27 policy areas, a box tick.
"This April, whilst I was being arrested for standing up for action on the climate emergency the Labour party was supporting the creation of a new coal mine."
Mark Weston, Conservatives
Mark Weston now lives in Brentry after moving to Bristol in 2005 and getting elected as councillor for Henbury and Brentry in 2006. He is currently the Conservatives leader in Bristol City Council, and stood as the Tory candidate for Bristol South in the 2017 general election, receiving more than 16,000 votes, but coming behind Labour MP Karin Smyth.
Weston has campaigned for improvements to local transport and mentions this as a priority if elected. He lists other priorities as supporting local high streets, delivering on the referendum results, and increasing police numbers. His promises on the NHS and protecting local services, such as libraries and community centres, are interesting considering the record of Tory-led governments since 2010.
He has unsurprisingly been a vocal critic of Bristol Mayor Marvin Rees, writing earlier this year in Conservative blog Conservative Home "In the Referendum of 2012, the people of Bristol voted for leadership – what they got was dictatorship."
Recently, Weston and fellow Tory councillors criticised the council for not being tough enough on people living in vans, and called for injunctions in van dwelling hot spots in north Bristol. Injunctions, where unauthorised encampments are evicted regardless of the needs of people involved, are controversial.
In 2017, when Colston Hall announced it would change its name to end its ties with slave trader Edward Colston, Weston described the move as a "surrender to the forces of historically-illiterate Political Correctness" and an injustice to a "great Bristolian".
Weston has called for a Singapore-style free port for Bristol Port where companies will be able to trade without paying tax on imports. The idea is intended to stimulate industry but is controversial for giving tax breaks to big companies.
Bristol Port Company, who would benefit from these tax breaks, is co-owned by Terrance Mordaunt, a long-time donor to the Conservative Party with an estimated worth of £500 million, who gave £100,000 to the official Vote Leave campaign and £25,000 to Boris Johnson's leadership campaign. On 14 November, Johnson visited Bristol Port Company, managing to avoid more protests after having to cancel his visit to Glastonbury on the same day.
Are we missing anything? Let us know!
Q: Why should the people of Bristol North West vote for you and another Conservative government, considering the constituency voted 61% in favour of Remain in 2016, and local public services have suffered due to austerity since 2010?
A: "The message I get time and again on the doorstep is that Parliament is broken. Despite standing on a platform in 2017 of honouring the referendum result, the Labour Party has done everything but. This paralysis cannot continue.
"With a Conservative Government and me as your MP we will leave the European Union in an orderly manner with the deal the PM negotiated. We will finally break the deadlock consuming Westminster and we can move on to other subjects – such as investing in our NHS, schools and the police.
"On the issue of reductions in Government spending in 2010 – the reality is that the last Labour Government left our economy in an appalling state. We were borrowing £1 in every £4 being spent. Now it is £1 for every £34. They wrecked our economy before 2010, and if Mr Corbyn enters Downing Street they will do so again."