Kingswood: What you need to know for the 2019 General Election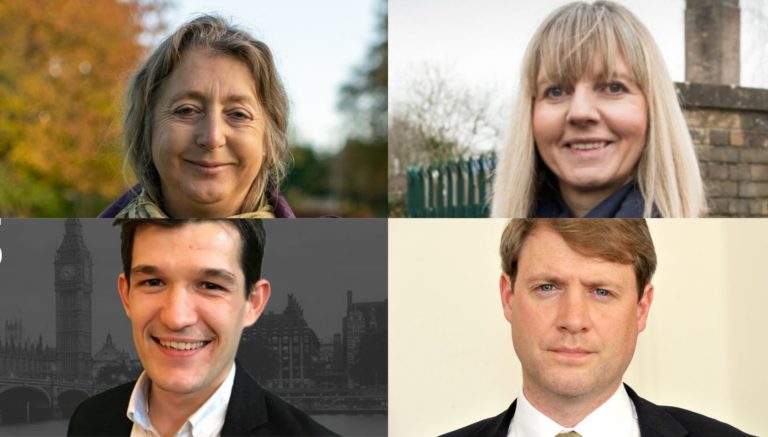 Kingswood has traditionally swung between Labour and Conservative control. The constituency skirts the eastern edges of Bristol, but has its own identity and is loath to be defined by its neighbour.
Labour candidate Nicola Bowden-Jones and grassroots activists have mobilised in large numbers to unseat Chris Skidmore MP, the Tory universities minister and previously minister of state for health. Liberal Democrat Dine Romero is hoping to win support from the 43% of Remain voters in the constituency. She will strive to capture floating Remainers reluctant to vote red with Jeremy Corbyn at the helm of the Labour Party. However she may have an uphill battle as tactical voting website, Get Voting, run by pro-Remain campaigners Best for Britain, are recommending that a vote for Bowden-Jones is the best bet for Remainers.
Outlier and Green Party candidate Joe Evans will be courting voters disgruntled by the three main parties, banging the familiar-sounding drum of anti-austerity policies and environmental action.
Meanwhile, Nigel Farage's alliance with Boris Johnson has cleared the floor of any Brexit Party candidates in Kingswood. In 2015 UKIP won 14% of the vote, and in 2017 they didn't stand in the seat. Although not an exact science, Labour and the Conservatives saw their share of votes in 2017 increase by 10 and 6 points respectively. With the Brexit Party out of the picture, the Conservatives will breathe a sigh of relief, but Labour's foothold among Leavers shouldn't be dismissed outright. Skidmore will however take some comfort knowing that his vote share has steadily increased since first being elected, standing at more than 54% in the 2017 election.
At 105th on Labour's list of target seats, it will take some undoing for the Conservatives 15.4% majority from the 2017 general election to be overturned.
But party allegiances aren't permanent in Kingswood; Chris Skidmore knows that the seat was in Labour hands from 1992 to 2010 and is on the warpath to keep his place in Westminster.
What happened in 2017?
What about Brexit?
Who is in the running?
The candidates in alphabetical order by surname:
Nicola Bowden-Jones, Labour
Children's Mental health specialist and Bristol City Councillor for Frome Vale, Nicola Bowden-Jones is running on the anti-austerity ticket. She has managed youth and domestic violence services and will be using those credentials to lambast Conservative Chris Skidmore for towing his party line in consistently voting for austerity measures.
Some voters will be drawn to this track record and vision, but will it be enough to overcome the marmite divisiveness that Jeremy Corbyn garners?
Unlike Darren Jones MP in Bristol North West, Bowden-Jones is an avid supporter of the party leader, plastering photos and videos of Corbyn on social media and her website.
Out door knocking, Labour activists have encountered voters who are disenchanted with the party leader. But then, the leadership are a large reason for the massive growth of energy and numbers in the party.
Bowden-Jones is well and truly part of the Bristol Labour political fabric. Her husband Paul Smith is the Bristol Cabinet Member for Housing. Together they have worked on a number of housing projects including the Blackberry hill development and Bristol council's housing policy for domestic violence.
Bowden-Jones has earned a name for not beating about the bush. Earlier this year she labelled South Gloucestershire Council's leader as Toby "Two Jobs" Savage over his newly paid £13,000-a-year role as deputy metro mayor, drawing condemnation for the "unnecessarily personal" attack by the Conservatives.
In stark contrast to the multicultural city next door, 75% of the electorate are homeowners (compared to 62.5% in Bristol East), 96% are white, and Kingswood has been in Tory hands since 2010. As may be expected, Skidmore has dismissed his competition, saying: "She [Bowden-Jones] is now the fifth Labour candidate that has been selected against me – all of which have not lived in the constituency."
Labour saw its share of the vote increase in the 2017 election under candidate Mhairi Threlfall (now standing in Filton and Bradley Stoke), but the surge was not enough to bring the seat within 5,000 votes of Mr Skidmore – the number some use to decide whether a seat is a marginal.
Are we missing anything? Let us know!
Joseph Evans, Greens
Joseph Evans, 28, is running for the Greens. The self described 'local boy' works in environmental planning to 'enhance the sustainability of development on behalf of local planning authorities', as he puts it.
Evans will hope that the Green's base of support in Bristol West, only three miles away from Kingswood, will blow eastward. Spearheaded by Carla Denyer, Bristol West is the Green's second target seat outside of Brighton. But even Denyer has her work cut out. The Green's Bristol West candidate in 2017, MEP Molly Scott Cato got 12.9% of the vote share compared to Labour's Thagam Debonnaire on 65.9%.
This is 'climate change election' Evans says. In the wake of national protests and predictions of there being only 11 years left to limit climate catastrophe, environmental concerns are clearly crawling up the political agenda. But with the Labour Party embracing a Green New Deal – a programme to decarbonise the UK – the Green Party risks haemorrhaging votes to Labour, despite having long advocated such measures.
In 2017, Green Party candidate Matt Furey-King walked away with less than 1,000 votes. And in a constituency that voted 57% in favour of Leave in the EU referendum, it will be testing for the Greens to gain much purchase in this seat.
Evans doesn't want to be pigeonholed by environmental and Brexit-related issues alone. He has a list of campaigning pledges, from investment in the NHS and community services, and tackling air pollution to reversing austerity. "A vote for me is a vote in the other direction," he says.
Dine Romero, Liberal Democrats
Liberal Democrat candidate for Kingswood, Dine Romero, is hoping to trade her seat as councillor and council leader in Bath and North East Somerset for a spot in Westminster. She first won her council seat in Bath and North East Somerset in 2003, getting re-elected from 2007 to 2019.
Romero is one of an all-women line up for the Lib Dems in South Gloucestershire. The Liberal Democrats were buoyed by their win in Bath in the 2019 local elections, overturning a previous Tory majority. Romero is hoping the contagion of Remainer discord that the Lib Dems are betting on will spread to Kingswood. But it will take a herculean effort for the Lib Dems to overtake others in the race, having only secured 3.4% of the vote share in the 2017 election. But with 57.12% of the constituency voting Leave in the EU Referendum, this is not her natural stomping ground.
She recently celebrated a review by local government experts that found that Bath & North East Somerset Council was well managed, and will position herself as a safe pair of hands. "This review by our peers from other councils, so early in our administration, demonstrates our commitment to openness and transparency," said Romero.
The Bath councillor recently said that Bristol's clean air plan risks penalising drivers and criticised austerity measures under the Conservatives. Speaking earlier this year, Romero said she will reach out to the "groups living with deprivation in their community who want answers to Conservative austerity".
Until now, the Lib Dems have been off to a slow start in Kingswood. Romero has been virtually absent online. Meanwhile, the Conservatives, Labour and the Greens have each launched digital campaigns to whip up support. But with Boris Johnson and Jeremy Corbyn seemingly unpalatable among sections of Conservative and Labour voters alike, will Romero prosper?
Are we missing anything? Let us know!
Chris Skidmore, Conservatives
Please note that there will inevitably be more information available on the current MP.
First elected in 2010, Chris Skidmore MP has steadily increased his share of the vote, which stood at more than 54% in 2017. Hailing from Longwell Green, Skidmore entered political life as a youngster, joining the Conservative Party at 15 and becoming MP for Kingswood aged only 29.
Amidst the political turbulence in Westminster, the MP has fleeted through two ministerial portfolios in the last year alone; Minister of State for Health and Social Care and Universities, Science, Research and Innovation.
The ambitious politician was perhaps destined for statesmanship. He is the descendant of Sir James Scudamore, a gentleman usher in the court of Queen Elizabeth I, a legend in his time with a name for jousting. The young Skidmore was educated at the private Bristol Grammar school before graduating from Christ Church Oxford with a first-class history degree. And to help springboard his political career, his family's medical devices company, Skidmore Medical LTD donated £7,175 to his office in 2010.
Skidmore is a free marketeer, believing that market forces should manage the economy with minimal public control and regulation. He has worked for conservative lobby groups including the Bow Group, a rightwing thinktank. He is a member of the Free Enterprise Group (FEG) of MPs – a right-wing organisation reported to indirectly benefit from tobacco industry funding. The likes of Jacob Rees-Mogg are counted among its members.
FEG lobbies for less regulation and taxes on companies. Along with prominent Tory MPs Kwasi Kwarteng, Dominic Raab, Elizabeth Truss and Priti Patel, Skidmore co-authored the controversial book Britannia Unchained in 2012. The authors claimed that "Once they enter the workplace, the British are among the worst idlers in the world".
In the book, Skidmore and his colleagues argued that Britain should adopt Margaret Thatcher's approach to business and economics, with fewer employment laws and protections for workers with the theory that this would boost business activity. Jonathan Portes, Professor of Economics and Public Policy at the School of Politics & Economics of King's College, slammed the accuracy of the book and said that it relied on "slipshod research."
Skidmore backed Bristol-raised banker and now Chancellor Sajid Javid in the Conservative Party leadership race. Known for his loyalty, he hasn't participated in any significant rebellions since being elected.
According to independent voting analysis organisation They Work For You, he has voted against action on tackling the climate crisis and against public control of bus services. He has voted for reducing the tax companies and the wealthy pay, NHS privatisation, tough immigration policies and surveillance.
In August 2019, the then Health minister struggled on live TV to defend claims that £1.8 billion for the NHS announced by Boris Johnson was 'new money'. Independent health think tank, The Nuffield Trust, said this was an accounting exercise, merely releasing money saved by hospitals.
With shops shuttering across local high streets, Skidmore has been quick to celebrate the announcement that Kingswood High Street will receive £3 million investment from the government's Future High Streets Fund. This type of investment could help tip the balance in marginals. Unsurprisingly, Labour dismissed the move as naked electioneering.
Skidmore was opposed to Brexit prior to the referendum and voted against leaving the European Union earlier this year without a withdrawal agreement. He has repeatedly voted against a right to remain for EU nationals already living in the UK. All the while, he continues to entertain his thirst for history, having written a book on the War of the Roses since becoming an MP.
Are we missing anything? Let us know!
Angelika Cowell, Animal Welfare Party
The Animal Welfare party has entered six candidates in the 2019 General Election. Running in Kingswood, Angelika Cowell is campaigning to avert climate catastrophe, improve human health and save NHS funds by promoting healthy and sustainable plant-based diets. As the name suggests, the minor political party is dedicated to animal welfare, environmental and health issues. "A vote for the Animal Welfare Party challenges the main political parties to keep animal welfare and the environment high on the political agenda", says Cowell.