Private dentistry boss bankrolls Tory MP for Filton and Bradley Stoke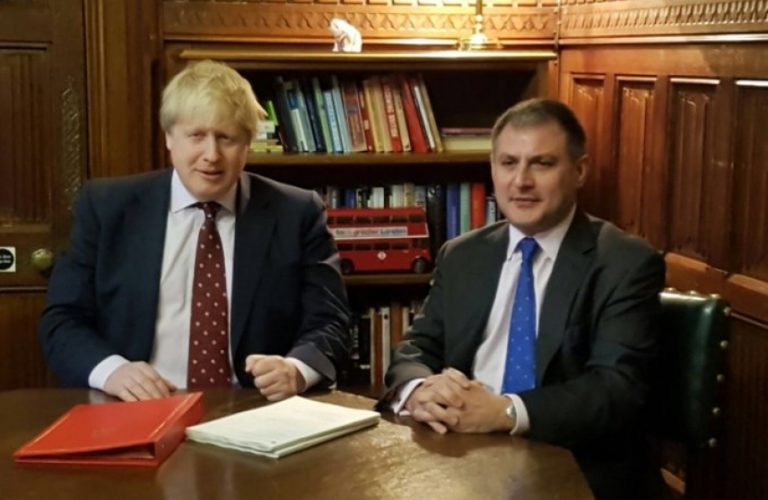 Jack Lopresti with Boris Johnson. (Credit: Jack Lopresti)
Jack Lopresti, the Conservative party election candidate and MP for the marginal seat of Filton and Bradley Stoke, has received £5,000 from a major private dentistry company. Genix Healthcare Ltd specialises in private dental services as well as NHS contracted care, running a network of 25 clinics across the UK.
Lopresti, who accepted the cash last year, is not the only Conservative to receive a donation from the dentistry firm. The company is headed up by Mr Mustafa Tariq Mohammed who has donated almost £400,000 to the Conservative Party since 2013, either personally or through companies of which he is the majority shareholder. Genix Healthcare Ltd is ultimately owned by a company based in the tax haven of Dubai.
On Wednesday, in the latest update on the NHS dental care crisis the BBC reported that more than 2 million adults in England are unable to see an NHS dentist.
Chronic NHS underfunding has fuelled significant growth in the private dentistry market, while many others are going untreated entirely or resorting to 'DIY dentistry'.
Mohammed has donated so much to the Conservatives that he joined the 'Leaders Group', a collection of elite donors who give at least £50,000 every year and is described by the party as the "premier supporter Group of the Conservative Party". Mohammed is listed as attending a Leader's Group dinner in 2017 with Boris Johnson, Theresa May and the then Chancellor Phillip Hammond.
Mr Mohammed reportedly sponsored a table and was on the attendee list at the infamous male-only 'President's Club' event where the Financial Times revealed widespread sexual harassment and abuse of female staff by members of the UK's elite. There is no suggestion of any impropriety.
Jack Lopresti attended Genix Healthcare's annual conference in 2016. Also in attendance was Andrea Jenkyns the Tory MP who went on to marry Jack Lopresti in 2017 after an extramarital affair. Since 2015 Genix Healthcare has made £6,200 in donations to her constituency party. Other beneficiaries include former Tory Health Secretary Jeremy Hunt who received £20,000 from Mohammed in June 2019.
There is no suggestion that Lopresti or any other politicians have used their positions to benefit Genix Healthcare Limited.
Lopresti, Mohammed and Genix Healthcare did not respond to questions on the matter.
Private dentistry on the rise as NHS in crisis
Most dentistry is provided by private practises that deliver basic services under contract from the NHS, with most patients also paying charges. Following changes introduced in 2006 by Tony Blair's Labour government there was a dramatic drop in the ability for the public to access NHS dental care. Research at the time showed that this led to a surge in people accessing private dentists who offer services for considerably higher rates than the NHS.
Recent governments have failed to address the funding and recruitment problems in NHS dentistry. A British Dental Association analysis of government data earlier this year showed that over one million new patients tried and failed to secure access to routine NHS dental services as practises are not taking on new patients and waiting times for appointments stretching to months.
As the BBC reported, many others are going without treatment at all, or are turning to GPs or hospitals which are unequipped to help.
This has helped fuel the growth and profitability of private practices like Genix Healthcare Ltd, which launched in 2006 and now runs a network of 25 clinics across the UK. Recent research shows that the private dentistry market is set to grow as more seek treatment inaccessible on the NHS due to underfunding. Recently the Conservative Minister for Health, Matt Hancock was criticised for encouraging dental patients in his constituency who can't access NHS services to go private despite huge price increases.
This week the Labour party pledged that basic dental care, including check ups, would be made free to access in an effort to prioritise preventative care. The move was welcomed by the British Dental Association, who also called for changes to address recruitment shortages in the delivery of NHS services. The Conservatives said the plans would cost too much but have said they will invest more in the service, as have the Lib Dems.