"Privatising non-emergency ambulance services is bad for patients"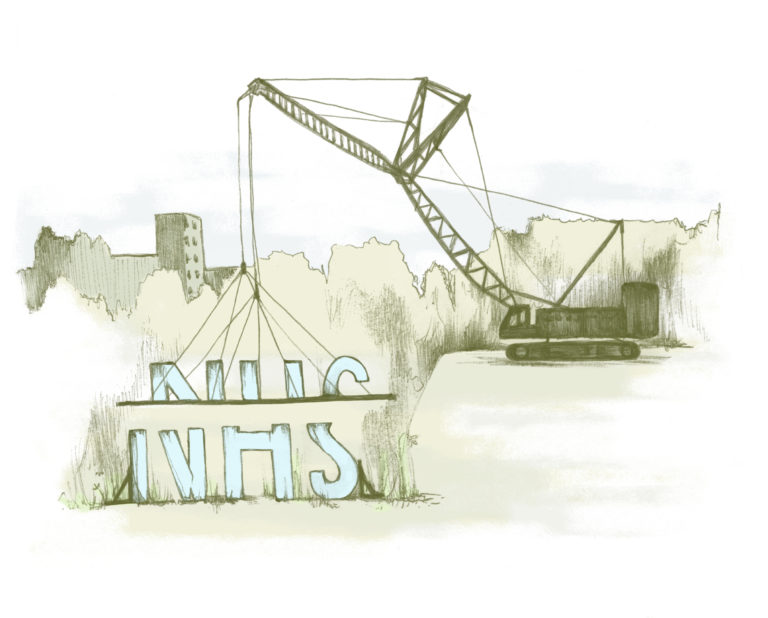 Illustration: Francesca Hooper
"We started using hospital transport because mum fell and fractured her pelvis in the summer," explains Caroline*, who has called upon Bristol's non-emergency ambulance service to help her elderly mother safely attend appointments at Southmead Hospital.
During a turbulent time with operations and inpatient spells, Caroline has found long waits for return-home journeys difficult, in light of her mother's condition. "Nobody said to us, there's going to be an hour and a half from appointment time to your pickup time," Caroline says. "Mum's got a colostomy bag, so that starts to play up – it's put me off using hospital transport."
Caroline's mother's situation is illustrative of how daunting crossing Bristol from Hartcliffe or Filton to get to hospital can be for frail and vulnerable people. Far from being just a glorified taxi service, patient transport services (PTS) for many provide the only means of attending appointments or reaching home after a ward stay – so it's crucial they work properly.
PTS in Bristol used to be provided by South Western Ambulance Service (SWAS). But in December 2016 Bristol, North Somerset and South Gloucestershire Clinical Commissioning Group (BNSSG CCG) awarded the contract to an independent sector provider, E-zec Medical. As of 1 June 2019, E-zec has also been delivering PTS for Bath and North East Somerset, Swindon, Gloucester and Wiltshire, making it the largest private provider of PTS nationwide.
During three and a half years spent working within PTS services in Bristol, which ended earlier this year, I saw first-hand how much the service changed after the transition. I became increasingly angry at how patients' experiences changed, and concerned about the wider questions this raises about the fragmentation of the NHS – which could soon face further threats to its integrity post-Brexit.
Heightened stress
Given the pressure PTS habitually experience, occasional long waits, like those Caroline reports, have been part of the local picture since before E-zec took over.
But a routine inspection by the Care Quality Commission (CQC) in 2018 criticised the operator for failing to deliver a consistently good service, or to hit its key performance indicators (KPIs) around providing transport in a timely manner. Since the transfer, the responsibility for arranging PTS, once the duty of NHS clerical staff, also falls on patients or their relatives.
In my experience, some people struggle with this system. Many patients don't understand the intricacies of their mobility needs, or the duration of their appointments – or, understandably, make mistakes such as confusing radiotherapy with radiology. Multiple booking lines and long holding times can cause further difficulties, "which obviously heightens [your stress], going round in circles", Caroline points out.
Tell your friends…
Devolving responsibility from NHS staff to patient has also meant some people having to come into hospital without the support they require. "Dad wanted to go with Mum, because it was an appointment Mum wanted and she wasn't going to go on her own," Caroline recalls of one such occasion. "They refused, because they said [there] has to be a medical condition for Dad to go on the transport with her."
When E-zec started its contract, standardised criteria for accessing PTS were introduced, superseding a system under which assessments and decisions were made by GPs and clinicians holding a personal understanding of patients' circumstances. Now, telephone assessments are done via third-party call centre staff, who do not have the same insight into the complexity of patients' conditions – with some, it seems, slipping through the cracks.
While working within PTS, I became aware of cancer patients, from outlying areas and being treated in Bristol, who had been entitled to transport under SWAS but were eventually denied under E-zec by virtue of the fact they were able to walk. This failed to consider the incredible costs to patients in travelling – often daily, for many months – from these places to Bristol, and the effects of chemotherapy and radiotherapy that left many patients feeling very unwell and unable to navigate back home alone on public transport.
Fragmenting services
As well as patients and their families, staff transferring from NHS providers to the independent sector also have strong feelings about the transition. A national survey, carried out by Unison, of 150 PTS staff showed most felt overall working conditions were better (75%) under the NHS. Only 6% claimed conditions were worse under the NHS.
PTS staff can be the decisive factor in a patient's attendance. They lend physical support to people facing challenges to their mobility, as well as providing indispensable reassurance and emotional support to patients struggling with confidence and their mental health.
With a shortage of NHS paramedics across the south west, PTS roles have also been useful in enabling people to gain on-the-job training toward filling vital emergency roles. The separation of services across two different organisations has disrupted this natural progression.
The integration of emergency and non-emergency ambulance services also meant cooperation was mutually beneficial during the 'winter pressure' period, which is fast approaching. Emergency crews would often lend assistance with PTS discharges, quickly freeing up bed spaces and helping relieve emergency crews delayed in A&E.
Fragmenting services across different organisations has meant hospital bed managers instead often rely on drafting in more third-party ambulance crews at extra cost, in order to prevent breaches of A&E waiting time targets and avoid financial penalties.
Trusts at a disadvantage
E-zec's award of the BNSSG PTS contract in December 2016 followed a competitive tendering process, which is currently mandatory for many NHS contracts under UK and EU law on public procurement.
SWAS did not bid to continue the Bristol PTS contract for 2017/2018, and has declined to disclose its reasons. But the BNSSG area was its last PTS contract, with others having already gone to private providers.
Dr Tony O'Sullivan, the co-chair of Keep Our NHS Public, describes NHS trusts as being "at a great disadvantage in competing with large private companies… with their vastly superior contracting and legal resources".
Competitive tendering is a costly process for providers and CCGs alike. Channeling funds away from service improvements to compete, NHS foundation trusts like SWAS "are either undercut by private companies claiming they will deliver with less, or they withdraw their tender knowing a safe service is impossible at the cut-rate contract value", O'Sullivan says.
In 2013 SWAS lost the PTS contract in neighbouring Somerset to NSL, a company specialising in operating car parks. It promised to deliver a more flexible service for the same cost, but it quickly became apparent that NSL could not meet the demands of the service – and after two shambolic years it was forced to terminate the contract.
Having completely lost its foothold in PTS services across the South West, it is unsurprising SWAS failed to bid for the Bristol contract. But if adept NHS providers don't tender, commissioners have little choice but to accept private-sector offers, regardless of price and ultimate quality of service.
Looking forward
Rethinking how PTS is delivered has been claimed as an opportunity for injecting fresh thinking and increasing value for money. But in practice, devolved responsibility, declining standards and fragmentation of care systems seem more evident.
NHS England's Long Term Plan, published in January, has proposed a new 'best value' test to guide commissioners when deciding whether to award contracts directly to NHS providers. But there is concern as to how this will work in light of current UK and EU procurement law, and may require broader changes to bring NHS Trusts back under direct government responsibility and control.
Proposals for integrated care systems included in BNSSG CCG's Sustainability and Transformation Partnership (STP), have gained some recognition from ambulance chiefs for services working cooperatively instead of competitively, with PTS playing a role in an integrated service. Though concerns remain that large scale reconfigurations to funding and management this would entail, it could mean diminishing budgets and private sector involvement on a far greater scale.
But beneath myriad technical jargon, legislation and package plans, perhaps the most pressing priority is to ensure patients like Caroline's mother can access the simple support they require. As Bristol South candidate Karin Smyth – who has voiced concern about the effects of NHS privatisation on constituents – has put it, that means "people in Bristol South deserve to know that what they're getting is as good as, if not better than, what they have now".
*Names have been changed to protect anonymity
Independent. Investigative. Indispensable.
The Cable is Bristol's independent, investigative newsroom. Owned and steered by 2,500 members, we produce award-winning journalism that digs deep into what's happening in Bristol. Investigative journalism strengthens democracy – it's a necessity, not a luxury.
As a members co-op, democracy is built into everything we do. We're 100% owned by thousands of Bristol members.
If we can triple our membership, this funding from the people of Bristol would make the Cable completely sustainable.
Join the Cable today