Beyond Brexit: In Bristol's housing crisis everyone's a loser apart from the landlords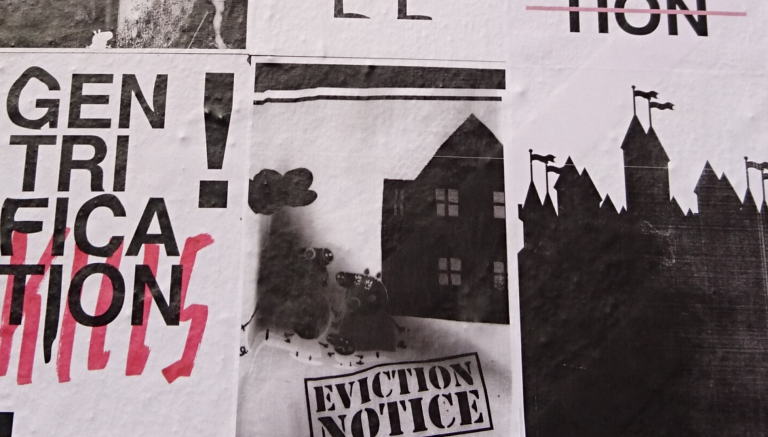 Everyone's a loser in Bristol's housing crisis, except for landlords and people looking to sell their homes. Tenants in the privately rented sector are struggling to keep up with rents that rise faster than wages and tenants in social housing face cuts to housing benefit and many months wait for repairs. We're in the midst of a housing crisis that's been going strong since 2016 and shows no sign of slowing down.
Khalil is a youth worker in St Jude's and many of the young people he works with live in massively overcrowded houses. "Children are growing up in a very, very small property," he tells me. "Imagine five children and two parents living in a two bedroom.
"When you live in a small space like that seven days a week it affects your life, your wellbeing and your mental health," he adds. "They have no privacy or space to do their work. So that young person is behind the other young people in the city. They're feeling they've been locked up. They cannot find their space."
The problem is widespread, he says. Elsewhere, tenants complain of poor building maintenance, antisocial behaviour and long waits for repairs.
Bristol City Council owns 27,240 social housing properties and there are around 13,000 people currently waiting for a property. The average wait for a home in the top two bands – those most in need – was 204 days (Band 1) and 491 days (Band 2) in 2018-19. On the application website, would-be tenants are warned: "The waiting list is very long, even people with the greatest need often wait several years before they get a council property".
Voters will decide on 12 December if they want more of the same policies or a new approach. The Renter Manifesto, made by tenant organisations across the country, lays out the policies they say we need to end the housing crisis, and compared the parties' manifestos on each one. Among them are an end to section 21 tenancies, ending discrimination against benefit claimants and rent controls – capping rent at 30% of a tenant's income.
'Local government should be funded adequately but at the end of the day the council has responsibility to house people securely'
"We need funding for councils to maintain their houses properly," says Aidan Cassidy, Bristol organiser for community union ACORN. "We've seen awful conditions over the last year, especially council flats and council houses in Bristol."
While central government cuts and landlord-friendly policies can be blamed for much of the housing crisis, Bristol's Labour council needs to accept some responsibility, says Aidan.
An increasing amount of ACORN's caseload is from tenants living in social housing. Acorn are currently working with tenants in Barton Hill and Littlecross House in Bedminster. Littlecross House has drug litter everywhere and a lack of security, says Aidan, and it's because there's only one part-time member of staff for the council's biggest tower block in Bristol.
"Now what the council will tell you is: they don't have the funding, which is kind of their answer to a lot of problems. It's their way of absolving themselves from having to take responsibility for that, in my eyes. There are smaller blocks with more staff so I think that's nonsense."
But that is exactly what the council tells me. Council cabinet lead for housing, Paul Smith, says that Bristol has lost around 16% income a year from the Social Rent Reduction Act.
Smith says the council was about to launch a consultation on how to make the housing register list more effective, but they had to postpone it for the election and instead it will launch in January.
"I agree that local government should be funded adequately but at the end of the day the council has responsibility to house people securely and this is not doing that," says Aidan.
Bristol's private sector: where paying 38% of your income to your landlord is normal
With the council waiting list as high as it is and private renting, families in unsuitable accommodation don't have many options, says Khalil.
"Most of the families are low income and they're not earning enough to move – property is very expensive in Bristol and rent is very high."
Bristol's social housing rents are among the cheapest in the country. Unfortunately, the opposite is true of the city's private rental sector. Bristol is among the most expensive cities to rent in, and rising fast – rents have risen by a third in the last four years. This has created a rental market where tenants pay an average of 38% of their income, and one in four private renters are living in poverty.
Obviously, gentrification is one of the biggest drivers of the steep increases, along with the growth of employment outstripping the growth in housing supply, a large student population, and the rise in house prices meaning fewer people can afford to buy.
Aidan says the impact of gentrification is circular: as rents increase, this attracts tenants with higher income, which pushes the rents up further.
"Landlords absolutely love it because they can just put the rent up and up and up. People who've lived there for years can find themselves just being completely forced out."
It's also meant that demand has outstripped supply and landlords have a carte blanche to raise rents indiscriminately in in-demand areas.
Mathi, an Italian student, has experienced this firsthand. She and her partner were paying £600 for a one-bedroom flat on Stokes Croft when her landlord sold the flat. The new owner kept them on a rolling contract but their rent rose to £800 and then to £1,200. Then building work began in the flats above and below them, with workers starting at 7am each morning.
They moved out and now, two months later, she's still struggling to find a room. "Every time I have a viewing, people choose someone else or change their mind about having a tenant. I'm currently hosted by a friend in Hengrove, but it's really far from where I work and study, Stokes Croft, so I usually sleep at the pub I'm working at, on a sofa."
Aidan says the answer to the growing housing crisis is rent controls, the outlawing of Section 21 (something the government pledged in 2018 but hasn't yet delivered), and a huge investment in public house building programmes to make up for the houses lost through Right to Buy.
How the parties compare
This election, the parties have all been pretty quiet on the subject of housing, which is unusual given the extent of the housing crisis.
The Renter Manifesto shows up a stark contrast in priorities between the parties.
Section 21 evictions are the leading cause of homelessness, in Bristol and across the country. Theresa May's government said she would ban them last year, then didn't and "Boris Johnson's been pretty quiet on it," points out Aidan. It is in the Conservative manifesto, but its effectiveness would be dampened by giving greater right of possession to 'good landlords'. ACORN are calling it "section 21 by the back door".
Perhaps unsurprisingly, few of the policies the Renter Manifesto says are necessary to fix the housing crisis are addressed in the Conservative manifesto. Many of their recent policies have been ones that have exacerbated the housing crisis: the Help to Buy scheme, which was only really useful for the well-off and Right to Buy, which has severely depleted council housing stock nationwide.
The Conservative's new manifesto promises more of the same with a focus on home ownership: policies that will be appreciated by voters who are in their own homes, or can afford to buy but won't impress voters in insecure tenancies. Among these are: an extension of Right to Buy, discounts for local first time buyers and longer-term fixed rate mortgages.
However, they do commit to tackling homelessness, with some of the money raised through stamp duty, and expanding the Rough Sleeping Initiative and Housing First programmes.
Labour's manifesto is more promising for renters. This is the party's boldest position on housing in decades, offering reforms for private renters, such as ending discrimination against benefit claimants, ending Right to Rent, section 21 and Right to Buy, and the biggest affordable house building programme since the 1960s.
ACORN's Aidan points out that while Labour's manifesto addresses 11½ out of the 15 policies identified as crucial by the Renter Manifesto, a key one they've missed is giving private renters control over their homes. At the moment you need permission from your landlord to make even small or necessary changes to a rented property, like to get a cat, redecorate, and even make a house accessible.
The Greens are next best after Labour, according to the Renter Manifesto, with 7½ renter-pleasing policies, gaining points in landlord accountability and pledging to commit to private rented homes that tackle the climate emergency and fuel poverty. And the Lib Dems come second to last, at 3½, with the only concrete policy pledge being a national database of landlords.
"The renters manifesto shows how much of a choice there is in this election for renters," says Aidan. "The difference between the parties is pretty stark in terms of renting."