Bristol West: What you need to know for the 2019 General Election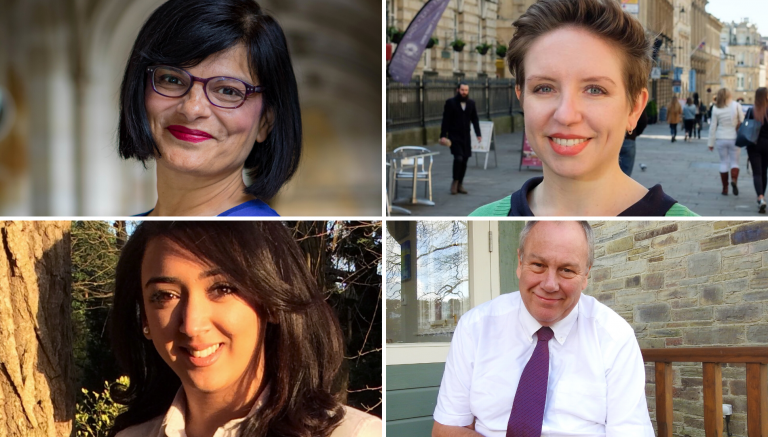 Bristol West is one of the strongest Remain constituencies in the country, with nearly 80% voting to stay in the EU in 2016, so Brexit will be a key concern for many constituents.
Labour's Thangam Debbonaire has held this seat since 2015, when she won it from then-incumbent Lib Dem Stephen Williams with a majority of 5,673 votes. In 2017, she then increased her majority to 37,336, one of the biggest in the country, making Bristol West statistically one of the safest seats.
This is the number one target seat for the Greens, who are hoping to make the Clifton Down councillor Carla Denyer their second MP in parliament. The Lib Dems stood down candidate James Cox as part of the Remain Alliance and the Green Party's election leaflets talk about how Labour and Green are 'neck to neck' and how Greens are "now the only Remain choice in Bristol West," something incumbent Debbonaire strongly refutes.
Debbonaire has strong Remain credentials, consistently voting against Brexit in parliament. Denyer has criticised Labour for not joining the Remain Alliance, while Debbonaire, who's been a vocal pro-Remain MP throughout all the back-and-forth of Brexit, is critical of the Alliance's splitting of the Remain vote and refusal to back her as the best Remain option.
Both Denyer and Debbonaire advocate for a second referendum (rather than the Lib Dem's plan to cancel Brexit altogether) and then to campaign for Remain. Remain isn't the only policy area they're clashing over while apparently having very similar stances. They're both passionate about climate change – the Greens have accused Labour of not being progressive enough on climate change, drugs policy reform, and the need for good mental health services.
Conservative candidate Suria Aujila is a councillor in Bridgwater Town Council in Somerset. She's promising to improve crime, health and education in Bristol West if elected. Like the two other Brexit Party candidates standing in Bristol, Neil Hipkiss doesn't live here and has moved around constituencies before finally settling on standing for Bristol West. As it's very much a 'Remain' constituency, with only 20% voting to leave in the 2016 referendum, he'll have his work cut out.
Want to hear the candidates go head to head? Come to the Bristol West hustings the Cable is co-hosting on 5 December.
What happened in 2017 General Election?
Thangam Debbonaire's majority shot up to 65.9% of the vote, from a 77% turnout, in the last election, making Bristol West one of the safest Labour seats in the country.
What about Brexit?
Who's in the running?
The candidates in alphabetical order
Suria Aujila, Conservatives
Conservative candidate Suria Aujila is a councillor for Bridgwater Dunwear and stood for MP in Wolverhampton South East in the 2015 election, which she lost to Labour candidate Pat McFadden. She was a latecomer to this election, both she and the Brexit Party candidate announced their candidacy the day before the deadline, and didn't take part in the recent Bristol University Student Union hustings.
Originally from Wolverhampton, she's lived in Bridgwater since 2017 and studied law at the University of Wales followed by a Masters at the University of Law's Bristol campus. She now works in a law firm in Bridgwater.
Aujila pushes her local credentials – she is Sikh and her local Gurdwara borders Bristol West so she says she spends a lot of time in the area – and says she wants to be a "local champion for the community".
The biggest issues facing the constituency, according to Aujila, are education, crime, community and local businesses. Her stance on Brexit is that it needs to be got through so everyone can concentrate on other things and says that, if elected, she will reduce crime, ensure Bristol West schools get funding and that the NHS receives the funding it deserves.
The Conservatives' promises on these topics compared with their record since 2010 have been frequently debated during the national campaign. Under Conservative rule, our schools have found themselves in a recruitment and retention crisis, there's a shorfall of 40,000 nurses, and we've lost 21,732 police officers (though they now plan to recruit 20,000 over the next three years).
Have we missed anything? Let us know!
Q: The gap between the wealthiest and poorest in Bristol has widened under Conservative rule. Why should Bristol West voters vote for another Conservative government?
A: "I appreciate that people work hard to make ends meet and provide for their families, and the Conservative Party is committed to helping people with the cost of living so they can spend more time with their families. Another Conservative Government will see income tax cut for 32 million people, meaning we keep more of our hard-earned money, and the National Living Wage will also be increased to £10.50 by 2024, boosting the incomes of the lowest paid.
"The top 1% of earners are paying a larger share of income tax than at any time under the last Labour Government, and the proportion of jobs that are low paid are at the lowest level on record. Employment has increased and income inequality is lower than it was in 2010. So, I believe whilst we can and should do more, we are heading in the right direction to reduce inequality and hope we continue to do so."
Thangam Debbonaire, Labour
Please note, there will inevitably be more information available on the incumbent.
Incumbent Thangam Debbonaire has held the seat since defeating Lib Dem incumbent Stephen Williams in 2015 with a majority of 5,673 votes. She won in Labour's reselection process in October, with all 10 of her local party branches voting to keep her as the Labour candidate. She says that "getting the Tories out" is her number one priority.
Debbonaire was made shadow arts and culture minister in January 2016, but was one of the many backbenchers to resign from Corbyn's shadow cabinet that year because of lack of confidence in his leadership.
Before going into politics, Debbonaire was a classical cellist and worked as National Children's Officers' fundraising manager and national researcher for anti-domestic violence charity Respect. She has co-authored two books and several papers on domestic violence and has called for more funding and research to help reform male perpetrators of domestic abuse.
Key priorities for her are Brexit, drug reform and climate change. She's strongly against Brexit and has been critical of the Remain Alliance targeting a safe Labour seat.
She is in favour of mandatory education classes in female equality for newly-arrived male refugees, and supports more English language support for refugees. She is against the decriminalisation of prostitution and says that Bristol City Council should ban all strip clubs in the city.
On the climate crisis, Debbonaire says that the 2030 carbon neutral date set by Labour is both "realistic and radical", citing the party's 72 "concrete proposals" on the environment in their manifesto.
Have we missed anything? Let us know!
Q: Voters in your constituency voted to stay in the EU by nearly 80% in the 2016 Brexit referendum. Why should remain voters vote for you and not for the Greens (now the Lib Dems have stood down)?
"Only a Labour government can ensure a further public vote, with Remain on the ballot paper. A Labour government would negotiate a better deal on Labour values of protecting jobs, rights, peace, and the environment. We'd do this within six months and we would then put that deal to the people, with remaining in the EU as the other option. I would campaign for us to remain.
"I still believe that the best relationship that the UK can have with the EU is full membership. That's why I voted against triggering Article 50 in 2016 and have consistently voted against Brexit since then. I've constantly raised the concerns of constituents, businesses and universities directly in Parliament. Were it not for Labour MPs, the UK would have left the EU already. As a Labour whip, I have worked to ensure that MPs voted several times to extend Article 50 and keep us in the EU so far."
Carla Denyer, Green Party
Correction: This article has been changed to make it clear that the Greens won the Bristol vote in the European elections in May 2019, and that Carla Dener did not offer tea and biscuits to strikers, she was only planning to.
Carla Denyer, currently a Bristol City councillor for Clifton Down, is hoping to become the second Green MP. Bristol West is the number 1 target seat for the Greens and she's hoping to mobilise the Remain vote. The Greens say that a vote for Denyer is 'a no regrets vote' because the worst that will happen is that you'll get a Labour MP, and people don't need to vote tactically in Bristol West.
Bristol's Greens celebrated a huge victory in the European elections in May, winning the biggest vote share, with 49,126 votes – 35% (Lib Dems followed with 22.5%, then the Brexit Party with 18.6%, then Labour with 13.9% and finally the Conservatives and UKIP with 4.7% and 2.3% respectively). Members said that the result indicated a Green swing in the city.
The key issues she's campaigning on are Brexit and climate change, which she says are linked closely together.
Denyer studied mechanical engineering at St Chad's College, Durham and worked in the wind energy sector. She was the first councillor in the country to table a motion for the declaration of a climate emergency. She successfully worked on the campaign for Bristol University to divest from fossil fuels, is also involved in the campaign to get Bristol's Avon Pension Fund to divest from fossil fuels and campaigns against the planned expansion of Bristol Airport.
As a councillor, she's voted for bus franchising and improving renting conditions, and has successfully opposed council tax increases for poorer taxpayers. She's promoted the Bristol Pound, is keen to introduce a tourist tax and tried to get the council to allow its workers time off to join the youth climate strikes earlier this year.
She recently received criticism on Twitter from Labour candidate Debbonaire for saying she was planning to to take tea and biscuits to strikers, as it's a habit she started at the Junior Doctors' strike a few years back. She changed her plan after Debbonaire informed her that it's against the law to give out treats to voters in an election period. Denyer tweeted back: "Oops, noted, thanks. Haven't done the solidari-TEA thing in an election campaign before so totally forgot about this rule. My bad."
She also doled out some shade, reminding the Local Government Association and Labour party on twitter that she led the climate emergency declaration, not Labour.
Have we missed anything? Let us know!
Q: What have you got to say about Labour's stance on net zero by 2030?
"It's worrying to see a backpedalling on their commitment to achieve net zero carbon emissions by 2030, changing their approach to "working towards a path to net zero carbon emissions by 2030…" It is a step in the right direction, but the UN has told us we only have until 2030 to make dramatic changes to avoid climate chaos, it is not acceptable to water this down just to appease the unions.
"We are facing a climate emergency, and this calls for bold decisions and commitments; from transport and energy to health and homes – to cut emissions and bills, and improve quality of life for residents in Bristol.
"The Green Party would bring forward a ban on sales of petrol and diesel cars to 2030 – ours is a firm commitment, not just an aim. We would stop the expansion of new airports across the country. We would scrap the HS2 white elephant, and instead reinvest in electrifying all railway lines and providing better local and publicly owned public transport. Imagine a Bristol with properly funded public transport – so that our buses could run on time, our trains have more capacity and we are better connected."
Neil Hipkiss, Brexit Party
After much switching between seats, entertainingly chronicled in a Twitter thread by Bristol Live reporter Tristan Cork, the Brexit Party finally settled which of their candidates they were standing in which seats.
Hipkiss, who's from Cheshire and lives in Cornwall, originally announced he was standing for Bristol South. He is pushing his "normal working man" credentials. At the Brexit Party election tour in Plymouth this week he talked about how his "status in society changed overnight" after he voted to leave the EU, with people calling him a xenophobe and a racist, then pointing out that he has a Chinese wife.
He was at the first Leavers of Bristol hustings, which took place in a pub in Southmead this week – only he and Mark Weston (Conservative candidate for Bristol North West) turned up – and said that once Brexit was done, the Brexit Party would stick around and work on changing the system: reforming voting systems, the House of Lords, the Supreme Court and the BBC. He talks about Bristol being a city of Haves and Have nots and that the postcode lottery on quality of life needs to end.
Have we missed anything? Let us know!
Q: What are the biggest issues to address in Bristol West? And how will you if you get elected?
A (From a press release): I would be a hard working servant for the people of Bristol West Issue I care about include:
A proportional representation voting system
A voice for the forgotten people of Bristol, the ones who are currently not listened to.
A reformed NHS, where everyone has access to help regardless of postcode. Rethink how the NHS is managed. For example, A&E should not be used as an alternative out of hours GP service. We will increase the opening times of surgeries to give round the clock care.
Investment in the regions rather than London, paid for by scrapping of HS2 etc, and a revision of the foreign aid budget – aid where aid is needed. £50bn of investment in regional infrastructure
Investment in the high street, scrapping business rates for most retailers, paid for by taxing on-line businesses.
Scrap interest on student loans.
Encourage investment in future greener technologies which would stimulate growth in the economy