Burning waste – green energy or just hot air?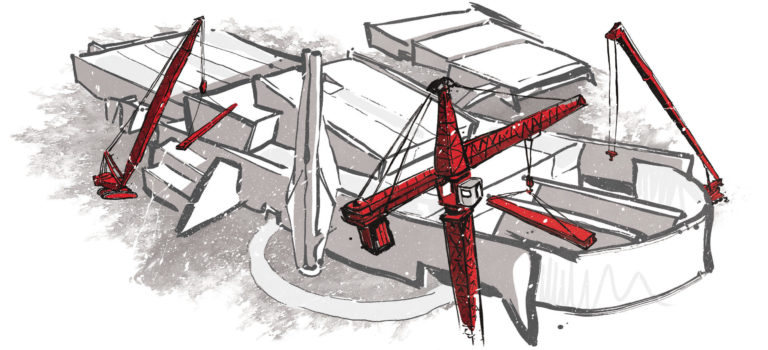 Amendment: The article has been changed to state that the Suez plant is near to Avonmouth Docks, and not on the port's land as previously stated.
Avonmouth's long-suffering residents are exasperatingly familiar with the ugly side of waste. With numerous waste processing plants in the area, there are ongoing frustrations with flies, dust and explosions – and concerns about pollution. 
As well as various plants which sort and process recyclables, the industrial area in and around the docks are where hundreds of thousands of tonnes of waste meets its final end, by being burned.
Incineration as a waste disposal method has rocketed in the last decade, following a move away from heavily-taxed landfill; the UK now has over 40 incinerators for municipal (black bag) waste, up from 23 in 2010, with 18 more in the pipeline around the country. Even though plastic waste and recycling are in the spotlight more than ever, a total of 11m tonnes of rubbish went up in smoke in 2018 – and the amount is rising.
Each year, 175,000 tonnes of waste – three quarters of which is brought from London nightly by train – is burned in a Suez plant near to Avonmouth docks. Next year, waste behemoth Viridor will open its new 350,000 tonne capacity incinerator down the road, which will burn black bag waste from the west of England.
But the industry is under increasing scrutiny as communities around the UK oppose plants on their doorsteps, and controversy surrounds their environmental impact through emissions of air pollutants and the carbon cost of burning our waste wholesale.
At the same time, the energy harnessed from incinerators is touted as a 'low carbon' form of heat energy; including in Bristol's plans for 'district heating', a cornerstone of the city's move to carbon neutrality – which it hopes to achieve from direct emissions by 2030. So is energy from waste a clean and crucial industry, or an environmental nightmare?
Emissions
Companies such as Viridor use 'green' language to describe their operations. The Avonmouth plant, Viridor says, "will use safe, environmentally sustainable and reliable technology to divert 320,000 tonnes of waste from landfill". The waste is called 'non-recyclable' or 'residual' – but is it really?
"Well, people put anything in their black bags, including a lot of stuff that could be recycled… stuff that shouldn't go in there because technically it's illegal to put it in there… You've got all sorts of nasty toxins going through those burners," says Julian Kirby, a researcher with Friends of the Earth. "Nobody is splitting open those black bags and checking what's inside and taking out the stuff that shouldn't be going into an incinerator."
Also, incineration doesn't completely prevent landfilling: the burning process reduces the volume of the waste by two-thirds. The resulting ash needs to be landfilled, along with the highly toxic 'fly ash' that is produced in the filters of the plants' chimneys.
Given the fuel is our rubbish, it's not surprising that some rather unpleasant chemicals are produced (despite significant advances in the cleanliness of modern incinerators compared to older plants). Analysis of self-reported emissions from incinerator operators released last year suggests they are significant emitters of particulate matter (PM) and carbon dioxide.
PM is linked to a range of serious health impacts, from respiratory problems to miscarriage and dementia. UKWIN (UK Without Incineration Network) also exposed how an Environment Agency loophole allowed incinerator PM emissions to go unmonitored. Almost all incinerators meet the reporting threshold for PM, but only five reports were made in 19 years.
Tell your friends…
UKWIN found that based on incinerator operators' own emissions reporting for the year 2015, the PM pollution released into the air was equivalent to the emissions of more than a quarter of a million 40-tonne lorries travelling 75,000 miles (120,000 km) per year.
The incinerators also emit significant quantities of carbon. According to Shlomo Dowen, coordinator of UKWIN, "42 incinerators in 2015 emitted a total of nearly 11 million tonnes of CO2, about five million tonnes from fossil fuel sources such as burning plastic. That was associated with a cost to society of £325m just for that year". That number includes the climate cost but not potential health impacts caused by the particulate pollution released.
"These plants are a considerable step back in terms of being carbon polluters. They are not green energy. That is an absolute lie," says Kirby.
Energy recovery or greenwash?
Not everyone agrees that energy from waste is undesirable. Harnessing the heat produced by the plants – 'energy from waste' (EfW) – is sold as a 'low carbon' heat source, or even, in the words of the European Union and waste industry operators, 'renewable' energy.
Few incinerators are currently utilised as energy sources, but the government is pushing for more. According to a DEFRA spokesperson, "We set out in our Waste and Resources Strategy that we will work closely with industry to secure a substantial increase in the number of 'energy from waste plants' that are formally recognised as achieving recovery status, and will ensure that all future plants achieve recovery status".
As well as connecting the incinerator with its district heat networks, as part of its ambitious carbon reduction plans, Bristol City Council plans to use other energy sources, such as heat from the Floating Harbour.
"Whilst we recognise that EfW plants generate carbon emissions, we cannot ignore the potential benefit of re-using this wasted heat to replace that generated from fossil fuels, thus reducing those emissions," a council spokesperson said. The Viridor plant is expected to produce enough energy to power tens of thousands of homes.
Policy context and the bigger picture
While recouping energy that would otherwise be wasted makes sense, shouldn't the focus be on reducing the amount we need to burn anyway?
"Across the country we are seeing a growing desire to clean up our environment, with people wanting their waste to be recycled and not ending up in landfill or being incinerated," a DEFRA spokesperson told the Cable. "The government is fully behind this vision, and is already working to reduce, reuse and recycle more to move towards a truly circular economy where we extract the maximum value from our waste."
Sounds good. But if less waste is produced, what will happen to the UK's numerous plants? According to a 2017 report by Bristol-based environmental consultancy Eunomia, there will be an overcapacity of incineration by 2020/21. Many local authorities have entered contracts up to 30 years long with incinerator operators.
Furthermore, the powers already invested in the Environment Agency to prosecute companies who don't enforce the 'waste hierarchy' – the rule that disposal of waste should be a last resort after reuse and recycling – haven't been used once. There wasn't even an investigation into clothes retailer Burberry, who were exposed in 2018 as having incinerated £28m of unsold stock in one year.
But campaigners and politicians are pushing for more 'stick' and less 'carrot' when it comes to waste disposal. Earlier this year a cross-party selection of MPs, many from constituencies where new incinerators were planned, called for action on incineration.
Along with a pause in the construction of new plants, there are calls to introduce a tax on incineration like there is on landfill, which would encourage recycling and prevent overcapacity getting worse.
One MP who has been at the forefront of incinerator opposition for many years is Shadow Minister for the Environment, Food and Rural Affairs, Labour MP for Stroud, David Drew. He says so far it's been difficult to challenge the issue on a scientific basis, partly because the industry is able to "control experts".
While the emissions are undeniable, the dispersal of them is not well understood. The industry has been able to hide behind research which shows that for people living in proximity to incinerators, they are likely to have a "very small" health impact.
Now working with a group of eminent scientists, he says of new research soon to be released: "We are now at the stage where we will challenge their inability to deal with the particulate [emissions]."
"At the very least, you've got to look at the technology, you've got to look at the environmental impact, in a much more physical way, rather than just say 'No-one's ever been able to prove that its been unsafe'," he says.
As a society, we are waking up to the need to reduce the waste we produce, but is it happening fast enough?