Bristol female MP candidates speak out about misogynistic abuse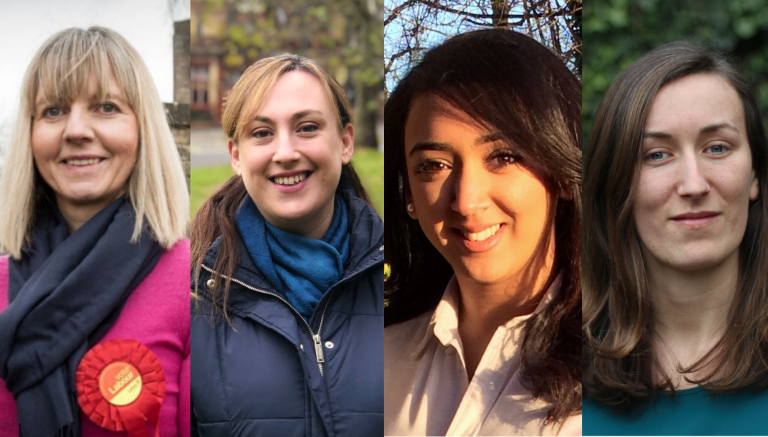 Female candidates standing to be elected as MPs in Bristol tomorrow have spoken out about misogynist abuse and threatening messages they have received during the campaign.
A number of female MPs – 18 in total so far – stood down before this general election, citing the amount of abusive comments and incidents they face. These include Nicky Morgan, the Conservatives' Culture Secretary, who received death threats from a man who was sentenced to 18-weeks in prison. Other prominent MPs, including Anna Soubry, Heidi Allen and Diane Abbott have also spoken out about abuse forcing some to exit politics for good. But how much is this happening in Bristol?
Nicola Bowden-Jones, the Labour candidate for Kingswood, highlighted that it hasn't always been this hostile. But now, for the first time, she said that when coming home she feels shaken by what's happening. She recalled a man shouting at her as she left a pub and calling her "scum". He then spat on her.
Particularly when campaigning in the midst of winter, receiving these threats is "quite frightening", she said, adding that women have also given her abuse in person. Abusive comments on social media are also prevalent. One regular troll refers to her as "Knickerless Braindead Jokes".
Heather Mack, who is standing for the Green Party in Bristol North West, received a number of messages on Twitter that she described as "threatening and violent". In response to her announcement that she had been found guilty of a public order offence following her involvement in an Extinction Rebellion protest, there were over 500 replies including one which said: "I would give her the death sentence."
The Conservative candidates for Bristol West and Bristol East, Suria Aujila and Sarah Codling, said: "The abuse of others is something neither of us tolerate nor expect to have to endure. It has the affect of causing huge distress and anxiety for our friends, families and supporters, who worry for our mental well-being and physical safety on the campaign trail."
They made clear that some comments are undeniably misogynistic – including "dopey cow" and "lying down on your back and thinking of England" – and their prevalence is "worrying" and "disturbing". Aujila added that she has had to "sit and read through every single comment and then hide them."
Mhairi Thelfall, Labour candidate for Filton and Bradley Stoke, said the only misogynist treatment she had received this election campaign was in response to a "misleading" Sun article about a Facebook post from 2014 encourgaing people to wear white poppies.
"I think the media does need to take some responsibility. In hunting out sensationalized headlines, they misrepresent the truth and stoke up anger and division in communities," she said.
"Many politicians/candidates I have met or worked with are genuinely trying to make the world a better place, but sadly it's those that we most need in parliament, that are often put off running or staying as an MP or Councillor because of online trolling. So although it's not been a common occurrence for me, I do empathise with all fellow candidates who have experienced it."
However, some local female candidates did not want to talk about the issue. Labour's Thangam Debonnaire, who is standing to be re-elected in Bristol West and also supporter of the #StopTheNastinessCampaign, said it was a matter of policy not to discuss misogynistic messages.
Bristol South's incumbent Labour candidate Karin Smyth also did not want to talk about it, saying it wasn't a topic she would like to focus on. In 2017, Smyth was the victim of intense verbal abuse by Matthew Niblett who made an explicit threat to her life. After a court hearing, he was sentenced to 14 weeks in prison for one count of harassment without violence.
A complicated picture
It is also important to note that a number of other female candidates said they had experienced no or little abuse recently. Despite this, all are very aware of the reality of their female colleagues across different parties. Louise Harris, the Lib Dem candidate for Filton and Bradley Stoke, said: "It's a general attitude that women can be subjected to this sexist, misogynistic nonsense," adding that "social media just seems to bring out the worst in some people."
According to official figures, the volume of threats and crimes against MPs in the UK more than doubled in 2018 compared to the year before. The University of Sheffield recently carried out research into the abuse of MPs on Twitter looking at the 2015, 2017 and 2019 elections.
It found that on average male MPs are subjected to more abusive tweets than their female counterparts. However, in terms of the kinds of abusive tweets women receive, they are overwhelmingly of sexist nature, the research found.
But what can be done about the problem? Labour and the Green Party have both pledged to make misogyny a hate crime. Bowden-Jones said: "There's always this thing that 'am I getting this because I'm a woman? Is this because it's political? But there's been an awful lot of it and it's been really shocking."
Earlier this year, the Joint Committee on Human Rights carried out an inquiry into 'Democracy, free speech and freedom of association', to tackle the issue highlighted by Bowden-Jones. They asked where the line should be drawn between public scrutiny and abusive and criminal behaviour. While this is part of a wider debate, the issue of misogynistic abuse raises further questions about how we define speech that is permissible or not.