Climate is the hot topic between Labour and Greens in Bristol West. Here's what the candidates had to say.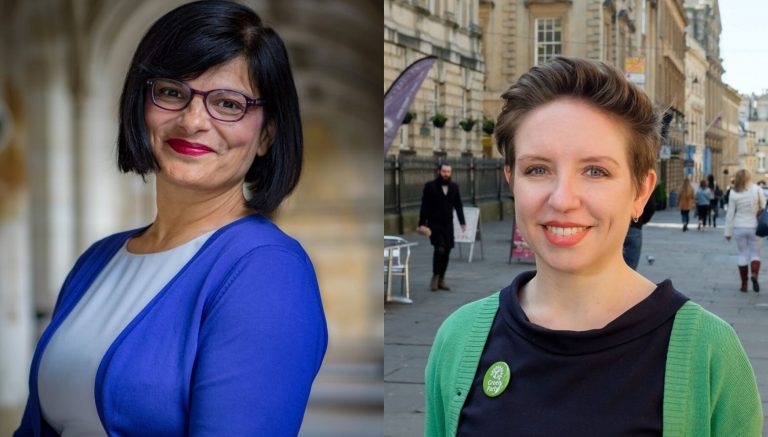 While Boris Johnson can barely say a sentence without sputtering "get Brexit done", for many others a looming issue of even bigger proportions is on their minds: the climate emergency. Perhaps nowhere more so than in Bristol West, an infamously green and left-wing constituency, which in this election has the added dimension of how the local campaign is expected to play out.
While Labour incumbent Thangam Debbonaire pulled a massive 37,000 vote majority over the second place Conservative candidate in 2017, the contest is widely being seen as a run off between Debbonaire and the Green candidate and Bristol City councillor Carla Denyer; Especially since the Lib Dem candidate stood down in support of the Greens, and the right-wing Brexit vote could well be split between the Conservative and Brexit Party candidates.
With the Greens and Labour putting forward ambitious plans for addressing the climate crisis and seeking to put clear water between them, we asked both Debonnaire and Denyer questions on their, and their party's, approach. Here's what they had to say:
Responses have been slightly edited to length
Question: "Thangam (Labour), some say that the Labour Party's plans for setting out a pathway towards net zero by 2030 isn't concrete enough. What's your response to that?"
What's the context?
At the Labour Party conference in September, the party's membership voted for a motion to introduce a policy committing the party to achieving net-zero carbon emissions by 2030. However, some trade unions expressed concern that such a transition could damage workers in carbon heavy industries. The result was a softening of the wording around the strength of the commitment and led to criticism, though Labour maintains that their plans are the most far-reaching and credible of any party.
Answer: Thangam Debbonaire, Labour party
"For a credible approach to tackling climate change, any political party needs to have three things: net zero targets that are achievable; clear policies and plans to make sure they can meet those targets; and the ability to form a government to implement these changes.
Labour is the only party that can form a government to kick-start a Green Industrial Revolution. It was the Labour Party that led the UK Parliament in declaring a climate emergency. It was the last Labour government that passed the world's first Climate Change Act in 2008, with legally binding targets on carbon emissions – before the election of a Green Party MP. Britain is a decade off course because of the Tories.
The next Labour government, through its Green New Deal, will take us to net carbon zero for emissions by the 2030s in a way that halts environmental damage, promotes social justice and defends jobs. We'll go faster if credible pathways are found. And Labour can act NOW because we have workers and trade unions on our side.
There are 72 concrete proposals relating to climate change and the environment in Labour's manifesto! They range from building 7000 new offshore wind turbines, to insulation for cold homes to make them more energy efficient, to bringing our energy and water systems into democratic public ownership. Proposals that are needed for our ambitious and responsible approach to the climate crisis."
Question: Carla (Green), what have you got to say about Labour's stance on net zero by 2030?
What's the context?
While the Greens have been pushing for radical environmental policies for decades, the Labour party's pledges threaten to take the wind out of their sails. However, Greens contend that the Labour party as a whole can't be trusted to take the necessary action on the climate emergency.
Answer: Carla Denyer, Green Party
"It's worrying to see a backpedalling on their commitment to achieve net zero carbon emissions by 2030, changing their approach to "working towards a path to net zero carbon emissions by 2030…" It is a step in the right direction, but the UN has told us we only have until 2030 to make dramatic changes to avoid climate chaos. It is not acceptable to water this down just to appease the unions.
We are facing a climate emergency, and this calls for bold decisions and commitments; from transport and energy to health and homes – to cut emissions and bills, and improve the quality of life for residents in Bristol.
The Green Party would bring forward a ban on sales of petrol and diesel cars to 2030 – ours is a firm commitment, not just an aim. We would stop the expansion of new airports across the country. We would scrap the HS2 white elephant, and instead reinvest in electrifying all railway lines and providing better local and publicly owned public transport. Imagine a Bristol with properly funded public transport – so that our buses could run on time, our trains have more capacity and we are better connected.
We would also introduce a Carbon Tax that would hold the polluters of this planet to account financially, and an ecocide law to hold them to account legally. Unfortunately, we see omissions from Labour on ecology – which is not mentioned at all – and biodiversity is mentioned only once. In contrast the Green Party is offering a comprehensive commitment, which includes a new Sustainable Economy Act which contains targets for new soil quality and biodiversity standards."
NB: Labour's main manifesto does contain one mention of biodiversity, but directs people to their separate "A Plan for Nature – A Manifesto for the Environment" which states plans for ecology and biodiversity.
Question: Carla, As Bristol West MP, what key climate and environment issue or policy would you fight for that would have a direct impact on constituents?
What's the context?
In 2018, Bristol City councillor Denyer proposed the first local government Climate Emergency motion in Europe that was then adopted by the council, committing Bristol to go carbon neutral by 2030. Nearly 300 local authorities in the UK have since declared similar motions. As well as pushing for fossil fuel divestment and other green initiatives, she has been a vocal opponent of plans to expand Bristol Airport and criticised Labour Mayor Marvin Rees for backing the project.
Answer: Carla Denyer, Green Party
"I think it has to be stopping Bristol Airport expansion. The airport is proposing to more than double the number of passenger flights per year, which is totally incompatible with the Climate Emergency and ambitious carbon neutral targets set by every Council in the West of England. Yet the Labour Mayor of Bristol Marvin Rees and the Metro Mayor Tim Bowles both support it, basing their support on illusory claims for economic growth which do not stand up to scrutiny – a recent New Economics Foundation report comprehensively dismantled them. The story is the same at regional airports across the country. The Green Party would immediately scrap the huge tax breaks the aviation currently receives on VAT and aviation fuel tax, and put a moratorium on all airport expansion."
Question: Thangam, What key climate and environment policy in the Labour manifesto will have the most impact for constituents in Bristol West?
What's the context?
In Bristol West, over 14,000 homes are rated in the lowest three bands for energy efficiency – Bands E, F, G in Energy Performance Certificates. This means lots of people are living in cold homes and energy is being wasted.
Answer: Thangam Debbonaire
"Some of the 72 separate proposals relating to climate change and the environment in Labour's manifesto will clearly affect people in Bristol West more than others. So, for example, we'll give local councils the powers and funding they need. This includes increasing funding so that cycling and walking become safe, efficient and healthy choices in Bristol – a cycling city where many cycle lanes currently end abruptly.
We'll also ensure councils can improve bus services by regulating and taking public control of buses. And we'll introduce free bus travel for under-25s, where councils do take control of their buses.
Other proposals include making sure zones around our schools are safer, with cleaner air. Upgrading millions of homes to the highest energy-efficient standards will reduce the average household energy bill by £417 per year by 2030.
Giving the green light to the Swansea Bay tidal lagoon project will have spin-off benefits for Bristol, too. This is because it will provide a model for other proposals for tidal wave energy generation in the South West region and South Wales, involving people and businesses in Bristol. There will be good jobs for Bristolians and local specialist knowledge will be invaluable.
But the very nature of the climate crisis is that it's global. Parts of the world are already suffering as a result of our actions.
Labour is proud of its track record of internationalism, both in government and in its work with sister parties around the world. Labour will use those values and experiences and work tirelessly to ensure the response to the climate emergency is a truly global one."
What have environmental campaigners said about the Green and Labour manifestos?
The Labour party narrowly beat the Green Party to come out top in Friends of the Earth's environmental assessment of the main UK-wide party manifestos. The ten areas examined in the report covered climate targets, energy, transport, food and nature. Aliya Yule, co-founder of Labour for a Green New Deal, said: "Red is the new green. Labour are certified as the party of climate action. Green voters and those concerned for the environment can now vote Labour in the confidence that they'll do the most to tackle the climate and nature crisis."
This unsurprisingly did not sit well with the Greens, who in response issued a statement headed: "Friends of the Earth have got this wrong," arguing that the assessment had taken into account promises that Labour had made outside of their manifesto. The Greens maintain that their manifesto boasts the most ambitious Green New Deal, and that they are the only party to firmly commit to reaching net zero carbon by 2030 and refer to a Greenpeace assessment that scored the Green Party above Labour.
Watch Carla Denyer and Thangam Debbonaire go head to head in this elections debate.