Local rapper Kilaze talks hip-hop, art and life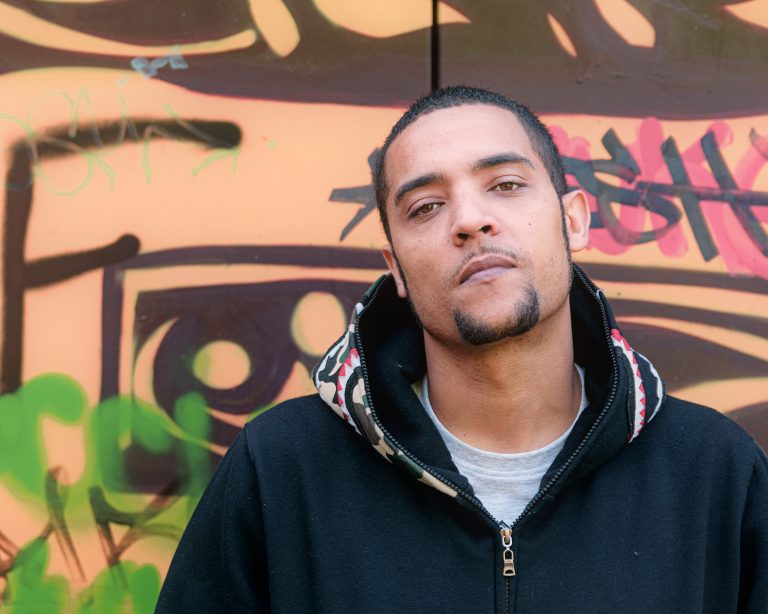 Photo: David Griffiths
"I do art, hard". I've never heard art talked about like that before, but it's a good description for the way Kaya 'Kilaze' Bowen approaches music.
We're in Owen Square Park, just behind Easton Community Centre and we're deep into hip-hop, art and life. For this son of St Pauls and Easton, you can hardly separate them.
From his first stage appearances at 11 performing Lauryn Hill's Killing Me Softly, to spending lunch money on the latest tracks from across the Atlantic, to releasing album after album, to supporting young homegrown talent, Kilaze is a stalwart of Bristol's hip-hop scene. Through his music you get a vivid picture of the city over the years, and rich stories of life's trials and tribulations.
Kilaze's music isn't the same as much of the shit hip-hop that plagues the airwaves (with some honourable exceptions) and he's got something to say to up and coming rappers. "Don't go in the studio and make an album about how hard you are and how much money you've got… it's getting repetitive" he says. "At some point, I genuinely get disheartened."
"I got so much to vent"
Rather than dealing in vacuous boasts, Kilaze's music has, in the tradition of Grandmaster Flash's 1982 breakthrough The Message, got something to say. Peppered with samples – Nelson Mandela, Bristol's former city poet Miles Chambers and an audio clip of the police Tasering family member Ras Judah – it touches on issues at the intersection of personal and political.
Take the album Trapped In, from earlier this year. Self-described as "really personal, because I make albums that cater to whatever I'm going through at the time", it features songs like My Environment that are unfiltered accounts of a Bristol invisible to the authors of the seemingly endless 'Best City' articles.
"I got so much to talk about, so much to vent," Kilaze says – and you can feel it in his raspy, raw delivery with lines like "dark nights and dark fights, fucked up when arrested, knowing that time you were sat in the cell is nothing impressive… but the brothers don't get this."
It's not all downers though – there are plenty of tracks that defy easy stereotyping as 'conscious hip-hop', and explicit verses on sex and about smoking weed. And all of it is delivered with the bravado of the MC that has run deep through the hip-hop tradition.
Tell your friends…
But while Kilaze styles himself as a king, it's not in the conventional way and comes complete with a heavy dose of reality. "As a king, not the king" he says.
The album artwork for Trapped In features Kilaze as an Egyptian pharaoh, yet he's not lording it over an empire with jewels and all. He's sitting in an old Vauxhall Corsa outside a block of flats, with a police car not far behind. Similarly playful and powerful art appears on his most recent album ART of KIMO, including the Mona Lisa with an Afro comb.
"Born out of experience"
"Every track is born out of my experience," Kilaze says. A lot of that centres around Easton, including the park we're sitting in, from seeing dog races up and down the Bristol and Bath Railway Path to a fair share of violence. "I can't tell you how many fights I've seen in this park," he says.
Kilaze has himself run into trouble now and again but, he says, "My maturity kicked in when I had my daughters." Having grown up without a father, he swore to not let that happen to his own children.
Kilaze has mixed feelings towards his home neighbourhood. "There's some times when I wake up and fucking hate this place, because I haven't got where I want to in life. But at the same time I love it." It comes out in his music with lines like "Fuck all the preaching, I was raised in Easton but I don't see no leaders around this region, because they are too scared to speak it".
Another big theme is struggles and experiences – both those specific to being a young black man, father, and son, and those of a wider community. As the Cable goes to print, it is Black History Month. With tracks such as Genocide of a Generation, which invokes the tragic story of Marlon Thomas, the young black Bristolian who suffered life changing injuries following a 1994 racist attack, what does Black History Month mean to Kilaze?
He exhales. "I hear the same thing every year, 'Why is it just a month?' and so on. But we really got to appreciate what we got and celebrate that time. And utilise that time."
For Kilaze's part, he gives back all year round, and has done in various forms for 10 years. His regular show on community radio station BCFM – Bristol Homegrown – platforms up-and-coming local music talent so they too can do art, hard.