The challenge of pissing the right people off: inside Extinction Rebellion Bristol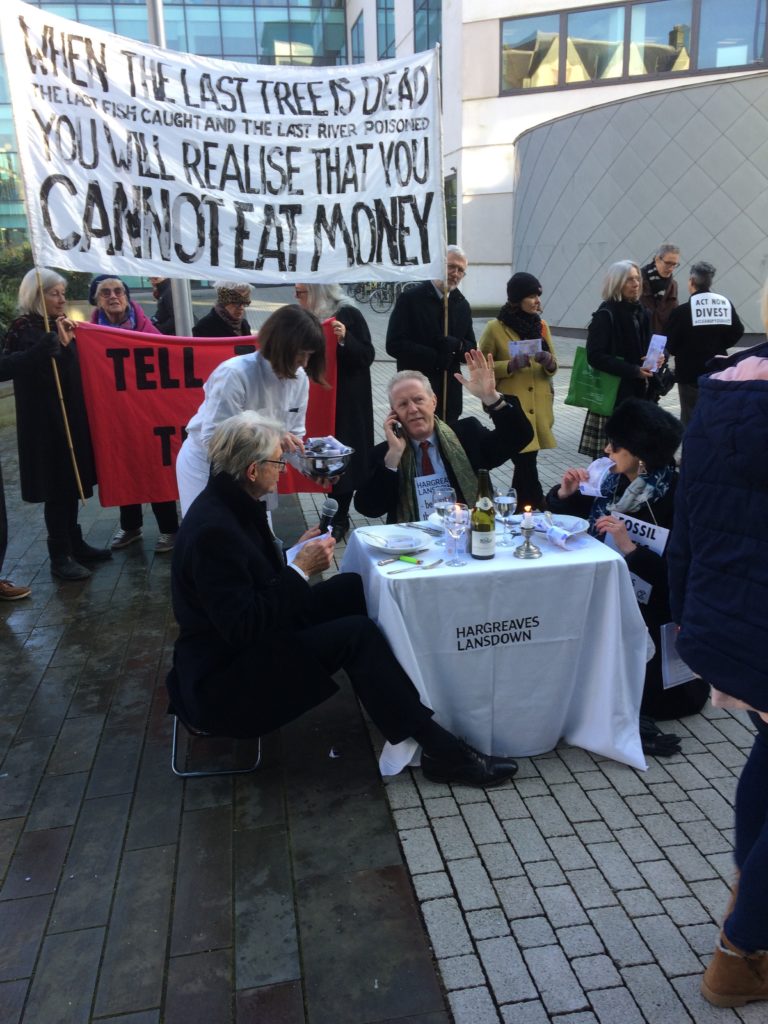 Photos: Mike Jempson
After a few months of relative quiet, Extinction Rebellion is back at it. Earlier this week, one of their Bristol branches staged a protest against Hargreaves Lansdown, an investment firm founded by controversial local Rich Listers they say is Bristol's "own local financial investment giant". The protest was to raise awareness of the need for ethical investment and to get the firm to encourage its clients away from investing in fossil fuels.
There's no doubt the global environment movement has made an almighty splash over the last year. Born amidst local campaign group Rising Up! – which made Bristol headlines in 2015 for climbing trees threatened by the Metrobus works – they have gone on to international attention as Extinction Rebellion (XR), disrupting business as usual, grabbing headlines and ensuring the climate crisis stays at the top of the agenda.
Much has been made of what the group do, blocking streets, glueing themselves to government ministries and using die-ins and street theatre, but less attention is paid to how they do it. Their organisation means their founding members take a back seat with most decisions made on a local level using what XR calls 'fractal organising' (more on that later).
Any group can take action using the Extinction Rebellion name, as long as they adhere to ten core principles. That's not to say they're disorganised; local, regional and national groups meet weekly to welcome new members, deliver training and plan actions. These meetings also focus on 'regenerative culture' to tackle the burnout which can stall activism and give individuals space to discuss their fears as our society stares down the barrel of a mass extinction event.
It looks like a winning formula: loosely-affiliated regional groups of trained, burnout-proof activists able to take action autonomously in their own areas and come together under the direction of UK-wide organising groups to stage massive protests like those seen in London in October, where XR Bristol played a key role. One of the downsides to fractal organising however, is that groups are freer to go off-script, like the group who glues themselves to a tube train in October, despite the majority of XR voting against the action.
Following that action, XR groups around the country have taken part in a 'debrief', with members providing feedback on, among other things, the public backlash after activists climbed onto a London tube train, as well as criticisms from some quarters that XR are too white and too middle class.
As the group gathered their forces and laid the foundations for a new year of campaigning, I went to find out how XR Bristol works and what happens next.
Tucking into their tea at the Malcolm X Community Centre are the Extinction Rebellion, Central Bristol group. They are old and young, mainstream and 'crusty' looking – and overwhelmingly white. The atmosphere is friendly, and dinner conversation flows. The food is pasta bake and flapjacks, and it's free for anyone who wants it.
When XR aren't making headlines they are here, at meetings just like this one up and down the country. "There's a whole lot more than road-blocking – that's the tip of the ice-berg." says James, a self-confessed XR 'keen bean' who works on the fundraising and finance team on Mondays as well as attending these big Wednesday meetings.
'Organising'
"We use this word 'fractal' to describe the kind of organisation we have," James tells me. "So at every level it's self-replicating. So even if you started a new group with 10 people you'd have that same structure – with one person doing each thing, then as more people come in you form groups."
The 'fractal' structure is based on working groups, which cover topics like planning and strategising, actions, arts, media and messaging. James has a go at listing them all: "…Then there's Regenerative Culture, Talks and Trainings who organise the talks you might have seen outside, there's the Communities working group who work with other local communities to try and increase our outreach into Bristol, and probably a bunch of others I've forgotten."
Every XR group around the UK will have the same structure, or something very similar, which allows XR to stay non-hierarchical, says James. Power, in theory at least, can be shared through everyone having responsibility for different things.
And new members have been pouring in following headline-grabbing XR actions. This influx has brought its own challenges. James explains: "In Bristol after the April rebellion in London we went from about 80 people coming to weekly meetings to about 300 people, so we just couldn't function with that any more." They had to subdivide the city into new groups to handle the crowds.
I talk to Chester, a member of the Bristol South group who signed up in July. During the Autumn Rebellion in October he and his Affinity Group took part in actions outside the Home Office. Some of his group members designated themselves 'arrestable' and agreed to take part in low-level arrestable direct action, "but not super hardcore stuff", he says.
"Affinity groups made up of friends, neighbours, colleagues – people with an affinity," explains Chester. "They tend to be more transient, they form and do stuff and break up and new ones form as people move about and change their focus".
Affinity groups are usually the ones to perform direct action, such as 'lock-on's and 'glue-on's' – where members attach themselves to buildings or structures. These are on the more 'hardcore' of XR's protest methods. Then there's the roadblocks – the duration of these varies but can see activists staging sit-downs such as the one with their pink boat at Oxford Circus in April with their pink tractor outside the Home Office in October.
Then there are 'swarms'; this involves one or two affinity groups getting together at a traffic light. When the lights turn green they stand in the road holding a banner, disrupting traffic. These tend not to last very long.
"Seven minutes seems to be the right amount of time to get disruption done and not provoke a violent reaction," says Chester.
'All willing, all scared'
Chester tells me: "In my affinity group there is no one who has done this before.
"In South Bristol there's one or two people who have a more activist background – but by far the majority are first-timers. "We have a scientist, an engineer, a programmer, a teacher, at least three retired people … two labourers …".
So what is it that gets these average-sounding people to get themselves arrested? A scientist or an engineer or a labourer wouldn't go and sit in the street alone to protest climate change, so what is it that XR gives them that empowers them to do that?
"There's a lot of training – that's really important, it builds up people's confidence," Chester explains.
"People are drawn to the movement because they feel they want to do something – and XR is an organisation that does things. They want to take action," says Chester.
"It's about making people feel surrounded by others who are in the same boat. When you're surrounded by other people sitting in a road – all willing, all scared – it's easier to do it."
All this talk of encouragement and training is in order to get over one of the biggest challenges for activists doing direct actions – it just feels so rude.
"It feels incredibly weird to inconvenience people." Chester says.
"They're expecting the lights to turn green and you're just stood in the way. It all feels very intense, exciting, terrifying – it's not good. It doesn't feel good: I feel gutted every time I do it."
The autonomy granted to the affinity groups has led to some notable clangers for which XR then takes the heat – not least the incident at Canning Town tube station in October which saw Bristol activists glue themselves to the top of a London underground train before being dragged off and beaten by furious morning commuters.
Becky and Ollie, both from Bristol, were protesting elsewhere in London at the time as part of XR's Autumn Rebellion and remember that a poll was circulated among members taking part in actions across the city.
"Seventy three per cent said don't f**k with the tube – but its a flat structure and that particular group felt their actions were reasonable," Becky recalls. But she says she doesn't have a problem with the way XR's organising structures work.
"It's so empowering," she says. "When you enter XR the first thing you taught is how to communicate as a group, and that's the basis of everything."
Responding to criticsm
The latest mass protests and XR's explosion in popularity over the last year have been the focus of a period of soul-searching 'debrief' within the organisation in recent weeks.
XR faces criticisms from the mainstream for being too radical and disruptive – while at the same time activists from other protest groups worry that XR isn't radical enough, and needs to engage more carefully with anti-capitalist and anti-racist work. One XR activist sent flowers and a thank you note to police officers in Brixton Police station after his arrest, causing huge hurt among anti-racist organisers. Brixton police station is a notorious site of police violence against BME people – Ricky Bishop was murdered there. For many, those flowers epitomised XR's tone-deaf approach to racism and policing.
Speaking at the Bristol launch of his book Now We Have Your Attention – a study of grassroots protest across the UK – journalist Jack Shenker said: "I have a huge amount of time for what Extinction Rebellion have achieved, but I tend to move in circles that are very sceptical of XR and who come from more of a leftist background, who have a lot of absolutely biting negative things to say about XR particularly about their politics, or lack of it, when it comes to race and class and I share those criticisms."
But, Shenker added, the movement had redeeming features – he recounts sitting next to a Canary Wharf banker at a wedding, and finding the guy had been arrested at an XR protest the previous day.
"Because he's white and upper-middle class, he was out in four hours and it hasn't affected his life in any negative way", Shenker notes, "It didn't seem to cut through to him that other people from other backgrounds might find an interaction with the police a different experience. That of course is a huge part of where XR goes wrong."
But as Shenker explained, "I think all of us who've ever been on protests know what an internally-radicalising thing it can be to suddenly witness the violence of the police, of being kettled, when they push back – he's now become more radical. He's got a long way to go, but I don't think we should discount that and I don't think we should wash our hands of it."
'Taking stock'
Back at the Wednesday meeting in St Pauls, Harry, a member of the Hosting working group organising the meeting, explains: "There was a big report about how people were feeling on the street and what their experience of London was. And also broader, what the feeling about XR was and what we feel we should be doing differently."
Following the focus on organising and pulling off the latest mass action in London, now is a time to take stock, he says: "So now we can look at structure, particularly around communities and diversity, which are really important and came out really strongly as a priority."
As the meeting gets underway it seems like these lessons have been taken into account in planning XR Bristol's future actions. Roadblocks seem to be off the agenda, for now at least.
The plan is to have a pop-up cafe where members of the public can ask questions, and XR members can get help planning actions, she tells the meeting. Keen bean James chimes in: "So what we're looking for is some really nice, creative, not-disruptive but artistic, outreach-y kind of actions to be going on."
At this point someone shouts out: "disruptive is OK, if you want!"
James responds: "Well I mean if you really must but based on the feedback we've had: don't piss anyone off. It's more about outreach and getting to talk to people…"
Whether this represents a tectonic shift in XR away from more disruptive action or just a temporary lull remains to be seen. And the new tactics of "don't piss anyone off" may appease the general public who want to get to work on time, but given that the UN secretary general has now warned that climate change has reached 'the point of no return', it has probably become necessary to piss some people off.
For XR, the question needs to be who.