We asked: What needs solving in Bristol?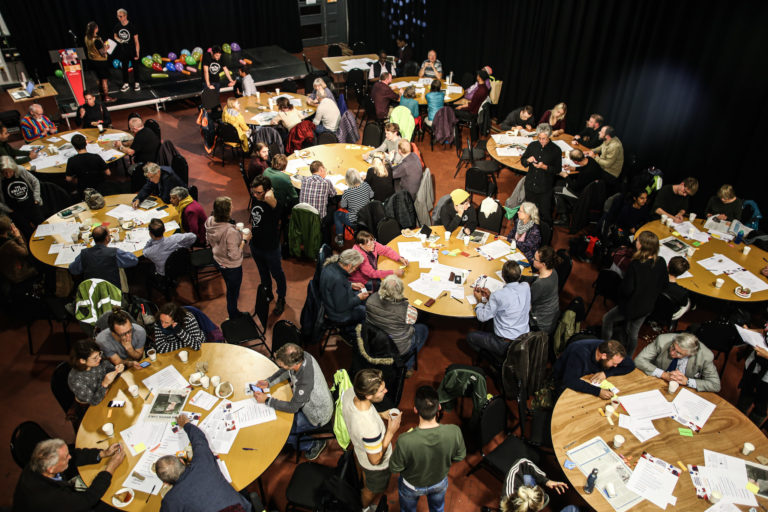 Transport: Getting from A to B without CO2
The problem Cable members mentioned most was getting around the city. From traffic congestion and overreliance on cars, to poor yet expensive bus services, and from feeling unsafe to cycle because of patchy infrastructure, to pedestrians struggling with big roads or pavement parking. Of course, underlying these were concerns about the impact of air pollution on our health, and impact of carbon emissions on the climate crisis.
What members said
"The road outside my house is quite busy. I assume I breathe in the same muck that builds up on the windows. I walk and cycle to get around. Drivers can be really dangerous and I've seen others hurt on my commute."

Natalie P, Windmill Hill
"It's very difficult to travel through Bristol on public transport, especially around the peripheries – buses are frequently late, slow and have poor connectivity between residential areas and workplaces. It's also very expensive – bus tickets have doubled in price on the First bus app over the last year."

David P, Westbury on Trym
"Private car use makes Bristol unliveable and depressing. We desperately need solutions, but at present it costs me £2.50 for one single short bus journey, cyclists take their life into their hands in many parts of the city, people die from pollution-caused problems, children suffer, the planet suffers."

Maddy L
"Despite cycling, there are still large proportions of roads in South Bristol which haven't got cycle routes, which helps push unhealthy (and more expensive) travel options"

Thomas P, Bishopsworth
A car-free Bristol
Bristol has received attention as the first city to declare it will ban diesel cars from the city centre, as part of the Clean Air Zone announced last year. But other cities have gone a step further by having some areas with no cars at all. Plans to restrict private car journeys from city centres have been announced in Birmingham, Brighton and York.
Despite opposition, Oslo closed off certain streets to cars entirely and got rid of most parking spaces. As a result, car journeys have fallen and, subsequently, air pollution. Other European cities trying similar schemes are Ghent, Groningen and Madrid.
A piece of the puzzle
Read more from our solutions series
Steve Melia, a lecturer in Transport and Planning at UWE, says restricting cars in Bristol city centre would improve urban quality of life and air quality, and reduce carbon emissions. There is often opposition from business and technical issues to solve, but it is still possible, he says.
In the area where diesel cars are to be banned, you would stop through-traffic, allowing access for buses and vehicles in some circumstances. This means drivers would have to go around the city centre or travel in a different way.
The council is currently piloting a scheme called School Streets, where cars will be restricted around two primary schools at drop off and pick up times to encourage parents to take their kids to school on foot or by bike.
Doing something similar in the city centre may seem radical, but it is possible. Until 1992, a dual carriageway went through the middle of Queen's Square. "95% is about political will," Melia says. "There has been a change of attitude at the council, but we will have to wait and see."
Better cycling infrastructure
Restricting through-routes for cars will help cyclists too, but a common way to allow them to coexist is having segregated cycle paths, such as on Baldwin Street in the city centre. These exist in lots of European cities, and London's 'Superhighways' network, meaning cars and bikes aren't jostling for space.
Since the segregated cycle lane was introduced on Baldwin street, cycling has more than tripled. Journeys also increased on Prince Street Bridge after changes.
Bristol has more cycling infrastructure than most UK cities, but others are still ahead. Three London boroughs introduced 'mini-Holland' schemes – segregated cycle lanes on main roads and access-only roads for cars. The results? People were walking and cycling an extra 40 minutes a week. Andy Burnham, Mayor of Greater Manchester, recently announced ambitious plans for an 1,800-mile network of protected routes for cyclists and pedestrians, including 17 'filtered neighbourhoods' where roads prioritise cyclists and pedestrians over cars.
There are also more inventive ways to make cycling safer. In 2019, 700 cyclists in Amsterdam were equipped with a device that allowed them to record complicated, clumsy or unsafe traffic situations. These records will help planners understand where upgrades to their cycling network are needed.
Improvements are slowly happening in Bristol and the council has stated the aim of making cycling safer and more accessible, and segregated from other modes wherever possible. In January, a new shared path across the centre of Old Market roundabout opened. It was welcomed by cycling campaigners, but described as only "one piece of the jigsaw".
The West of England Combined Authority (WECA) is currently consulting on cycling and walking infrastructure plans worth £400 million, which includes some segregated cycle lanes. However, a common description of Bristol's cycling infrastructure is "patchy", so more joined-up networks are needed.
Urban planning for the future
It's one thing to change how getting around the city works now, but what about the city we're building for the future? Steve Melia criticised recent plans for building lots of new roads through countryside on the edge of Bristol, which makes it harder to reduce carbon emissions – a clear priority after the council declared a climate emergency. There are ways of building a city less reliant on cars: "We need to house more people at higher densities within cities, instead of sprawling greenfield development in remote locations. When building at higher densities, we have to make sure that more people don't bring more cars with them."
For example, a new 350-flat development on the corner of Castle Park will only provide a few parking spaces for visitors and disabled access, meaning most residents will be unable to own cars.
"A growing carfree population in our city centres offers many possibilities to change what has been a very toxic transport culture in Bristol."
Better buses for Bristol
Restricting cars will mean public transport will need to improve. Lots of members mentioned the need to have better and more affordable bus services in Bristol. Check out our solutions piece on buses, out later this week, where we take an in-depth look at the options.
Housing: Insecure and unaffordable
Unsurprisingly, another issue raised by Cable members was unaffordable housing and homelessness. There have been some wins of late, with more affordable housing being built, and bans on no fault evictions and letting agency fees. But it's still difficult for many to afford their rent or find security. Meanwhile, rough sleeping is still clear to see on our streets. So what can we do?
What members said
"My relatives who work full-time can't afford to buy, or even rent, a flat in Bristol. It's impossible to get on social housing waiting lists. House sharing is ok for students and people in their early 20s but not a solution for those in 30s onwards."

Brigid B, Stapleton
"I kept living with an emotionally abusive housemate for over two years because I couldn't afford to move. I had affordable rent where I lived. Being on disability benefits made it hard to move because of discrimination from landlords. Rent everywhere else in Bristol was very expensive, I was only able to move eventually because some friends had a room in their housing coop"

Catherine L, Easton
Rent controls
In the last year, Paris and Berlin introduced rent controls to stem the tide of increasingly unaffordable housing, and London Mayor Sadiq Khan called for powers to do the same, because that power currently lies with the UK government.
Rent control can take different forms: from a complete freeze, to restricting price rises at amounts set by local government, current prices or inflation. Marvin Rees has cautiously given his support before but hasn't joined Khan in calling on central government to devolve powers.
Rent controls in the UK were actually introduced during the First World War to stop landlords profiteering from the shortage of housing. Controls remained in some form until deregulation in 1989.
Berlin has just decided to freeze rents on 1.4 million properties for the next five years, excluding social housing and new apartments, but much of Germany has already had controls since 2015. Last year, a rent level was set for each area of Paris, and councils in Scotland can now cap rents at inflation in designated areas.
There are concerns about the long-term effects – that fewer landlords will rent out properties – which reduces supply and potentially punishes new renters. Landlords have also found loopholes, such as swapping their properties for exempt new builds.
For this reason, the common view of economists is that rent controls don't work, but in a few years time there will be more evidence from big European cities to draw from.
Community-led housing
Community land trusts are not-for-profit organisations that build affordable homes for community benefit. Local people end up owning property and have a say in decisions and running of the homes.
Bristol Community Land Trust (CLT) is one of about 300 in England and Wales. Combined, they've built about 1,000 homes, with an extra 16,000 in the pipeline. Bristol CLT works on the idea of 'shared equity', where residents own between 50% and 85% of the property, and pay affordable rent on the rest based on their income.
Bristol CLT has already built 12 homes on Fishponds Road, and is now working on a development in Lockleaze of 50 affordable homes. (For context, the council expects 409 affordable homes will be completed in 2019/20 and 747 in 2020/21).
Keith Cowling, retiring chairman of Bristol CLT, says they're "not a silver bullet" and must form part of a wider solution to the housing crisis. Land trusts are more evolved in the US: Champlain Housing Trust in Burlington, Vermont now has 430 owned homes and 1,500 rental properties.
Other initiatives are underway in Bristol, such as Southmead Development Trust's Glencoyne Square development of up to 300 homes. The council-owned Goram Homes also partners with the private sector to build 30% affordable housing on council land. In February, the council approved four sites for community-led housing, and adopted a new policy to enable future schemes on council-owned land, prioritising affordability, community benefit and social value.
Renovating empty properties
Viviendas para las Entidades Sociales is a project in Barcelona that acquires and renovates empty homes. The result: affordable housing, training and support for vulnerable people in the city.
The project, which is run by social housing provider Habitat3, was launched in 2015 to tackle the lack of affordable housing. Habitat3 works with other charities and social services to manage about 100 properties, which have become home for 187 vulnerable people.
Of these properties, most have been transferred by the Catalan government, some are owned by Habitat3, and others are privately owned. Habitat3 pays private owners each month, as well as property tax.
The residents, who receive support from services, pay rent according to their income with the local government covering the rest. In addition, the renovation process brings in social enterprises supporting unemployed people to get them experience and training.
This isn't cheap but has received backing from local government, including €19 million over the next four years.
According to council figures, there are 329 empty homes in Bristol as of April 2019, and the council has been trying to intervene by charging the owners extra council tax.
Renovating empty homes isn't a brand new idea – Emmaus Bristol renovated two council-owned properties in 2018. But the Barcelona model shows how this might work on a much bigger scale.