The idea of sharing a home across generational divides is having a come back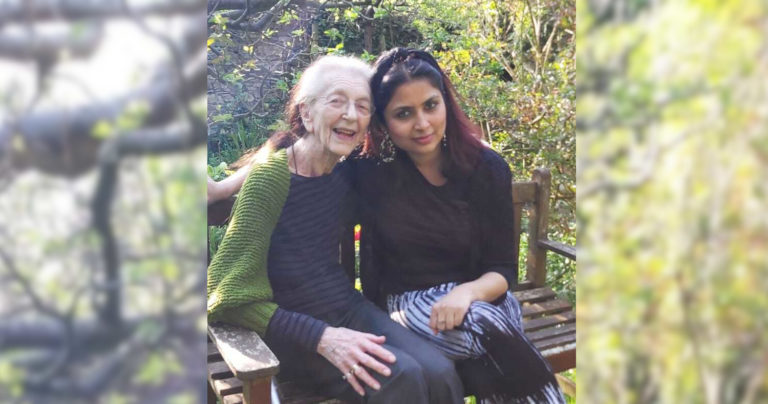 "I think age doesn't really matter, and generational gap doesn't matter. If you connect, you connect with anybody."
A piece of the puzzle
Read more from our solutions series
Meet Seerat Kaur, 35, a PhD student at the University of Bristol, of Sikh background and originally from India. She lives with Joan Solomon, 93, a former teacher and author, of Jewish background and originally from South Africa. With a 60-year age difference and from opposite parts of the world, what brings them together?
A recent report by United for All Ages, a social enterprise that aims to bridge the gap between the old and young, said the UK is one of the most age-segregated countries in the world, including a lack of interaction between the old and young beyond immediate family members. It said that rising rent prices, loneliness across the generations and ageism are contributing to this division.
The report proposed 20 ideas to create a Britain for all ages by 2030; two of which relate to intergenerational living – an older person living with a younger person. It's not a new concept. In fact, multigenerational living is common in many cultures and I've experienced it first-hand during visits back home in Somaliland and travels in the Middle East.
In Britain though, this gap remains. Bristol is one of the pioneers in bringing the concept of home sharing between two strangers to the UK. Through her organisation Homeshare West, Audrey Heard has been matching older householders with younger homesharers since 1999. In exchange for a low-cost or rent-free room, the homesharer agrees to help with household tasks for 10 hours a week. The cost is a fraction of normal rent prices in Bristol.
'I'm like her granddaughter'
Joan and Seerat live a stone's throw away from the University of Bristol in the heart of Cotham in a beautifully spacious Georgian house. They've been a match for four months now. They welcome me into their home and over coffee and Stroopwafels, they begin telling me why they considered homesharing.
As a PhD student with limited funding, Seerat was conscious of the cost of renting in Bristol. "I was very sure that I didn't want to live in those small student accommodations, because they are more expensive than living in a house," she says. She began looking for alternatives but wanted to stay near the university. She came across Audrey's ad and, after a robust vetting process, she was matched with Joan, who jokingly adds: "And she ended up with an old woman". We laugh.
Joan is an incredibly well-read woman who left her home country in the 70s in protest against the apartheid regime. She has now lived in Bristol for over 30 years. Her husband of 63 years, Louis, passed away five years ago. "I'm 93 and all my children were worried that I was living alone here," she says.
Joan wanted to maintain her independence and refused to go into care, so her son gave her a pamphlet about homesharing. Initially, "I dismissed it entirely because I didn't want to live with any stranger," she says. "I've been married for 63 years and I was so used to [Louis] and I miss him still."
"[Then] Audrey told me about Seerat. I met her and liked her immediately… it was a feeling," she says. Similarly, Seerat says: "I got a good vibe when I came into the house. When I met the family, I was very sure of that".
Joyfully, Joan and Seerat recall their most recent dinner with Joan's friends. "I cooked three popular Punjabi dishes… and that was a hit," Seerat says. "[Joan] loves Indian food and that's what we connect on." As part of their agreement, Seerat chose to do cooking for Joan: "It's my ultimate therapy," she says.
For Joan, it's gardening that she finds therapeutic: "I've always been passionate about gardening ever since I was a small child. My mother gave me a part of the garden of my own. [But] I don't garden anymore, I can't. I used to garden every day, but now after an hour I am tired." A gardener comes to help and Seerat helps Joan water the houseplants.
Humorously, Joan adds: "She waters my plants and doesn't know anything about plants." Laughing, Seerat says: "She has to tell me which plants need more water, which ones need very little water. She needs to tell me every week. You just have a knack for certain things."
From the start, I sensed Joan and Seerat get on really well. They learn from and look out for each other. As an international student, far away from home, it can get lonely and hard especially during tough periods. Here Joan warm-heartedly says: "I really care for you, Seerat. I do." "She says, I'm like her granddaughter," Seerat responds. "Yeah, it does feel like I have a family in Joan." It's connections like these that make the generational gap seem not so wide.
Homesharing offers a safety net that ensures Joan's independence and gives Seerat a stable home close to the university at an affordable price. "It's a win-win," Joan says. "Age doesn't really matter, and generational gap doesn't matter. If you connect, you connect with anybody… me and Joan can have a conversation about anything." I felt that between them.