Bristol: A city of solutions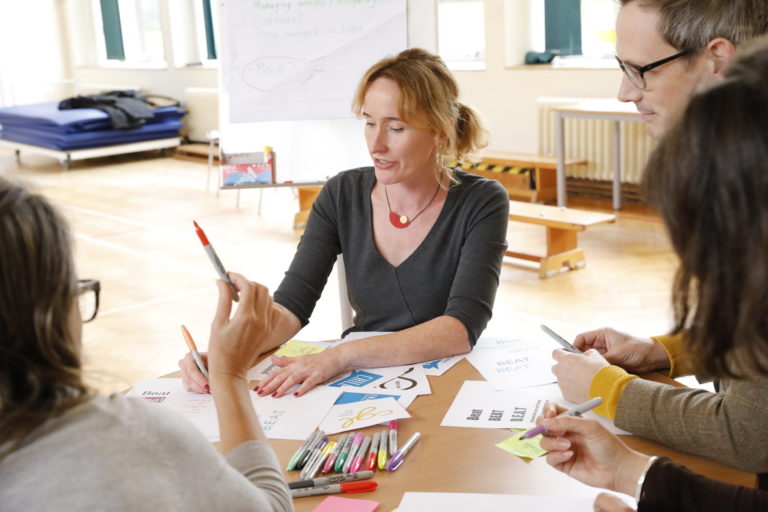 Photo credit: Cairo Sealey
Education
Busting drug myths in Bristol's schools
Jo Mallinson used to work with young people at Bristol Drugs Project (BDP). "We got lots of calls from schools asking do a talk or PSHE lessons – it got me thinking." In 2017, Mallinson set up the Bespoke Education (BE) Project, which provides drugs education to school pupils, parents and staff.
Jo mainly works with secondary schools as a consultant, delivering lessons, staff training, and talks to parents. Busting drugs myths perpetuated by popular culture is important, she says, such as confusing medical cannabis with street cannabis or that high grade THC cannabis is ok.
The ideal scenario is a 'whole-school approach' to drugs education. She also says it's crucial to focus on why young people take drugs and on harm reduction to help them make informed decisions, in contrast with the traditional medical approach. "Part of that is acknowledging drugs can be fun sometimes, and presenting scenarios, and the risks."
"Bristol is a city where drugs are available, for sure, and some young people are attracted to that culture of recreational drug use. Good drugs education is about recognising people who are abstinent; but for those who are going to be using drugs, to do precautionary work about safety and their access to support if it becomes a problem."
For more info, go to beproject.co.uk
Food
Finding community through affordable supper
Super Supper Club is one of a number of initiatives in Bristol addressing supermarket food waste by repurposing ingredients that would otherwise be thrown away.
It's run by volunteers, who collect the donated food (originally from M&S, now Lidl) and cook a three-course meal every Wednesday evening at Baggator in Easton. Anyone's welcome for a minimum contribution of £3. Guests can take away any leftover groceries.
Organiser Rachel Hodgson used to volunteer at Foodcycle and started a supper club in Café Connect in Easton where at first "eight people ate bread and cheese". Then charity Neighbourly set the club up with food collections and the Super Supper Club moved to its current home in January 2019.
There are around 30 guests of all ages. One man sits alone but most join together at tables with friends or strangers, and the sound of conversations, laughter and cutlery create a buzzy atmosphere.
Hodgson designs the menu the night before. Today it's spicy veg or onion bhaji soup with warm seeded rolls, followed by homemade Scotch eggs with new potatoes and salad, and apple or pineapple and banana crumble with cream. As well as issues of waste and food poverty, the meal addresses isolation and loneliness for guests and volunteers.
Grub's up: the projects tackling food poverty and social isolation – Read the full story
Housing
Shining the spotlight on private landlords
Ben Yarrow's girlfriend's entire deposit was withheld because of a missing mattress cover. Meanwhile, some of her clothes were ruined by the damp in her bedroom.
He wanted to redress the power imbalance in the private rented sector, where landlords seem to hold all the cards. This was the motivation behind Marks Out Of Tenancy, a website for tenants to rate their landlords. He set up the site a few years ago and has now partnered with student unions and a local authority.
"There should be a place where renters should be able to share their story. It made me feel like I was enabling other people to have their voices heard," he says.
"I felt very powerless and without representation for a fair old chunk of my life. When this landlord thing happened, it made me feel… it's hyper-personal and the core drive of why I do the whole project."
Yarrow says he has received death threats and dozens of legal threats from landlords. "It's the reaction to all of a sudden becoming accountable, having their name on a website."
Nottingham council has used the website to crack down on rogue landlords, but Bristol council aren't interested, Yarrow says. He thinks it could be used to compliment the landlord licensing scheme that was introduced in central Bristol last year to improve standards for renters.
Yarrow also highlighted the good work that some landlords do. It's easy to "landlord bash", because of the power imbalance. Of the 120 or so reviews for Bristol, many are positive. But he adds: "We know how fucked the system is, everyone knows that renting is screwed".
For more info visit marksoutoftenancy.com
Climate
Warmer homes, cooler planet
In 2015, Mike Andrews got a small amount of funding from Bristol Green Capital to reduce Bristol's energy consumption. The CHEESE (Cold Homes Energy Efficiency Survey Experts) Project has now conducted 350 energy surveys.
With 14% of all UK carbon emissions coming from homes, making them more energy efficient is a straightforward way to reduce our impact on climate change – while also saving on energy bills.
The Bristol-based not-for-profit has won a number of awards for its work, which is mostly volunteer-led. The surveys, which are offered for free to those on low incomes, use thermal imaging to show how energy is escaping people's homes. Residents can then take action: from cheap DIY to stop draughts, to bigger jobs. The vast majority of those who have had a survey carried out had work done as a result.
With about 70% of UK homes not meeting the required energy efficiency standard of Band C, the government has set ambitious targets for retrofitting homes, such as installing loft insulation, more efficient lighting and boilers. CHEESE is helping more Bristol homes to meet this target.
The concept is now being copied by a major housing association in London and work is starting to replicate the project in Bath.
Gender stereotypes
Podcast: dads talk to dads about being a dad
Dadcast With The Man Dem is – you guessed it – a podcast about being a dad. Since Kinny Chanangwa and Jason Clarkson started it back in 2017, with Joe Secrett joining later, the response has been overwhelmingly positive.
They now have a regular slot on BCFM and won a Bristol Diversity Award in 2019. The three young dads all have a youth work background so were already used to spending time with kids. They're trying to challenge the stereotype that fathers aren't interested and don't share experiences with others. It's all about getting dads to open up. "We found that there is a stigma of fathers talking to other fathers," says Chanangwa.
Topics discussed include discipline and grandparents, but especially important is the issue of men talking about mental health: "You always hear about support for mothers, you don't really hear about support for fathers," he says.
He adds pregnancy has a real impact, which is compounded by only getting two weeks of paternity leave: "I was very much engaged with the pregnancy, I wanted to know everything. I read and watched [everything, and went to] every antenatal and doctor appointment. You have to stay strong – it's obviously not as hard as carrying the baby – but it's difficult. Not showing you're anxious or upset."
They've also taken the conversation from the airwaves to the streets, organising a dads' day out to Bristol Zoo and free monthly craft sessions for dads and their kids to get creative together.
Check out the show on BCFM at 9pm every Monday, and find them on Facebook.
Economy
Bristol Redistro: rethinking how to best use your spare cash
What do you do if you're lucky enough to inherit more money than you need and care about positive change? This is what Alex Whitburn and his friends have been grappling with. "By talking through how all this felt, and knowing that we all want to see real, systemic changes in the world, and to be part of challenging the injustices that surround us, we were able to come up with this possibly crazy plan."
What plan? To fund small grassroots organisations that "use their lived experience to challenge injustices", and are looking for long-term solutions. Bristol Redistro is targeting smaller projects – those with an annual turnover of £25,000 or less – because there are already more funding opportunities for bigger organisations.
A piece of the puzzle
Read more from our solutions series
"There are still countless groups out there that struggle to get onto the grant-making radar. And I feel really passionately that the old-fashioned paternalistic approach to funding needs to be challenged and dismantled at every turn," Whitburn says.
Instead of funding being given out based on the whim of whoever has the cash, Bristol Redistro wants the groups who apply to come together to make decisions themselves as long as they meet certain criteria – a model pioneered by Edge Fund UK.
"People with lived experience of injustices and challenges have been passed over for so long. They really need to be heard. For too long those with resources have assumed they know best when it comes to dealing with problems."
They also want to hear from anyone else who feels conflicted about having extra wealth.
Small organisations can apply for up to £1,000 – the deadline is 13 March 2020. For more information, check out https://bristolredistro.weebly.com/