'The government threw us under the bus': How Bristol food businesses are working to survive coronavirus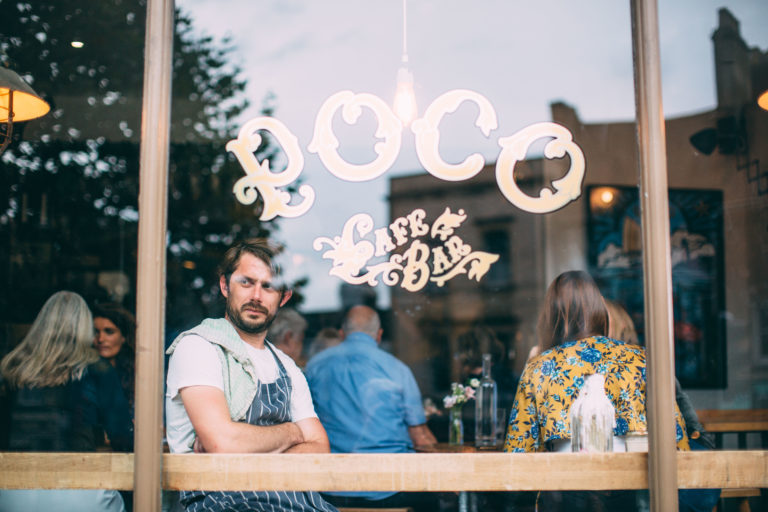 Photo: Poco
UPDATE: On Friday 20 March, the government announced that all pubs, cafes, restaurants and entertainment venues must close immediately.
On Wednesday, nervous staff of a Bristol restaurant gathered via video link as one of thousands of businesses in Bristol planned their reaction to the coronavirus crisis. Staff were told that unlike many in the hospitality sector, nobody would be laid off at this stage, as the restaurant closes down and switches to a takeaway model.
"Our mindset is one of family. First and foremost we want to look after our people and it's a really scary time," Ben Pryor, co-owner of Poco in Stokes Croft tells me. "Having an online meeting, it was really special to have that solidarity, we were really scared going into that, but we got back huge gratitude and love, which brought pretty much all the management team to tears."
Poco is just one of the many businesses in the city worried about surviving the coronavirus outbreak. The situation is so serious that some independent Bristol restaurants are about to launch a campaign to drive public support for the hospitality industry in the city, and lend a hand to the broader effort of feeding frontline workers and those who are vulnerable or self-isolating.
The government has announced a package of measures to help small businesses through the crisis but uncertainty and anxiety still reigns. "They threw us and the rest of the hospitality industry under the bus with their statement telling people not to come to pubs and restaurants, but not telling us clearly to close," Pryor says.
The government aid package worth £330 billion includes grants of between £10,000 and £25,000 for small and medium sized businesses, as well as exemptions on business rates, covering some statutory sick pay, and loans of up to £5 million. Whether businesses will be able to claim 'interruption insurance' depends on if pandemics are included in individual policies, according to the government website.
On Friday, Chancellor Rishi Sunak went even further by announcing grants covering up to 80% of wages of people who are not working due to coronavirus shutdowns, but who haven't been laid off – up to a total of £2,500 per month.
While this uncertainty looms, hospitality businesses across Bristol have been closing their doors and reverting to takeaways to keep paying some staff and serve food to the local community. Wriggle have launched an initiative to help independent food businesses called Indie Kitty, which allows punters to buy a voucher ranging from £5 to £40 which can be redeemed at a later date. Wriggle doesn't make any money off it.
One of the businesses to sign up to this is worker's cooperative Cafe Kino. Hannah Fortune, who is responsible for their staff support, tells me: "It's been a heartbreaking week but the co-op has pulled together to try to support each other. We have been forced to cease trading with no alternative financial assistance forthcoming. As such, all revenue has immediately disappeared."
"It's a really tough and uncertain time, as is the case for many. We're really concerned about our personal ability to make rent and cover living costs, but also whether Kino will be able to stay afloat. However, we're hopeful about surviving this and our immediate response has been to start a crowdfunder and to look to start up a delivery service as soon as is feasible and safe."
Sam Espenson runs Bristol Spirit, a bar on Whitehall Road serving spirits. "We've lost all of our business overnight because all the markets are shut, all of the weddings have been cancelled, so what I decided to do was get people to make stuff at home with cocktail kits." The online shop will provide some income and they've had some orders already, but she says she'll be looking for jobs on Monday. "It's terrifying, it's going to be a bloodbath if businesses are closed for months."

Banding together to survive a crash
But in these dark times, a campaign is emerging. As people flock to big supermarkets, Bristol Food Producers have put together this list of places to buy local produce and what restaurants are doing to keep going and keep staff.
And now a collective of independent restaurants are about to launch an Independent Restaurant Association, which will help the hospitality industry become a vital resource for feeding the city and provide a way for the public to get behind the Bristol food industry in a meaningful way.
Aine Morris, who is one of the people behind the campaign, tells me: "The consequences of restaurants closing are going to be incredibly far reaching – also for contractors, suppliers, fruit and veg businesses, food producers and farmers."
The collective of Bristol restaurants are hoping to receive funding to join the council-led effort to support the feeding of vulnerable communities in the city, from storing products to cooking meals and distributing them to people who need them. From next week, they will be launching a Buy One Feed One campaign, where the public will donate to restaurants the money they would have spent anyway, or for about £6 will be able to buy a meal for a frontline worker.
"We feel like this is the best thing we can possibly do in a time of national crisis," Morris says. In a similar vein, Coexist Community Kitchen has announced it will be offering 300 emergency meals a week for people from Monday.
Going digital
The hospitality industry is particularly under threat, but most freelancers and other self-employed people are facing a drop in their income, or even it disappearing altogether. Other businesses have been taking their activities online, such as outdoor education project The Garden in St Werburghs, which closed this week but moved the community online with things like board games and singing.
Jay Byrd is a childminder, who as of today won't be able to look after children other than those of key workers. She has set up Brizzle Bears It, a website for small businesses and self employed people in Bristol that allows people to donate and businesses to upload content. "It could be a community resource to help people stay connected and keep small businesses at the forefront of people's mind," she said.
Some events have gone online in the form of livestreams as music venues have been also forced to close in the last few days, including Thekla and The Fleece. Love Saves the Day organisers today said it was "increasingly unlikely" that the festival would go ahead in May. The Trinity Centre said yesterday it was liaising with various community groups, charities and the council to help support vulnerable people safely isolate.
'As long as I'm paid, you'll be paid'
There's been a lot of talk on social media, especially in the new Mutual Aid groups, about how people can support freelance workers and small businesses. Some have even pledged to pay self-employed people even if they're no longer able to offer their services. On Facebook, Laura Chapman said: "I've decided to stop seeing these people as self-employed; if I'm their regular customer, I think I should share in the responsibility to keep their head above water at this scary time. They are #CommunityEmployed by all of their customers. So I'm making a pledge to all of the #CommunityEmployed people I regularly use, and who won't be able to work through the pandemic: as long as I'm paid, you'll be paid."
One of the businesses to try out offering takeaways is the Lazy Dog pub in Ashley Down. On Wednesday, they started offering half-price meals for collection and sold out in just a few hours. As well as enabling the pub to keep some staff in work, the move has become a rallying point for the local community.
The Lazy Dog's co-owner Joby Andrews tells me: "Apart from us as a business, which is going to be staring down the barrel of bankruptcy depending on what the government say they're going to do, we're firstly motivated to keep staff in work and keep supporting the community because it's a real community hub so takeaway food was an obvious thing to do."
He says the phone was ringing off the hook and regulars even came to pick up takeaway pints, saying they were determined to support the pub.
The next plan is to work with local mutual aid groups to offer food packs designed to last a few days for people who are vulnerable or in self isolation. The packs will hopefully be able to be bought and donated to those who need it most. "As more people are more restricted and more ill, maybe there's less food on the shelves, it's going to be more important to get cooked healthy food to people who really need it."
Despite the positive response, the outlook is still bleak. "Every day the doors are closed we're losing money, so there will be a time at some stage where the business will go bankrupt. From what the government said, it wouldn't be enough to keep us from going under if we're shut for say three months."
"The government needs to do more," he adds. Punters buying takeaway pints in plastic glasses can only go so far.
Additional reporting by Georgie Luton