Bristol SEND crisis: from isolation to family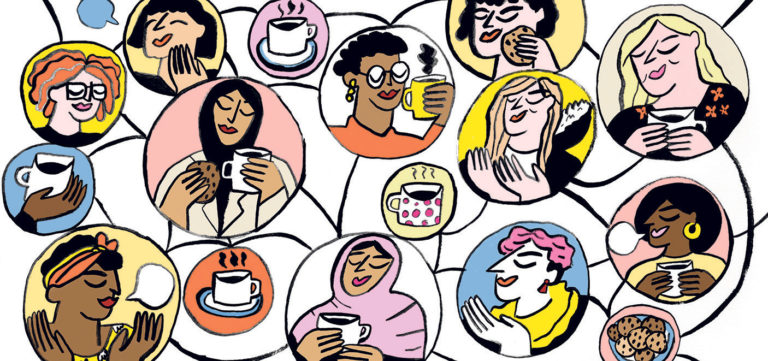 Illustration: Jayde Perkin
"It's nice to be here. I'm from a different country. I don't have friends. I used to have friends but they have children, and no children with special needs. They see my son…He's a bit aggressive, and everybody just stepped back. Now, I'm on my own."
Amera lives in Bedminster but is originally from Albania. She has two sons – a thirteen-year-old and an eight-year-old who has been diagnosed with autism.
Bristol has deep issues within its provision for children with special educational needs and disability (SEND). According to a joint CQC-Ofsted inspection report published in December, Bristol council's SEND system is 'not fit for purpose'. The report highlights 'extensive delays' in processing Education, Health and Care Plans (EHC Plans), crucial for a child with SEND to receive extra support at school. In response, the council has said it will invest an extra £1.3m in services and will have to submit a plan of action to Ofsted.
Understandably, many parents are unhappy with SEND provision in Bristol. So, where else can they go when things get difficult? Or, as in Amera's case, when they feel alone?
Finding community
Driven by the struggle to get support for their children, small tight-knit groups of parents of children with SEND have been forming in Bristol. Nura Aabe and Kate Laine-Toner are both mothers of a child diagnosed with autism. Their personal experiences sowed the seeds for Autism Independence (AI), a local community initiative, and the charity Bristol Autism Support (BAS), respectively. They now run weekly parent mornings and drop-in sessions to assist with applications, advice, and signposting.
On a cloudy Wednesday morning, I join Kate and a group of mothers for BAS' weekly coffee morning in Bedminster. Over a hot cup of tea and biscuits, we chat.
It's Amera's second time here; she shares her experience of stigmatisation in her own community. Two years ago, she and her family visited their home country and her extended family met her youngest son. When they arrived, he was jumping, kicking and tumbling, as he does. Seeing his behaviour as troublesome, a close family member insisted Amera shut her son in a different room out of sight. She felt heartbroken, abandoned and angry.
Kate says: "When you've got a child with autism, it can be very isolating, because your family might not understand what's going on with your child; they might move away from you.
"Friends who have non-autistic children don't know what to do with you, and you might lose both your friends and family in one fast sweep," she adds.
The group assures Amera that it is normal for her son's behaviour to change, with or without additional needs. They stress there is light at the end of the tunnel.
Battling stigma
Meanwhile on a Friday morning, next door to a Caribbean restaurant playing reggae blues, I visit Autism Independence's weekly drop-in session in St Pauls. Most parents Nura helps here are from the Somali community.
Like in Albanian, there is no word for autism in Somali. AI's work is centred around getting parents to understand what is happening to their child and encouraging them to take a more active role in their child's development. One parent who has been involved with AI since her three-year-old daughter's diagnosis said: "The parent network helped me understand my child's behaviour."
Habon* has two daughters, the youngest of which has been diagnosed with autism. She has been working at AI for about a year and helps interpret for non-English speaking parents, assisting them with paperwork or phone calls to the council. Smiling, she explains the parent network made her feel more comfortable sharing her experiences, without feeling ashamed or inferior.
While more common in some communities than others, stigma around autism spans cultures. From Bishopston, Lucy, mother of a seven-year-old daughter, and Becki, mother of a ten-year-old son, both of whom diagnosed with autism, speak of losing many friends. It's at this point Amera shared her experience of loss of friends and family. In sharing their similar experiences, they find solace.
Access and resources
Chrystal lives in South Wales and volunteers for BAS. She tells me her son is 18 months behind at school because of delays in processing appropriate educational plans. Recent figures revealed the council has been missing the legal deadline for providing children with EHC Plans in 98% of cases. This has led to the under-achievement and lack of inclusion of children and young people with SEND.
A piece of the puzzle
Read more from our solutions series
At the drop-in session, Maano, a mother of a fourteen-year-old daughter diagnosed with autism, tells me she was forced to take her daughter out of a mainstream school for seven months because of severe bullying and lack of appropriate educational care. AI supported Maano, and her daughter now attends a special school and couldn't be happier, Maano says.
Many parents feel angered and frustrated by the lack of support and provisions. Rita, who has been part of the BAS' parent group since it started out in a pub, says: "We have a hard-enough time as it is… [y]ou have to fight for that support as well."
Kate emphasises that parents have to talk to each other to navigate through this fragmented system. "All of us know about something someone else doesn't," she says. Doing so is practical: a parent finds out about a new inclusive play space or a new service. But it also provides emotional support.
A powerful medicine
The mental health of parents and families of SEND children is often overlooked. Many parents take antidepressants and have social anxieties, according to one of the parents I spoke to. Coffee mornings and drop-in sessions like these help in alleviating some of that emotional and mental pressure.
Chrystal says some parents are themselves neurodiverse – an umbrella term used to positively reframe things like autism, Asperger's syndrome and dyslexia that are traditionally seen as learning disabilities.
A number of parents have described these groups lifting a weight off their shoulders. BAS and AI organise activities such as massages, hot yoga, mindfulness sessions, and gratitude exercises, in which parents can rest and relax in a safe space without worry, fear or judgement. "It's the one time you're not on the outside," Chrystal says.
The groups also facilitate inclusive family socials. "In an activity that is solely based on children with additional needs, everyone gets you," Lucy says. Being part of these networks helps make connections with other families. Becki says without Lucy's access to a car and encouragement, she wouldn't be able to come to these sessions or other activities elsewhere in the city.
Kate points out that groups like this also remind parents how far they've come. It's easy for negative thoughts to cloud everything, she explains. Chrystal adds, "It doesn't stay like that. It's hard to get that in your head sometimes. But actually, we've moved on a huge amount, and everybody else will too."
"[E]ven on my absolute worst day…if I come down, I always feel better… Meeting face-to-face with parents is a very very powerful medicine," Kate continues.
To be part of this network is to survive for many parents; without it they would be lost and isolated. But speaking to them, I discover it's actually much more than that. "It's like a big family," Nura said. A family shaped by supporting and understanding each other that recognises that "you can be broken some days", but always reminds you that "you won't stay broken". It's a source of stability and solace in turbulent times. It's also a place of forming long-lasting friendships where one can share those happy moments. Kate is right: "Money really can't buy what you can get in a parent group like this."
Independent. Investigative. Indispensable.
The Cable is Bristol's independent, investigative newsroom. Owned and led by 2,600 members, we produce award-winning journalism that digs deep into what's happening in Bristol. Investigative journalism strengthens democracy – it's a necessity, not a luxury.
As a democratic members co-op, democracy is built into everything we do. We're 100% owned by thousands of Bristol members.
If we can triple our membership, this funding from the people of Bristol would make the Cable completely sustainable.
Join the Cable today