The Bristolian 17-year-old campaigning for racial justice in climate change movement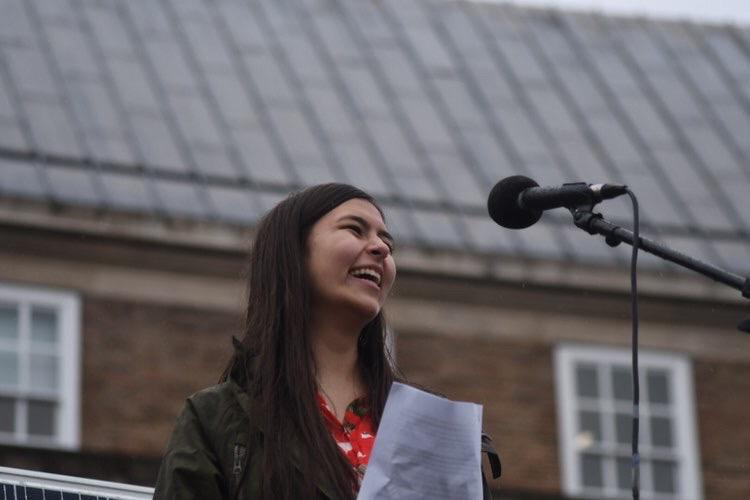 Amidst relentless coverage of Greta Thunberg in Bristol, we catch up with our own local 17-year-old environmental activist Mya-Rose Craig to chat about race, conservation and climate change.
Mya-Rose (nickname: "Birdgirl" on account of her love of bird watching and nature), also spoke at last Friday's Youth Climate Strike. From an early age, she has been campaigning for nature to be accessible to all. With this vision in mind, Craig founded an organisation called "Black2Nature" in 2016 which organises nature camps for BAME children and holds conferences about how the environmental sector could become ethnically diverse. Just last month she became the youngest person to be awarded an honorary doctorate from the University of Bristol.
Let's start with last Friday. How did you feel about being asked to speak? What was Greta like?
I was honoured to have been asked to speak at the event and to share a stage with Greta Thunberg. I guess I was stressed at first, but by the time it got to the day it was just like – "Ok this is happening now!" I thought Greta was really lovely, I liked her a lot. She's unassuming and quiet but has a strong presence.
Why do you think Greta has become such an icon?
I guess it's a bit of a lottery who the media chooses to pick up when there have been youth environmental activists all over the world. But what's important is that she is making good use of the platform given to her. The environmental movement is fragmented over nuances, but Greta's message is simple and easy to get on board with and that brings people together. But I do know BAME people often have their voices stolen and become anonymous within the movement – that's not OK.
On that note, in your speech you mentioned that you were an ambassador for Survival International and you spoke about the importance of including indigenous people in decision making.
Yes, much of the conservation sector is still running off a colonial blueprint. Conservation charities still evict indigenous people and turn their land into national parks. When actually the indigenous people have been managing their land for hundreds of years. This is why we need diversity in the sector, to bring fresh perspectives on old practices.
Your work centres on diversity in the conservation and ecological sector – how does that link with the conversation on climate change?
I think it's a similar dynamic: the Global North has created this issue of climate breakdown so we shouldn't pass the cost and pain to the Global South who have contributed the least to it historically. For example, the batteries in electric cars: they need cobalt and 15% of this is mined by African children. The solutions for climate change cannot rely on the exploitation of human beings. An unequal world can never be a sustainable one.

Many of the examples you gave in your speech were from personal experience right?
Yes, my mum's family are from Bangladesh – a country where work in the textile industry exporting clothes has raised the living standards of millions of people. Simply saying: "Stop buying foreign fast fashion" – is going to have dire consequences for the people least responsible for climate change and consumerism, instead we need to help them to create a new livelihood.
Environmental activism movements are sometimes criticised for not lacking diversity, what can we do to combat this?
Unseasonable floods in my Grandad's village in Bangladesh could have led to people starving to death. Right now there are 4 million climate refugees in Dhaka. I think explicitly drawing the link between these global disasters and climate change is really important as a way to get BAME people engaged.
You were only 14 years old when you organised the "Race Equality in Nature" conference with leading environmental charities – can you tell us about that?
When I was 14, I wrote to some of the major environmental NGOs – like RSPB, Wildlife Trust, WWF – asking them what they were doing about diversity. They then invited me up to their headquarters to speak with them about race. I was 14 years old at the time so I couldn't actually go because I had school! So instead I brought together race experts to speak on a panel called "Race Equality in Nature." From that we made a list of the barriers to access and gave these organisations a big list of to do's.
In the years since, can you see changes being made in the sector? Did people listen?
Getting institutions to change is really slow. Three years after the first conference, we had a follow up with all the same organisations and not much had been done. It's a bit better now, I have started to hear my ideas circulating, which is encouraging. But sometimes I feel like I'm shouting at a brick wall. I've been talking about this for five years now and sometimes I do think that organisations can tend to point at me and say, "Look Mya's speaking – look how diverse we are!" – without actually making any changes.
In contrast, 30,000 people gathered in the pouring rain to watch Greta speak – how does that make you feel?
I don't feel resentful. I could be, but we're both doing very different things and have different roles within the movement so I don't feel like there was a clash between us, or that she was "on my turf."
After the after the clamour and excitement of last Friday, what lies ahead for Birdgirl? "Revising for my A-Levels!" she tells me.