Why women in Bristol are going on 'strike'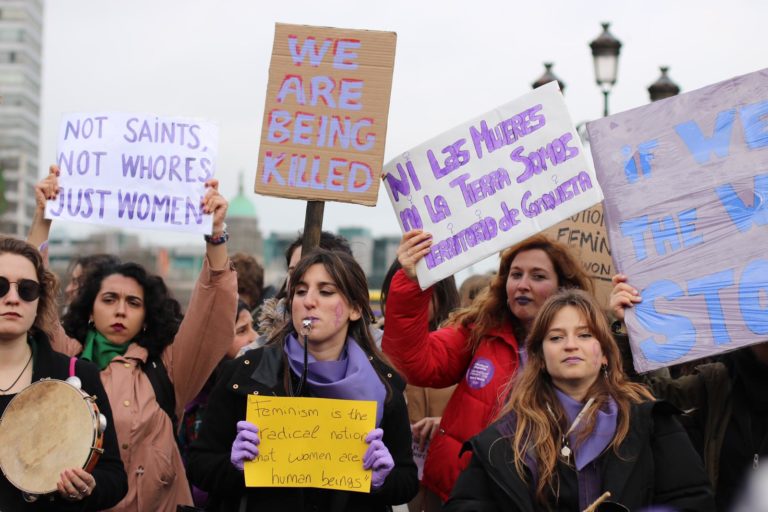 2019 drew to a close with a bang as streets erupted into uprisings across the globe. Alongside the drumbeat of revolution from Hong Kong to Lebanon, the accompanying rallying cries of feminists were often heard. "La Revolución será feminista o non sera" – the revolution has to be feminist, or it will be nothing – became a slogan of the Chilean protests against increased living costs.
Bristol boasts a proud history of radical Feminism of which this Sunday will be a continuation. On International Women's Day, the spirit of global feminist movement will be on full display. Last year, three organisations planned the event in six weeks, which nevertheless 600 people attended. This year, 13 collectives and individuals have been organising since December to host a day of celebration bigger and better than the last. Women are going on strike – but what does that mean?

The Women's Strike Assembly – "When we stop, the world stops with us"
You may have seen the posters announcing a women's strike plastered over the city, and wondered, as I did, what a Women's Strike actually means. So I caught up with the Italian-born, Bristol-resident activist Susy Giullari from the Women's Strike Assembly. Giullari tells me about the origins of the movement and her own journey into activism while sipping on a cappuccino.
"Leopoldina Fortunati was one of the first feminist Italians to come up with the idea that women's work should be waged. Historically when you think of work, you think labour, and so when you think of a strike, its a labour strike – traditionally done by men.
"But what women do: cooking, cleaning, caring, raising children, reproduction – is not considered as work even though it is absolutely essential for society.
"So in a women's strike we ask for men to take on these tasks. Our strike is a symbolic one, we know it's an impossible ask in a capitalist society. It's about recognising other types of work and making sure it's truly valued and collectively provided across genders. That's why our motto is: When we stop, the world stops."
Growing up in a small town just outside of Bologna in the 70's, Giullari remembers having to help her mother with all the cooking, cleaning and washing up while she watched her brothers play outside. Although a traditional household, she recalls how her father did show an appreciation for her mother: "He would say, I might go out and do the work, but what your mother does is also work and equally important as mine."

But in the end, the gendered way of life didn't sit right with Giullari and it kicked started a teenage rebellion which eventually matured into her activism today. Moving from the Italian punk scene to London's counter culture movements, Giullari eventually grew disillusioned. In fact, her involvement with the Women's Strike Assembly is her re-entry into activism after a ten year hiatus.
"I was worried about coming into a fairly young group as a middle aged woman, but actually there is a lot of mutual respect and a lot we can learn from each other. I am an activist in the end, I always was and always will be!"
The Women's Strike exposes confronts the problem of unpaid and undervalued work which is often done behind closed doors. "But we don't think men are inherently exploitative… capitalism creates patriarchy."
This Sunday's event will draw attention to other issues as well, "It's not just about exploitation but also about our oppression: patriarchy, sexual violence, bodily and reproductive autonomy, trans, and gay-rights."

While you're here…
The Cable relies on the 2,600+ members that make it up, so if you like the kind of articles we publish, consider joining. Membership is from just £1 a month. And if you don't like what we report on, join and have a say in the types of articles we publish. Members vote for the kind of stories we work on, the campaigns we run and where we put our money.
Be part of the Cable
Bristol Sisterhood
After meeting Susy and getting to grips with the idea behind the Women's Strike, I meet another member of the platform: Bristol Sisterhood, a trans-inclusive group of around 30 mainly migrant women, who formed a collective in 2018 and part of last years Women's Strike platform.

If there was a founding moment, Pamela tells me, it was when she heard the news about the gang rape of an eighteen year old girl by five men in Pamplona in Spain. It prompted a national outcry in Spain. Hundreds of miles away from her home country in Bristol, feeling sickened and upset, she and two of her friends decided the only thing to do was organise. Thus began Bristol Sisterhood. Three Spanish women, Irene, Pamela and Paula, put an online call out on Spanish speaking groups in Bristol for people to join their collective. They've been meeting in the Old Market Tavern once a week since 2018, as a safe space for women to organise actions, listen and be heard.

Almost two years on, the movement has grown in size and activity. I sit with nine members in a close knit circle in the corner of a pub. In the beginning they tell me, while they gained confidence in their English, it was Spanish speakers only. But now, they have a range of members and nationalities. And although they have diversified, the group is mainly made up of people from Latin America and Spain. Bristol Sisterhood they say, serves as a space for solidarity, discussion, awareness raising and events – chief among them, organising the 8th March Women's Strike.

They have worked with the University of Bristol Students Union on the "Reclaim the Night" event – an anti-harassment campaign. They produce a "Bristol Sisterhood transfeminist zine" which promotes poetry, arts, events, activities.

"We have some filmmakers in the group and they went out and asked people in the street about violence against women. Many of the men we interviewed said they thought it didn't happen in the UK. When we told them that in 2018, 158 women were killed by a partner in the UK they were really surprised. I think there are many people who think feminism is done in the UK, but it's not," says Paula.
Pamela agrees, "This country may have had the vote or abortion earlier than other countries but it's still necessary. And of course there are places where the situation is much worse – but that's not the point. The movement has to be global otherwise it doesn't work at all. We all have to fight together. We need all the power and all strength to fight together and fight the patriarchy."
"The rapist is you" – The Chilean Women's Assembly
I could hear the beat as soon as I approached the building. Last Thursday was the final dance rehearsal in Bristol of the "The Rapist is You", a Chilean protest song being sung around the world, before the big performance this Sunday.
When I enter the dance studio, I am invited to join the rehearsal before I can get on with the interview. This dance was originally performed by a little known Chilean feminist collective called Las Tesis in the city of Valparaiso last year during the uprising before going viral. The song has captured the imagination of people from Istanbul to Washington. Now, months later, more than a million women in Chile are preparing to protest this Sunday. And the women performing in Bristol hope to be connected through dance and song.

Video credit: Valentin Saiz

Fe-MEN-ism
After rehearsing with the Chilean Women's Assembly, I catch up with a smaller and less obvious contingent of the platform: the men.
I speak with Chris between the end of work and a flyering run he is about to undertake with his colleagues to get the word out a few days before the big day. Chris is one of only two men in the platform and I am intrigued as to what it's like being one of the few men in a feminist collective.
"No not really," shrugs off Chris, in answer to my question as to whether walking into a room of impassioned feminists as a cis white man is an intimidating prospect. "But it can be a challenge. I think men have a habit of trying to lead or dominate, so I do have to check that in myself. I have to make sure that under the banner of helping, I don't end up taking over the organisational process."
There was perhaps initial surprise, but overall he was received well he tells me; they were happy to have a man who'd put in some labour and time. So why aren't there more men in the movement I asked him?
"I think there's the barriers we put on ourselves – we don't interrogate our relationship to patriarchy or masculinity as much, though it is starting to happen.
"I guess it's also because that can be quite an uncomfortable conversation to have sometimes. To really have to interrogate your own behaviour and think, 'how did I treat my partner that time? Did I patronise that person or dominate that space?' – can be quite uncomfortable and it's not something everyone is willing to do."
Bristol International Women's Strike 2020 will be on Sunday 8th March from 12-6 meeting at The Cenotaph in the City Centre.