A Ramadan like no other in coronavirus Bristol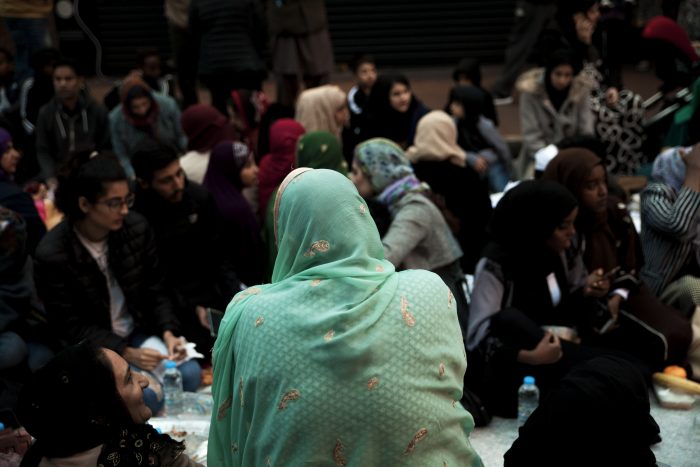 Usually, during Ramadan the Muslim community spirit comes to life. Extended families and friends gather for iftar meals – the breaking of fast meal – and mosques are filled with worshippers attending the night prayers. In Bristol, The Grand Iftar on St Marks Road, Bristol's largest iftar, is the highlight of the month for the wider community and a celebratory time to come together.
But with coronavirus restrictions in full force and lockdown extended, mosques remain closed, big iftar dinners cancelled, and worship confined to the home. And so, this Ramadan is like no other.
Earlier this week, the Muslim Council of Britain appealed to Muslims on social media to spend #RamadanAtHome, offering guidance and advice for the community.
In Bristol, faith leaders have stressed the importance of following government guidelines, mosques are broadcasting their sermons online, and local muslim organisations like the Bristol Muslim Cultural Society have already collaborated with local Imams in an online 'Welcome Ramadan' series to prepare and advise the Bristol Muslim community.
Inevitably, however, this Ramadan will pose many more challenges for cash-strapped families, key workers and those new to the faith.
Families in need
Ramadan is often characterised by its lavish iftar meals and extended family and community gatherings. For many families, the public health emergency has left them struggling financially.
Normally during this month, mosques would provide iftar meals for those who can't afford it or live alone. In the spirit of giving and charity, locals in the community have put their heads and hearts together to help families in need during Ramadan.
One such example is Naqshbandia Aslamia Bristol (NAB), a local Sufi organisation. It collaborated with local businesses in Easton, St Pauls and Montpelier to set up a food bank to help vulnerable groups.
At the start of the pandemic it put together regular food packages delivered on Friday's only, says Tariq Boota, a lead member of NAB. Now, they've put together an additional Ramadan package – delivered on a Thursday and Friday for Muslim families. "To give you an example, we're giving gram flour, chicken, samosas, spring rolls, dates, pasta, oil, " Tariq says.
It's caring for humanity that underpins their efforts, he adds.
Fasting as a key worker
Sadia lives in Kingswood with her 14-year-old daughter. She works as a mental health specialist in Kingswood. Every year for Ramadan, Sadia takes part of her annual leave to spend more time at home with her daughter, to have iftar with her parents who live a short drive away, and be with extended family and friends. But now, unable to visit family and support them with preparing Ramadan meals, she says, "I'm finding it a struggle…I really miss my family".
The public health emergency has made Sadia's work in mental health even more crucial, with increased pressure on their services. As a frontline worker, Sadia will now continue working through Ramadan and will even open her first fast during a night shift. "I've never opened my fast anywhere other than my home, and I'm going to be doing that at work," Sadia says.
Working, fasting, preparing meals and homeschooling her daughter all at the same time, Sadia worries how she's going to manage everything. "It's going to be the toughest Ramadan I'm going to experience," she says.
Embracing a new faith
Ramadan during a lockdown poses more challenges for converts – new Muslims – in particular. Yahya, 31, who lives in St George with his family, converted to Islam two years ago. He remember his first Ramadan in the peak of summer in 2018: "I newly became Muslim at that point [and] I was just getting used to all the rituals involved. Luckily, I had a friend helping me…he would invite me to his house for iftar, take me to Taraweeh [night] prayer [and] to different mosques."
With long hours of fasting and working at the same time, he says, it was difficult, but the abundant support helped him through it. Mosques and the local Muslim community provide strong social support for converts.
Imagining what it would have been like had his first Ramadan been during a nationwide lockdown, he says, "without that [support], I think I would have struggled."
In what may feel like a lonely time for the Muslim community this year, Yahya calls to mind, "Ramadan is also about time for isolation and introspection as well." The silver lining in spending Ramadan in lockdown, he says, is that it's an opportunity to really connect in isolation by doing more worship at home.
Ramadan at home
Shaykh Afdal Feroz, a local faith leader, says isolation is an integral part of Ramadan ,"to focus on ones' self and connect with our Lord spiritually by distancing ourselves from society". This is an opportunity to look inward, and strengthen inner spiritual strength, he adds.
Beside the value of solitude, families are also appreciating spending more quality time together at home in worship. Dr Yusuf, Acting Headteacher at Andalusia Academy, lives with his family of eight in Kingswood. For the first time the whole family will be observing the night prayer in their home with his eldest taking the lead.
More broadly, Shaykh Feroz says it's crucial to remember that we're in isolation to not only protect ourselves but to protect others as well: "That's the ultimate act of selflessness."
The abundant community spirit of Ramadan may not be visible on the streets or the mosques this year. But for many Muslims in Bristol, it lives on in the festive decorations in the sitting rooms, in the increased prayers with family, and silent solidarity in the heart for all those in difficult times.