Under fire letting agents to propose rent reduction after 130 students go on strike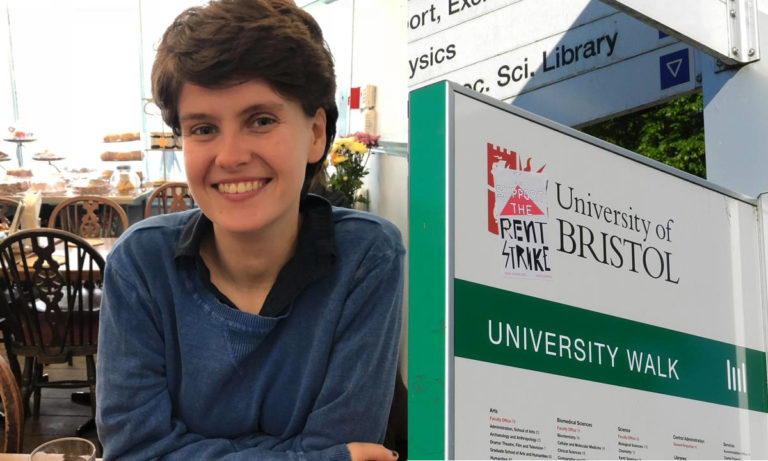 More than 130 Bristol students are refusing to pay rent to a "heartless" city letting agency after the company insisted on payment in full, regardless of the Covid-19 pandemic.
Students are withholding rent worth around £1,500 each from Digs Residential Lettings in Clifton, and are calling for their rents to be cancelled completely or reduced drastically in the wake of the outbreak.
The rent strike was called after Digs sent a 'polite reminder' to all of its tenants informing them that full payment was still due on 1 April, as per the contract, regardless of when student loans are paid or the Covid-19 situation.
This comes as housing campaigners called for a rent freeze for private tenants. The government has suspended evictions for a three month period.
Student and Digs tenant Ruth Day, of campaign group Bristol, Cut the Rent, said: "I was angered by the email because it was so insensitive and so heartless. Students are already stressing about how to pay rent because loans don't come in until April 20 and many have lost their jobs due to the coronavirus lockdown."
In the wake of the backlash, Digs has admitted that the email was "insensitive and sent in error, in terms of its wording" and has promised to speak to all landlords individually. However, the company was clear that they are "purely an agency" and that the final decision rests with landlords, not them.
Steven Harris, Digs' managing director, told the Cable: "It's a very tricky situation, acting for many property owners means there is a not a one fits all solution and its not our decision.
"As an agency we will be speaking to all our landlords individually and we will encouraging them to help, we have a variety of options for them. The option of zero rent if vacant or 50% if occupied can indeed be presented."
Day, who is a third year Maths and Philosophy student at the University of Bristol, said: "I don't have much sympathy for the Digs argument. Landlords are getting a lot of help from the government around this situation. As students, we don't own another property. We are literally just renting and most of us don't have much money."
Bristol Student Union has published a letter calling on accommodation providers to consider a rent freeze or reduction for the duration of the crisis.
Contrasting responses
The email from Digs comes in stark contrast to what other accommodation suppliers in Bristol are offering.
The University of Bristol has said all students living in university-owned accommodation will not be charged for the rest of the academic year if they decide not to return next term. UWE's website states that students will be released from their contract for the final term if they have vacated their accommodation.
Unite Students have said students will not have to pay their final instalment as long as they inform cancellations@unitestudents.com before 10 April that they wish to leave their accommodation.
Another student letting company, Penlane Ltd, reportedly emailed all tenants to offer them a 50% rent reduction during the coronavirus pandemic.
Day applauded the approach taken by other providers and urged Digs to take notice: "The main source of income for students is the loan, which isn't always enough to cover rent, especially in Bristol given that they're so high," she said.
"But a lot of students work on zero hours contracts, they work in the hospitality sector, they work in clubs, cafes, bars, and honestly, all of those jobs have stopped. Many students have been laid-off from their jobs and their income has just gone.
"Students have been completely left behind by the government's support package, too."
A University of Bristol spokesperson said: "Our immediate priority has been to support students living in university-owned accommodation and last week we wrote to those students to tell them that we will not be charging them for their accommodation for the rest of the academic year if they decide not return to Bristol next term.
"However we know that a lot of our students live in private accommodation which is outside the jurisdiction of the university. We acknowledge that some of our students are experiencing difficulties and, as such, we will be encouraging them to approach providers to talk to them about this very difficult situation and to see if they can help."
To find out more about financial support during the Covid-19 pandemic, visit the government website.