Bristol University experts rally to fight COVID-19 and search for a vaccine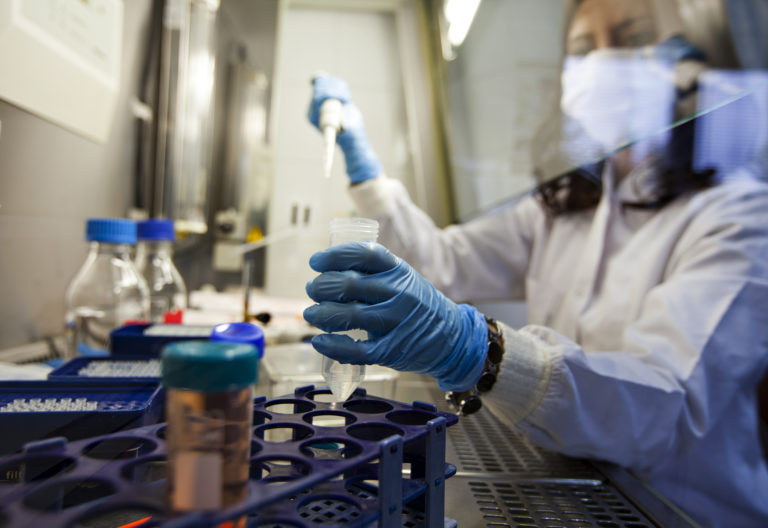 Amid deserted city streets, a few labs are bustling as Bristol University scientists respond to the UK's coronavirus crisis. "A big gang" of around 30 senior academics and their teams have come together as the COVID Emergency Research group, or Bristol UNCOVER, according to co-ordinator Adam Finn. While these researchers are just getting started, some have already teased out important secrets from the tiny virus responsible for COVID-19. Meanwhile, other university researchers are moving swiftly to rescue their efforts to help diabetes patients from coronavirus consequences.
Finn normally leads the Bristol Children's Vaccine Centre at the Bristol Royal Hospital for Children. "The right thing to do was to shelve everything else," he explains. His team has machines that use a biochemical process called the polymerase chain reaction, PCR, to study genes in bacteria and viruses. The UK's health authorities use such machines to tell if people have the coronavirus that causes COVID-19.
Tell your friends…
Testing, or the lack of widespread testing, has become a hot topic and political controversy. The UK government has been accused by many public health professionals of failing to direct enough resources to testing efforts that would help identify and control infections. The government has pledged to dramatically increase testing capacity with current resources already under pressure.
"NHS labs are working at capacity," Finn tells The Bristol Cable. "It's quite useful if another lab can do research-related tests, so that's what we're doing." Finn's team plans to use PCR to check that other easier-to-use test methods that could be rolled out more widely work well enough. The team is also preparing to measure molecules in our blood called antibodies, which show whether people were infected by the coronavirus.
Finn stresses that the researchers are still setting this up. "It's difficult because everything is in such short supply," he says. For example, it's only just becoming possible for them to access blood from patients who have been infected with coronavirus to study. They also need now rare, expensive chemicals to do PCR for coronavirus.
The scientists also need money to pay for their work. The Elizabeth Blackwell Institute for Health Research has raised some initial funds, which Finn thinks will support roughly a dozen small proposals. To get more finance from the government and elsewhere, Finn is ensuring Bristol's contributions are unique.
A discovery in Bristol and the race to find a vaccine
Scientists in Bristol are working on a range of issues related to coronavirus. Synthetic biochemist Imre Berger is among those working on vaccine development. Many UNCOVER epidemiologists are involved in tracking the disease's spread, and modelling what comes next. Linda Wooldridge and Lauro Rivino will look at how our immune systems protect us from the virus.
Perhaps most importantly, UNCOVER includes labs that have high-level containment needed to study the coronavirus without it spreading. The labs are separated behind sets of self-closing doors to stop particles that might carry virus escaping, have sealed windows, and careful air filtration. Staff must be specially trained and clothed, and work in enclosed biosafety cabinets.
One such lab is at the Bristol Veterinary School in Langford, south of the city. There, chemists led by Jonathan Reid will study how the virus survives in moisture sprays like those when we cough or sneeze. And in a smaller lab with high-level containment in Clifton, David Matthews, Andrew Davidson and their colleagues have already made a discovery.
They were able to get a coronavirus sample that originally infected a patient treated in North London, and then grown in lab 'culture' conditions. The scientists who had isolated the virus then carefully sent some to Matthews, Davidson and their colleagues. The Bristol team cultured it again, until they had enough quantity for a detailed genetic analysis.
Viruses like coronavirus have evolved to hijack other cells. Once viruses invade, their genes force cells to make the proteins that then help spread the virus to infect even more cells. Roughly speaking, these infected cells respond to the genetic 'instructions' given by the virus to help it spread.
In looking at the genetic analysis of the coronavirus sample, the scientists found that a chunk of one coronavirus gene was often missing, seemingly deleted. They called it 'the Bristol deletion'. The deletion means an important part of the 'instructions' is missing, like an IKEA flatpack with instructions that have a page ripped off. This is important because the missing chunk of the gene would otherwise help the coronavirus spread further. As a result, 'the Bristol deletion' should actually make the virus less dangerous. But this discovery still gives researchers a headache.
Matthews explains that no-one really knows where the deletion came from and whether it will be present across the virus as a whole. Similar things can happen when 'culturing' other viruses to make large quantities for analysing. That "would almost certainly affect the outcome of vaccine studies", he adds as animals given viruses with 'the Bristol deletion' in experiments won't get as sick as they should, potentially skewing test results. This will make it harder to know whether a vaccine works or not.
Promisingly, the study also reveals details about coronavirus proteins called kinases, which switch the virus between different functions. In one function, the virus might be making more copies of its genetic Ikea instructions. In another, it might be passing them to the cell to get the proteins made. Some cancer drugs already target kinases and may be effective against coronavirus. "Maybe somebody somewhere spotted that patients who are on this kinase inhibitor don't seem to get ill," Matthews says.
Innovative spirit
Before they can be given widely, all drugs and vaccines must be carefully tested in people in clinical trials. With resources pouring into coronavirus, a significant amount of time and effort being put towards a lot of important research on other diseases is feeling the pinch.
For example, Colin Dayan, who works at both Bristol University and Cardiff University, runs trials for drugs to treat type 1 diabetes – but his trials are threatened by COVID-19. "The nurses who do clinical research studies were either being pulled on to the ward or asked to do COVID-19 studies," Dayan explained. Yet Dayan and his colleagues had already started treating 34 patients, who get drug injections every two months. "If you stop giving them the drug, we can't work out whether it works or not," Dayan explains. "And that's a real waste of time."
They're finding ways to carry on the work remotely so that valuable trials can be continued. They now hope to continue by sending participants drugs, and asking them to inject themselves at home. "We've been lucky because these children are on insulin, so they're very familiar with giving their own injections," Dayan explains.
In the scramble to adjust, Finn stresses that the researchers' rapid changes of direction reflect a broader determination to defeat COVID-19. "Everyone is getting on with it at a speed that we wouldn't normally do," he says. "There's a real sense of momentum at the moment."