How to cope as a parent expecting during the unexpected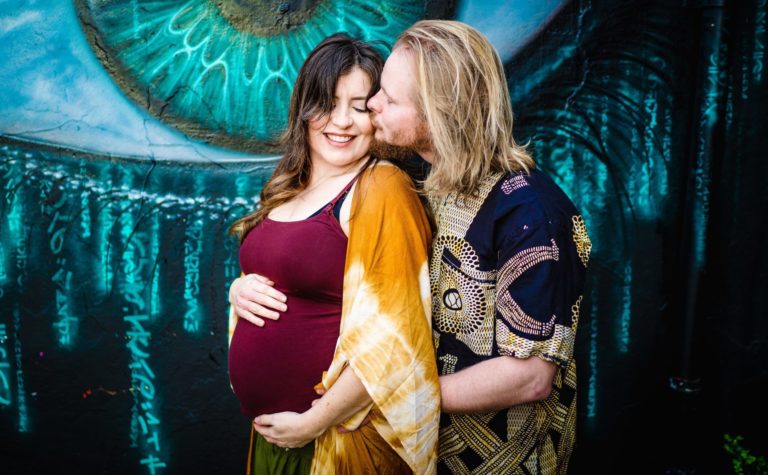 In the time of a public health emergency, hospitals are having to put tightened measures on visits. But there are concerns about how these are affecting couples during pregnancy, labour and afterwards.
North Bristol Trust (NBT) and University Hospitals Bristol (UHB) have suspended all visits to adult wards. Routine antenatal and midwife appointments are now taking place over the phone rather than face-to-face as a precautionary measure. For the maternity ward, an exception has been made during active labour and birth with one healthy, symptom-free birthing partner allowed. And home births are on pause for now.
Like many, Lucy* and her fiancé imagined their pregnancy journey quite differently. Having kept it a secret from wider family and friends, the couple had been planning a pregnancy reveal at their wedding in June. But now, Lucy says, "the world has just been turned on its head."
Phone consultations, attending scans alone, and one birthing partner in labour are just some examples of how things have been turned on its head for expecting parents. More broadly, there's a growing worry about new parents' mental health, birth plans taking a hit and how dads are affected.
During pregnancy
Lucy and her fiancé are expecting their first child; she's due 28 August. "I had my midwife appointment this week via telephone," Lucy says. As the exact impact Covid-19 has on pregnant women is yet unknown, she adds: "The less contact I have with people at the moment, the more comfortable I feel."
Couples can only go together for their first scan; where they find out their due date. "[My fiancé] was quite emotional in the first scan, looking for the heartbeat and being able to see it makes it feel a bit more real," Lucy says.
But after that she has to attend alone; the prospect of which is taking an emotional toll on them both. "…[It's] something that makes me very nervous and my partner upset. You only have two scans so he's losing out on such a precious experience," Lucy says. "He's gutted he won't be able to see the baby," she adds, "…and my mental health has really suffered."
They're both trying really hard to adjust to these difficult times. "We've been reading Harry Potter [to the baby]… so the baby will at least recognise his voice."
Sam and Alex from Fishponds are also expecting their first child; Alex is due 9 May. Not realising policies had changed the day before their appointment, Sam was turned away when they arrived. Staff were friendly and explained the reasons but, "that's my baby as well when they're measuring the heartbeat." While understanding the necessity, it was painful for the father-to-be to have to walk away.
As difficult as the circumstances are, they both quickly adjusted: "I've been phoning him into our last appointment which meant that he could still hear what was going on and ask questions," Alex says. Though not the same, at least he was included, she adds.
But shortly after speaking to these soon to be mothers a further change was announced: as of 9 April, the government announced that partners wouldn't be able to attend any of the scans.
Wendy Proctor is a trained midwife and hypnobirthing lead instructor for NBT and offers free afternoon teas with expecting parents via Zoom. She explains these changes are a way to further ensure social distancing between staff and birthing partners.
In a public health emergency, "that's a safe thing to do because we care for the women… we don't really know the birthing partners very well, healthwise… we don't know if [they're] at higher risk," she adds.
Labour and birth
Currently, one birthing partner is allowed during active labour. But with visiting restrictions changing so quickly, expecting parents like Emma Payne from Stoke-on-Trent fear this might change too.
Last month, she started a nationwide petition to 'Protect the right to have a birth partner during COVID-19'. Emma fears that over time there will be "no birthing partner for the entire duration of the labour and birth". Now close to reaching its target of half a million signatures, many parents share this concern and they worry about what the current restrictions mean for their birth.
Donna and Simon from Fishponds are due 23 April. They both had a home birth in mind with Simon being present throughout the whole process. Sadly, a home birth is no longer a possibility.
Extra considerations around age and mental health meant that induction – process to artificially start labour – and a cesarean are now a possibility for Donna. She's anxious about a cesarean because her partner, Simon, wouldn't be allowed in the theatre or in the ward after admission. Donna dreads the prospect of the medicalised environment in theatre alone. Having the support of Simon would massively help, she adds.
The Royal College of Obstetricians and Gynecologists' most recent guidelines (9 April) state that "having a trusted birth partner present throughout labour is known to make a significant difference to the safety and wellbeing of women in childbirth."
Because of these restrictions at hospitals, Proctor explains, "we want women to stay at home for as long as possible, so that when they do go in they're in active labour and their partners can support them."
Donna is trying to stay positive by focusing on what she can control. "It's not what I wanted, it's not ideal. But I can do this," she says.
A daunting future
Usually, birthing partners can stay after the birth for the regular visiting hours. Now they have to leave an hour after birth. Partners are worried about losing out on precious time. "If the child is born and I've got to leave straight after, I'm not going to want to – And I'm going to have to be told quite a few times," Sam says. He worries about missing out on attachment and bonding if Alex has to be admitted.
Sam also raises wider concerns around the unintended consequences of tightening visitations will have on fathers. As a child protection social worker, Sam works closely with absent and abusive fathers. While unintended, Sam fears stricter policies on visitation "will have a very negative impact on a lot of dads who maybe don't have the same social resources available to them."
We received an update from Alex: "Since speaking to you, I had another scan and I asked permission for Sam to be on the phone during the appointment, which was refused." No reason was given.
Expecting couples have been largely cooperative with and understanding of the changes. But when reasonable alternatives are dismissed it reinforces Sam's fear that as a dad, "we're not seen as essential."
In these turbulent, fast-changing times what keeps Lucy going is remembering, "we're all in the same ocean but we're all on different boats. Everyone's got a worry, but they're different."
"It is scary", she adds, "but you're not on your own."
*names changed