How Bristolians making DIY coronavirus protective equipment are propping up the city's supply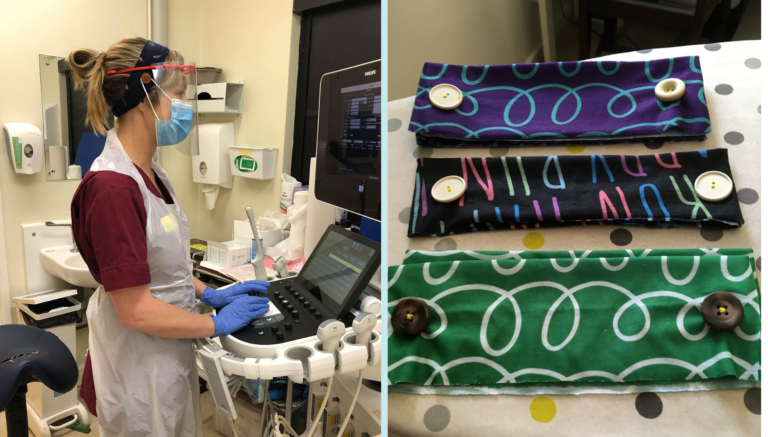 For sonographer Carrie Montgomery, wearing a mask at work is not the norm. For the ten years she's worked at North Bristol NHS Trust, first at Frenchay Hospital and now Southmead, a pair of gloves was sufficient. But for the past four weeks, her morning routine involves gloves, a gown, a mask, and now a visor. All this extra personal protective equipment (PPE) is designed to protect Carrie, her patients, colleagues, and young family at home in Horfield. But it hasn't been a simple adjustment.
"We wear masks with elastic around the ears, and your ears just get so sore and uncomfortable," Carries says over the phone, the call squeezed into a busy Sunday after taking her three children to Stoke Park. "We're not allowed to touch the mask once it's on because of infection control. I'm seeing less patients now but work is exhausting because we're having to be so careful with the PPE."
Even outside the intensive care wards, staff are treating every patient as a potential carrier of Covid-19. This means Carrie is washing her hands 70 times a day and mustn't touch anything with gloves that could be contaminated – especially not her face, no matter how uncomfortable the mask gets.
A solution popped up in craft tutorials all over the internet: headbands with a button sewn above each ear. The straps of the mask hook onto the buttons instead, making the vital PPE more comfortable to wear.
For local people now unable to do their day job, like Lockleaze resident Claire Mitchell, it was a project she could get her teeth into. "It was something meaningful to do, using my skills," says the keen seamstress. "I wanted to feel I was helping in a small way. It gave me a purpose during this crisis."
The fight against Covid-19 is personal: she lost a friend to the virus before lockdown began, and wanted to support another friend working on one of Southmead's Covid-19 wards. Claire initially made 20 buttoned headbands and sent them to the hospital. The donation was widely appreciated, and soon other wards began to put in requests.
Claire asked for volunteers on a local Facebook group and a dozen people offered to help sew, or donate fabric or buttons – even cash. Two weeks later, Claire has 25 machinists who she regularly collects headbands from, delivering them to Southmead during daily walks. "It's absolutely amazing, I've got a little army sewing away!" she says. The group has made over 300 bands and has material to make 300 more, thanks to 15 metres of fabric and 200 buttons that Claire arranged to buy from The Nylon Shop in Kingswood.
Army of volunteers
All across Bristol, people have been using their skills and time to make PPE, while NHS workers have taken to social media to request donations. For now it remains unclear how national shortages are affecting our local hospitals, but Bristolians are stepping up.
Volunteers working under the banner ScrubHub Bristol UK have been making scrubs to order for NHS staff across Bristol, Bath and Weston-super-Mare, and are currently at maximum capacity after receiving just under 900 orders.
Individuals have been doing their bit too: UWE animation student Serena Jones has been turning the acetates she normally uses for stop-motion animation into face shields. She puts her 3D printer on overnight and assembles the shields in the morning, with 60 sent to Southmead Hospital so far.
Also using 3D printers are Hack the Pandemic, a group of makers from Bath and Bristol based out of Emerson Green village hall. In the past two weeks they have printed over 2,300 face shields and 1,000 mask clips that do a similar job to Claire's headbands. Founders Paul Haines and Edward Clyne have been supplying hospital staff, care homes, the police, and now frontline supermarket workers with the full-face shields. "A soup kitchen for PPE," is how Paul describes it over the phone.
"One good thing about this country is cottage industry," Paul says. "People come together when it's needed. It's a core value in this country that we have to step up. But we shouldn't be doing this. We're not getting any help from the government and I think it's very unlikely that we'll get any." Hack the Pandemic have raised over £13,000 at the time of writing but cannot yet access the crowdfunded money. Paul has been pouring in an unsustainable £1,000 of his own money per week, but is determined to continue.
"Without us doing what we're doing, frontline workers have got nothing, they're putting scarves over their faces," Paul says. "The government had plenty of time to prepare for this, they had months. Not that this is why we're doing it, but I do think we deserve some credit from the government, for them to say that without people making PPE, these cottage industries – what situation would we be in now?"
No answers on local supply
National headlines have been dominated by reports of PPE shortages, with 84 tonnes of equipment today sitting stranded on a Turkish runway, despite promises from the government that it was on its way. The number of healthcare workers who have died from the virus has now risen above 100, including Maureen Ellington, a healthcare assistant at Southmead who had worked for the NHS for over 25 years. However, Bristol's NHS bosses have dodged specific questions about their PPE stocks.
We asked if there was adequate supply of PPE for staff working at North Bristol NHS Trust, which manages Southmead Hospital. They sent us a statement on behalf of Healthier Together, which represents local healthcare organisations: "The safety of patients and staff is our utmost priority. We are using the national supply chain and other routes, and are working as a system to ensure flow of key items, including gowns, into all health and care settings.
"We have also received some very generous donations from local businesses which will benefit staff across the system. Anyone with additional offers of PPE is encouraged to contact bnssg.supportoffer@nhs.net."
Bristol City Council was also approached for comment. Bristol's mayor Marvin Rees tweeted last week that a "highly anticipated delivery of PPE" was "not enough". "The national statements on delivery do not match what we are experiencing on the front line," he wrote.
The feelings of frustration at government-level mismanagement are now being expressed alongside the messages of support for the NHS, pasted up in the windows of houses across Bristol. Residents of Camelford Road in Easton have changed their window displays in support for the NHS into protests against the lack of PPE, saying they feel the Thursday night Clap for our Carers isn't enough. "Care for carers with PPE" reads one handmade sign.
'The community has got our backs'
Within the Imaging Department at Southmead Hospital, Carrie is keen to stress that she has experienced no shortage of gloves, masks or gowns. Initially she was provided protective glasses that steamed up, but now has a full-face visor thanks to her friend Bel Millard, part of the Hack the Pandemic team, who donated ten 3D printed visors.
Carrie herself has been sewing headbands, and, after putting call-outs on sewing pages in BS3 and BS9, is now in touch with up to 100 people who are making headbands and drawstring laundry bags for separating potentially contaminated uniforms. Two deliveries a day have been landing on her doorstep, often with children's drawings of rainbows and thank you notes attached. She is handing them out to medics, receptionists, porters, cleaners and laundry staff.
"We are feeling pretty positive here. I don't feel we're lacking in anything and wearing the PPE is making us feel safer," Carrie says. "We're being sent things like doughnuts and McDonald's burgers, but a handmade item like a headband that we'll use day after day – that's real community spirit. I feel very supported, like the community has got our backs, and we're appreciated."