You can't stay home and safe when you're sleeping rough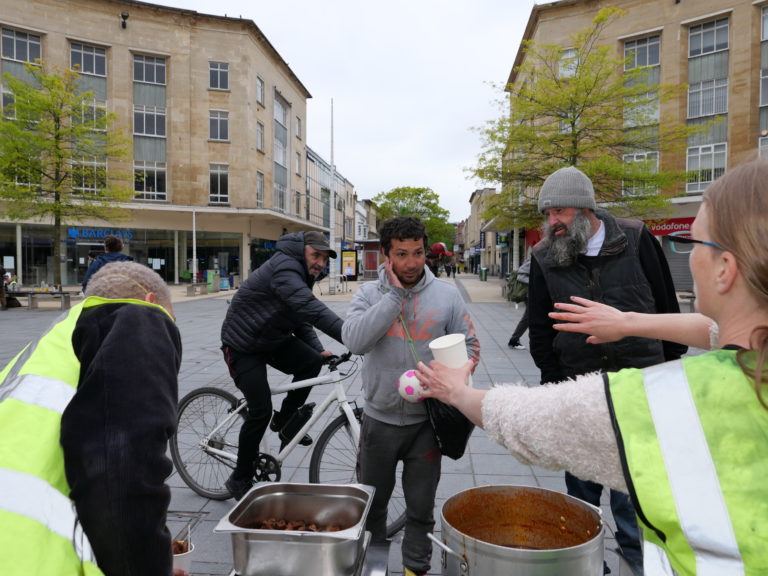 Photos: Colin Moody
Bristol city centre looks like a stage set before the actors come on. But as we near two months of lockdown, those who can't stay at home are still populating Bristol's otherwise deserted streets.
On 21 March the government announced that councils had to close night shelters, break up street encampments and house all the city's homeless by the weekend.
It's a huge ask of councils that have seen homelessness soar in their cities as services have been starved of funds since 2010.
A council spokesperson said: "We have made an offer of housing to all the people that we knew were rough sleeping, as well as all of those in night shelters at the time that the government asked local authorities to move all people off the streets. We are prioritising people who are street homeless for accommodation but continue to support people, including those who are sofa surfing, to find accommodation that meets their needs.
"This is not a static situation, and since this time other people have become street homeless or returned to rough sleeping, but we will continue to work with the St Mungo's Outreach Team and the Street Intervention Team to help people access accommodation and support."
It's more than a month later and the council has so far housed around 266 people in emergency accommodation, but there are people still sleeping in car parks and shop doorways, waiting on a call from the council.
Joseph, who spends his nights in a tent in a car park, is one of the around 150 estimated to be still on the streets. I find him sat outside Wilko's, one of the shops allowed to stay open as an essential trader. "It's absolutely stressing me out, I'm really struggling to make money through the day as well, it's that bad," he tells me.
People on the street are more vulnerable to coronavirus. They don't have access to sanitation, can't self isolate and are three times more likely to have a chronic health condition. Joseph's got a mask that someone gave him but doesn't have anywhere to wash his hands. "I just need to be able to shower, for crying out loud," he says. "But the people who help us on the streets here, I do praise them 'cos if it weren't for them I don't think a lot of us would survive, to be honest."
One of these organisations is Bristol Outreach Support for the Homeless (BOSH), which has changed its drop-in sessions to food distribution twice a day. It's part of a coordinated effort by Bristol's various homelessness charities, who have banded together to better tackle the challenge of feeding hundreds of homeless people during a pandemic.
My conversation with Joseph is cut short because it's time for the BOSH evening distribution, but he invites me to walk up with him. Seagulls, starved by a lack of half-eaten burgers and sandwiches, wheel in the air close above our heads and descend louly, aggressively brawling over anything left unattended.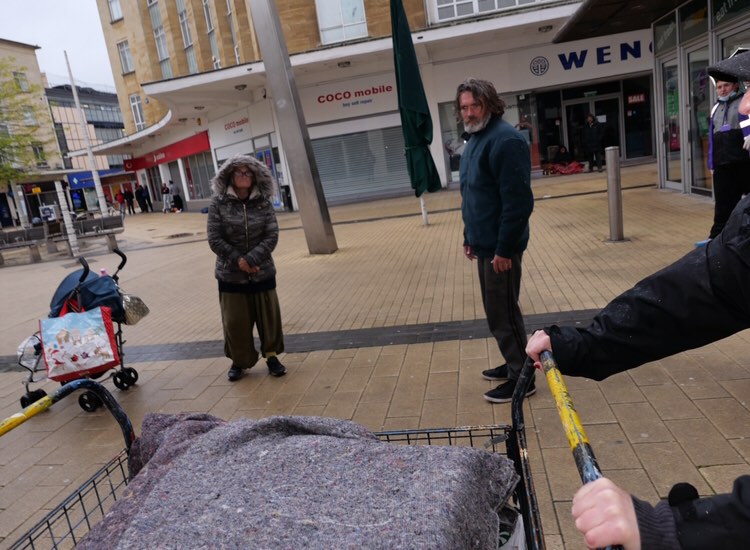 On my way back towards Castle Park I meet Shelley, who's also street homeless as she waits for a hotel room to become available. "It's a waiting game," she tells me, adding that she's struggling to find somewhere to stay now the women's hostel is closed. Being street homeless is grim for anyone, but inevitably scarier for a woman. She says that a man tried to get into her sleeping bag the night before. "If two students hadn't been walking past I don't know what I would have done."
The government has put aside just £3.2 million for councils to move street homeless into emergency accommodation. Bristol City Council has secured three hotels, with 100, 90 and 40 beds, and various B&Bs across the city, but declined to comment on how much they're paying for the rooms.
The government proudly announced at the start of May that 90% of the country's homeless had been offered accommodation in April. But their calculation of the homeless population is based on a snapshot count on one night a year, widely acknowledged to be an underestimation. A BBC investigation in February found that the real number of rough sleepers is more than five times higher than the government says it is. The government's figures, based on a one night count, have the numbers at 4,266 rough sleepers in England last year, but the BBC reported that at least 28,000 slept on the streets at some point in 2019.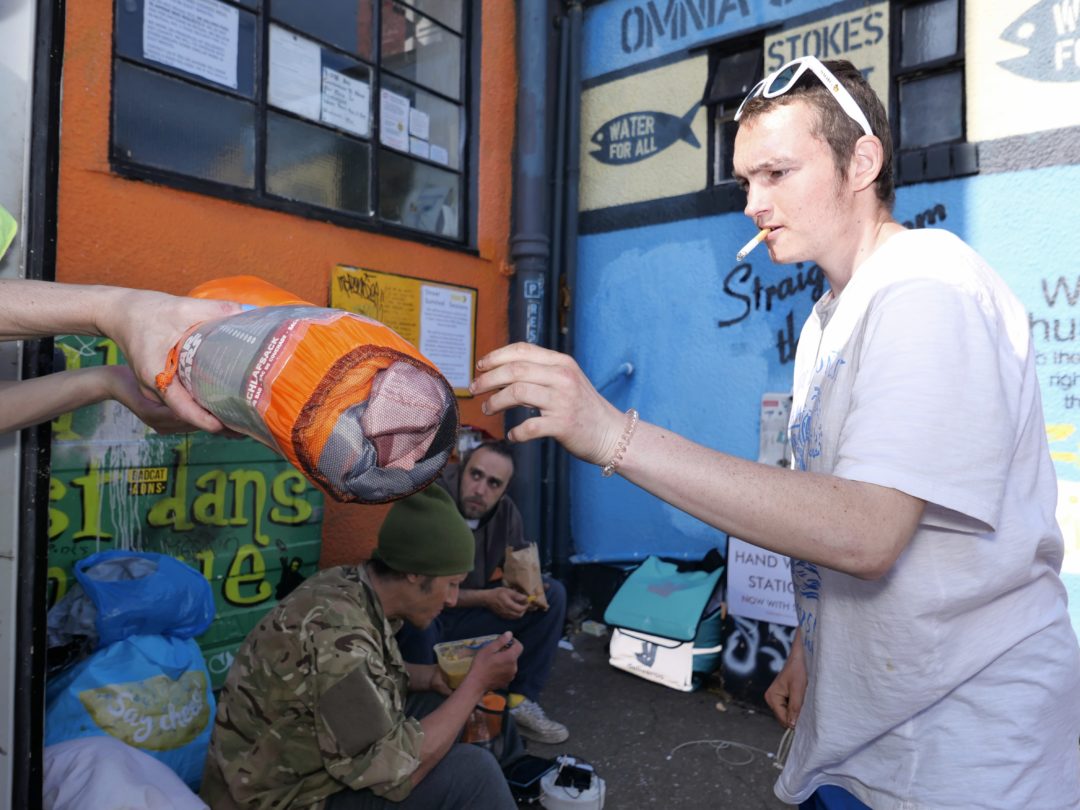 The government's wildly underreported figures are going to prove problematic for the council, as the money it can claim to cover the costs of housing hundreds of people is calculated based on the number of rough sleepers the government says are in Bristol, not the number there actually are.
Bristol's latest count, from Autumn 2019, puts the number of rough sleepers at 98, the highest in a decade. That the council has been seeking to accommodate up to 450 people during this crisis indicates the true figure is much higher.
I call Joseph a week later and he's still sleeping in the car park.
Falling through the cracks
Ben Richardson, director of homelessness charity Caring in Bristol, stresses that, while a lot of people have been moved off the streets, there's a distinction between a humanitarian response and a homelessness response; and placing people in emergency temporary accommodation has not stopped them being homeless, with all the challenges that brings.
Some of the people being put into hotels have extremely complex needs, and some have underlying health conditions, poor mental health, alcohol or drug dependency. Hotel staff aren't trained to deal with the difficulties that will inevitably arise, and some may be prejudiced towards these new guests. Some of the newly housed won't be able to hack being in a room in a big building with reception staff and security guards to pass to get to it. Some won't be able to hack being alone in a room all day. I know I wouldn't.
Caring in Bristol, in collaboration with Bristol restaurants, has come up with an alternative to traditional food distribution. Cheers Drive, an initiative that the charity says is the first of its kind, has volunteers deliver up to 400 meals every day to people in hotels and hostels and also do a wellbeing check-in with the people receiving the food. But, while enormously better than nothing, a daily 'how are you' isn't going to be enough for a lot of people. Some have already been moved to other hotels or evicted because of behavioural issues and are now back on the street.
But for some, it's a game changer. Another Ben I speak to was street homeless for the best part of a year and couldn't get support because he didn't have a sufficient 'local connection' to Bristol. He'd been waiting for a hotel room to become available for weeks but when I call him, he's been in his room for a few days, and is very happy about it.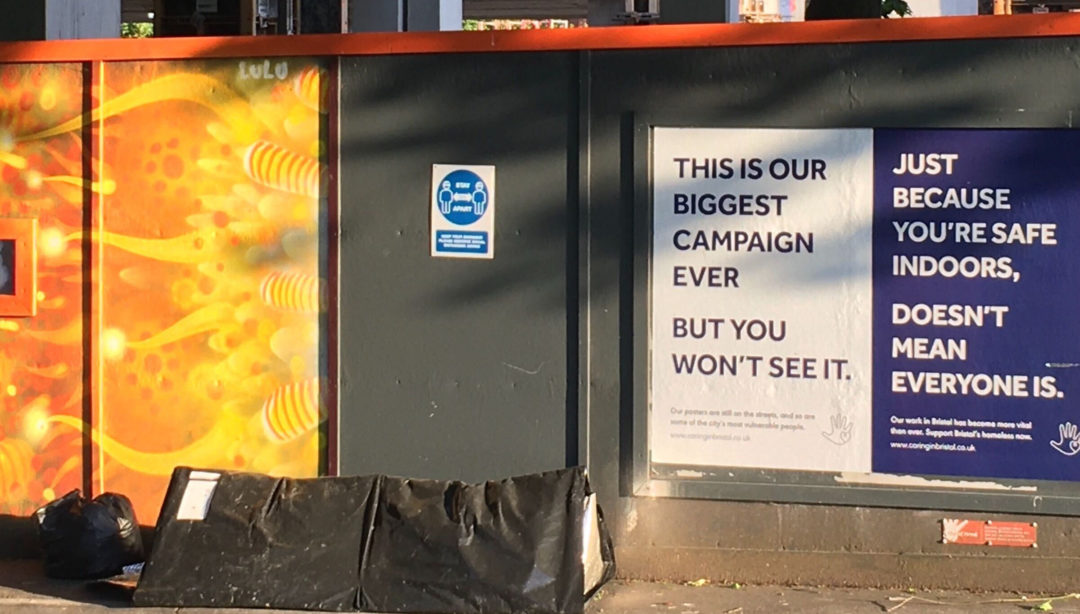 An outreach worker found him in his Sleep Pod, the black and silver Toblerone shaped tents you may have seen around town. "I don't know whether I slipped between the cracks or something but I managed to get a call that day," he tells me.
The pandemic and lockdown has given Ben an opportunity that he wouldn't have had otherwise. Not only has he got somewhere to stay for now, but he's now in the system, and he's since had a letter saying that the council now has an obligation to house him for at least six months after lockdown ends.
Meanwhile, though, homeless people with complex needs already housed are being left largely to fend for themselves by a sector overwhelmed by the gargantuan task of getting hundreds of people inside.
While hostels with dorm rooms have closed, those where tenants have rooms to themselves remain open. I talk to Chris*, who's staying in a hostel for homeless people with high support needs.
"It's always been a pretty rough place," he tells me. But now: "Everyone's on edge, everyone's volatile. It's like a pressure cooker waiting to cook off."
His mental health has taken a nosedive, he says. He cries on and off throughout our conversation. He says that residents aren't getting the support they need. There are fewer key workers in the building and social distancing makes it harder to engage with them.
"I need help. I really need help. And I think anyone else who you spoke to in that building would tell you the same."
Chris says that at the start of the lockdown, residents in hostels were asked to sign a form saying that they could support themselves over the next two weeks but, he points out a lot of people have high support needs and poor mental health.
"A lot of people can't budget their money. Basically it's just making people behave even worse."
"There's lots of information flyers and things like that all over the walls, saying to wash your hands with soap and water, and things like that," he says. But there's no soap – "That gets nicked straight away, as soon as it gets put out" – and the washing machines keep breaking down. The residents also struggle to adhere to social distancing guidelines, with the narrow corridors.
"Basically we can't move, we're on top of each other and you can't help but put yourself at risk. To be honest, I sleep out on the streets most nights."
While everyone is meant to be included in the coronavirus emergency accommodation – including people without a local connection to Bristol and people with insecure or undocumented migration status – people in these groups are often excluded from official counting of rough sleepers. This is because they move locations or sometimes stay indoors so don't count as the 'right' kind of homeless to be housed, according Jessie Seal from charity No Accommodation Network (NACCOM).
She says that asylum seekers have all the challenges of being street homeless with additional issues of having limited English and fear of racial harassment, and that women, care leaves and survivors of trafficking are more vulnerable sleeping on the street at night. Because of this, they're less likely to bed down and instead will sofa surf between multiple acquaintances' houses, or walk during the night and sleep in charity centres during the day.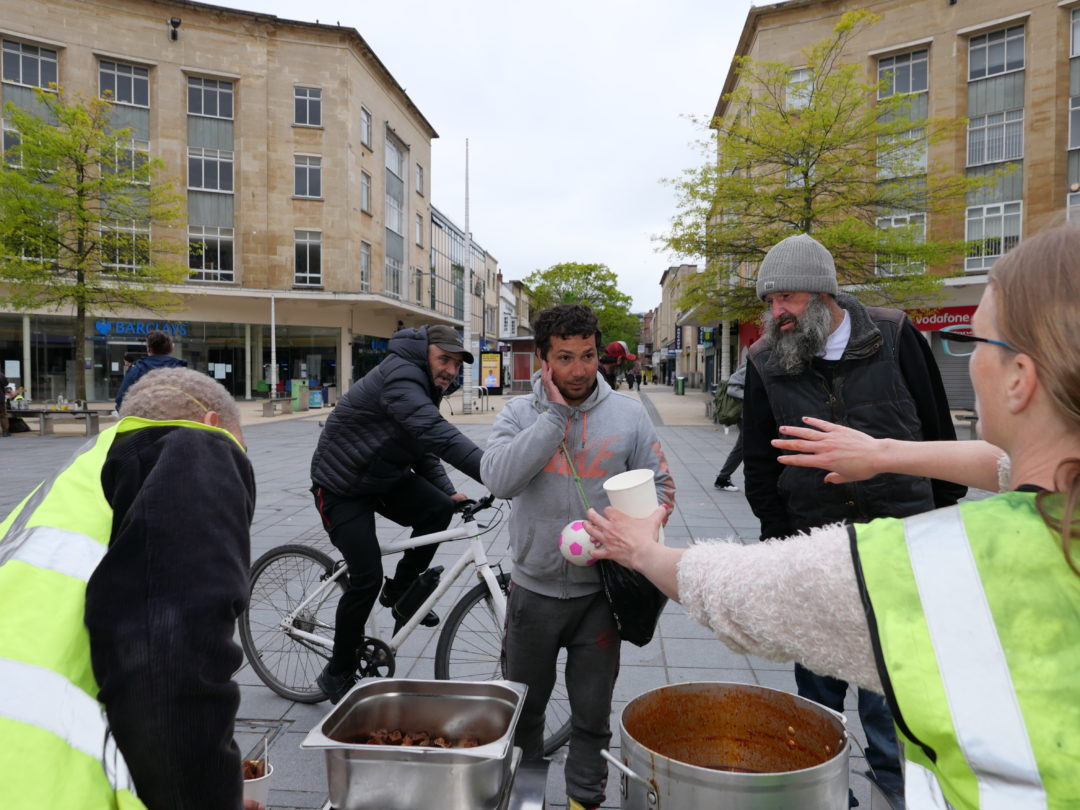 "At any time, refusing people access to accommodation is dangerous. During a public health emergency it's catastrophic. Despite many Local Authorities (including Bristol City Council) stating they would accommodate people regardless of immigration status, the reality is people with NRPF (no recource to public funds) are still being turned away," says Seal. "A lot of people are very, very scared of contracting coronavirus."
What next for Bristol's homeless and insecurely housed?
Central government funding for homeleness services nationwide has been cut by £5 billion over the last decade. Over the same period, rough sleeping has risen by 165%. After years of cuts to multiple sectors, it's easier now to end up homeless, and much more difficult – as well as much more expensive – for councils to house people. One result of the pandemic is that people are going to be housed, at least temporarily.
Richardson says that the government message that everyone will be moved off the streets has created unhelpful expectations. Despite many being moved temporarily off the streets, Bristol's homelessness crisis is far from over.
"A lot of work needs to be done in Bristol to create effective solutions for those in temporary accommodation and also find suitable accommodation for those in crisis and currently sleeping rough that has complete wrap around support."
Despite the shortcomings and challenges, the lockdown has meant some people can get off the streets. But, as the next stage of the global disruption of coronavirus rumbles on, it remains to be seen whether another recession and people struggling to pay rent will lead to a new wave of people unable to stay home and stay safe.
*Names have been changed to protect anonymity
Independent. Investigative. Indispensable.
The Cable is Bristol's independent, investigative newsroom. Owned and steered by 2,500 members, we produce award-winning journalism that digs deep into what's happening in Bristol. Investigative journalism strengthens democracy – it's a necessity, not a luxury.
As a members co-op, democracy is built into everything we do. We're 100% owned by thousands of Bristol members.
If we can triple our membership, this funding from the people of Bristol would make the Cable completely sustainable.
Join the Cable today