Bristol prisoner dies while awaiting trial during coronavirus lockdown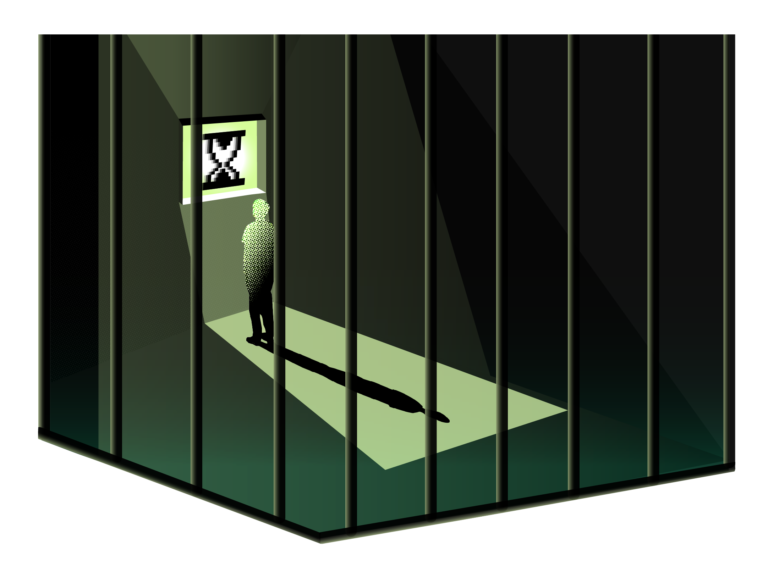 Illustration: Liane Aviram
In the space of two days in early May, two prisoners at opposite ends of the country died.
Ashley Deane Roberts was only 22 when he passed away in hospital on 1 May. He had been locked up in HMP Bristol. A day later, Jason Parker, 48, died at HMP Durham.
It would be unwise to draw conclusions on the causes of these two deaths. As with all deaths in custody, the Prisons and Probation Ombudsman will conduct independent inquiries and the full facts will emerge. But what we know for now, is that Ashley and Jason were both held on remand awaiting trial, and the two deaths are being treated as self-inflicted.
Ever since the pandemic brought the criminal justice system to its knees, lawyers and campaigners have sounded the alarm about the safety of prisoners, including those awaiting trial.
Off Gloucester Road in Horfield, all visits to HMP Bristol prison have stopped, the gym is shut, educational classes cancelled, and social distancing is proving difficult to manage in a prison which was built in the 1880s. As with other prisons across the UK, a dangerous situation has emerged for inmates, particularly for those with mental health issues.
Tell your friends…
Barristers and a QC from Garden Court Chambers published a report in March urging lawyers to protect the health and human rights of remanded clients by making rapid bail applications. With many jails understaffed and prisoners facing near 24/7 lockdown, there is only "one safety valve to reduce pressure," the report recommended: "Reducing the number of prisoners."
The justice secretary meanwhile faces legal action for being too slow to act on coronavirus in prisons. In April, the Howard League for Penal Reform and the Prison Reform Trust started judicial review proceedings, claiming the minister's efforts to tackle the spread had been ineffective, making them unlawful.
The government's own officials at Public Health England and the prison service warned that 15,000 prisoners need to be released to protect prisons from the spread of coronavirus, in order to cut the number of prisoners in shared cells and slow the spread of the virus.
However, the release of prisoners by the Conservative government was apparently not good PR and not a priority. In April, the Ministry of Justice announced a far less ambitious target to release 4,000 prisoners who were within two months of their release date and had passed a risk assessment to combat Covid-19 risk. But the government fell staggeringly short of meeting this figure, with only 33 prisoners released by 23 April.
As of 1 May, 18 prisoners had died after testing positive for Covid-19 in England and Wales, and more than half of all prisons have reported cases of the virus.
Long before the pandemic spread, many UK prisons were overcrowded, decrepit, dangerous and ill-equipped to deal with a health crisis. The UK has 83,500 prisoners, the largest prison population in Western Europe. And last year the chief inspector of prisons called the prison suicide rate a "scandal", with self-inflicted deaths and incidents of self-harm rising steeply.
In 2019, HMP Bristol was placed in special measures after a damning report by the Inspectorate of Prisons. "The Prison Service must grip and support HMP Bristol to improve after years of decline and "seemingly intractable failure," said Peter Clarke, HM Chief Inspector of Prisons. Self-harm and violence were found to be rife in Bristol's prison, and there were unacceptably cramped conditions.
A sizable number of prisoners at HMP Bristol are on remand – awaiting trial following a not guilty plea. With jury trials suspended during lockdown and court proceedings delayed, some remanded prisoners will have spent longer behind bars then they would have done otherwise. This situation is however set to change with trials in England and Wales scheduled to resume next week. 
But as it stands, family visits are still off the cards, many inmates share cramped cells for 23 hours every day, and the impact on prisoners' mental health cannot be overstated.
Staff at Bristol prison have made do with the few resources they have to make life more bearable on the inside. One lawyer told the Cable that his client was using a makeshift outdoor weights area in the prison courtyard. Efforts like these are welcomed by inmates, with many accepting that sacrifices have to be made during the pandemic. But DIY fixes can only go so far.
Deborah Coles, the executive director of INQUEST, the charity providing expertise on state related deaths, said: "These recent self-inflicted deaths raise significant concerns about the frustration and despair of those faced with inhumane living conditions and restrictive regimes.
"The government's solution to coronavirus in prisons has been to subject prisoners to increased isolation. This is effectively solitary confinement and is harmful to mental and physical health," she added.
"Regretfully, we fear the worst is yet to come as the impact of the virus is felt throughout the prison estate. The government must show political courage and rapidly reduce the prison population to save lives."
The Cable is looking into how coronavirus is impacting prisoners, prison staff and the wider criminal justice system. Get in touch with journalist Alon Aviram in confidence: alon@thebristolcable.org